Asset World Corporation Celebrates One Year Anniversary Of IPO Moving Forward With A Strong Commitment To "Building A Better Future"
18 October 2020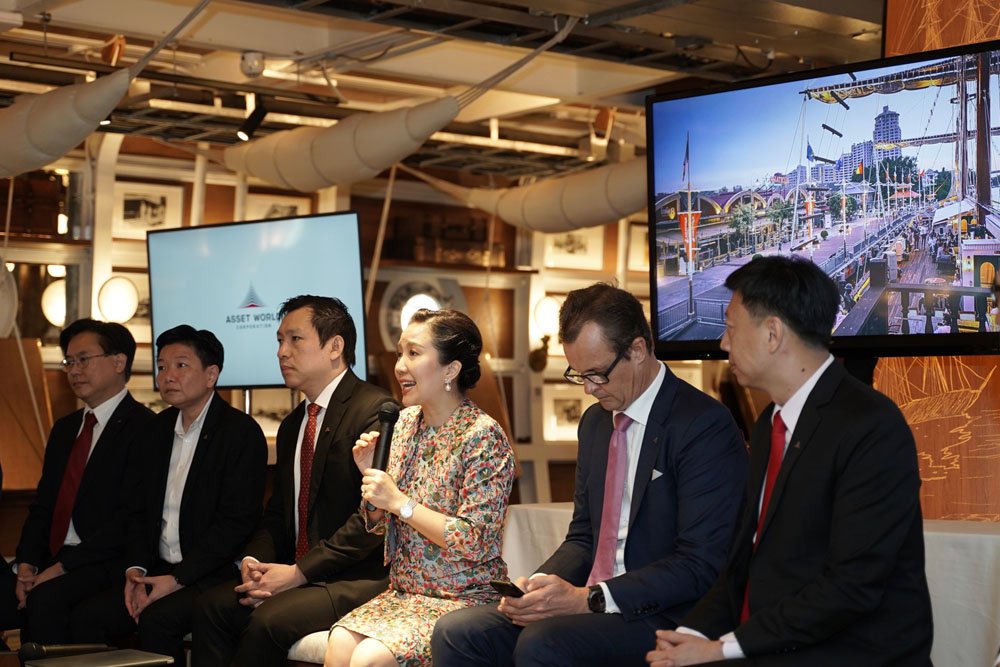 Asset World Corporation celebrates one-year anniversary of IPO
Moving forward with a strong commitment to "Building a Better Future"
Unveiling new face of Asiatique The Riverfront, with new highlight – "Sirimahannop Tall Ship"
Taking a lead in driving Thailand to become regional wholesale hub with the launch of AEC Trade Center Pantip Pratunam and partnership with China's international trade and investment promotion agencies
16 October 2020 – Asset World Corp Public Company Limited (AWC), Thailand's leading integrated lifestyle real-estate group, celebrated one-year anniversary of its Initial Public Offering and trading as the company embarked on a journey with a strong commitment to "Building a Better Future". Major business operations throughout its first year as a listed company encompassed continued investments and new partnership establishments to support its growth-led strategy. These included partnerships with several world's leading hotel management companies for both new construction and renovation projects, development of omni-channel platform for retail business to seamlessly integrate online and offline shopping experience, and signing of cooperation agreements with China's national government and private trade agencies with aim to drive Thailand to become ASEAN's international trade hub as well as promote Thai import-export business. The celebration also coincided with the grand opening of the revamped Asiatique The Riverfront, with three new exciting phenomenal attractions led by the grand Sirimahannop Tall Ship, a new landmark by the Chao Phraya River, to revitalize the sensation of the Chao Phraya riverside as the ultimate lifestyle destination for both Thai people and international travelers.
"As we celebrate one-year anniversary of our IPO, our first year as a listed company is an exciting year filled with further development and growth according to our "Building a Better Future" philosophy," Wallapa Traisorat, CEO and President of Asset World Corp Public Company Limited (AWC), said. "We have moved ahead with continued investment in projects in all our business segments, expansion of partnership networks across various businesses to build strength, and enhance the Thai tourism industry as well as the country's hotel, office building, and shopping center and lifestyle destination sectors. Meanwhile, we have undertaken organizational restructuring plan to enhance our operational capacity and efficiency, as well as taking care of employees, business partners, tenants, customers, and the society and communities, for the greater good of all stakeholders."
Retail Business
Apart from the development of various retail projects in line with the new and changing lifestyle of consumers, taking into account the safety and hygiene standard of new normal lifestyle and delivery of enhanced shopping, leisure, dining and hangout experiences, AWC has developed omni-channel platform as a new marketing channel that combines online and in-store communication channels to create a seamless fast and convenient shopping experience that responds to today's consumer behavior. The company has partnered with the world's leading travel service and activity booking platforms to expand the distribution channel of AWC's affiliated retail projects, as well as planned to build an e-Commerce platform to market AWC's and its partners' products and services through the company's website and AWC Connext mobile app in the future.
AWC also unveiled the revamped Asiatique The Riverfront which is truly relevant to the changing lifestyles across various perspectives of all customer groups with several exciting new elements and ambiance. Carrying on the concept of "Heritage Alive", the renovation under an investment of over 300 million baht builds upon the ambition to revive the historical evidences for economic and social developments still existed in the location of Asiatique, which is an old district on Charoen Krung, the first street of Bangkok, a long-standing important economic center where the way of life that blends the Eastern and Western cultures together since the time of King Rama V took root. Three new exciting phenomenal attractions to revitalize the sensation of the Chao Phraya riverside are Sirimahannop Tall Ship, a new landmark by the Chao Phraya River; Living Museum & Art Festival, leading visitors to experience art and culture in an innovative way with presentation utilizing cutting-edge technology while immersing themselves in a variety of works of art displayed in different zones throughout Asiatique The Riverfront; and New Mega Riverside F&B Destination, a new international gastronomic paradise with an excellent variety of food and drink choices of all tastes and styles.
Hospitality Business
Over the past year, AWC has signed partnership agreements with several world's leading hotel management companies including Marriott International and the InterContinental Hotels Group, as well as developed new hotels through partnership with Melia Hotels International and Banyan Tree.
In 2020, AWC has a total of 18 operating hotels (compared to 14 hotels in 2019), with a total of over 4,941 rooms, in Bangkok and major tourist destinations across Thailand. The company also signed an MOU with Adrian Smith + Gordon Gill Architecture (AS+GG), world's leading architecture and design firm, to develop a new iconic riverfront architectural masterpiece of Thailand at Asiatique The Riverfront. AWC also pioneered a new concept of bringing premium food and beverage services from a leading hotel outside the hotel for the first time, by collaborating with Bangkok Marriott Marquis Queen's Park, to offer an exquisite dining experience on the top deck of the Sirimahannop Tall Ship docked at Asiatique the Riverfront.
Office Building Business
AWC planned to upgrade its affiliated office buildings continuously to better accommodate the changing lifestyle of today's working people and offer them better enjoyment in both working and leisure moments. A new Rooftop Destination project is underway at The Empire Tower soon to be unveiled as a new exciting lifestyle destination in the heart of Sathorn Road.
In June 2020, the company also launched AWC INFINITE LIFESTYLE, a new membership program that allows members to enjoy a new experience of inspiring and flexible lifestyles by designing a suite of services that best suit their working and leisure preferences. Encompassing office, home, hotel and shopping space in one place, AWC INFINITE LIFESTYLE entails premium products and service offerings available from AWC's affiliated projects, all of world-class standards with the highest degrees of safety, hygiene and quality, available at AWC's affiliated hotels, office buildings and shopping and retail malls at various strategic Bangkok CBD locations and major tourism provinces across Thailand.
Wholesale Business
AWC is committed to driving Thailand to become a large-scale international wholesale hub that connects the region's exports and imports through its new project "AEC Trade Center Pantip Pratunam", the country's first fully-integrated one-stop wholesale trade center in the heart of Bangkok, with a total area of over 30,000 square meters in Pantip Pratunam, to be opened at the end of November.
AEC Trade Center Pantip Pratunam will open space for exporters, manufacturers and importers free of charge for 6 months as a way to support Thai businesses in expanding their wholesale trade channels in Thailand as well as to connect Thai wholesalers to international wholesalers in the future. The project also helps stimulate the economy by providing opportunities for various retailers and small business operators to source a wide variety of merchandise such as wellness products, houseware, interior accessories and toys, all in one place at the factory price.
The signing of two partnership agreements with China's national trade and investment agencies
Today AWC also announced partnerships with China's four international trade and investment promotion agencies and state enterprise to support the establishment of the AEC Trade Center Pantip Pratunam and drive it forward as a flagship project for wholesale trade in attempt to promote Thai exports and imports and make Thailand a true regional wholesale hub.
• Signing of a strategic cooperation framework agreement to connect Chinese and ASEAN markets through the AEC Trade Center – helps drive Thailand to become a regional wholesale hub and empower the AEC Trade Center to become one-stop service center for international wholesale trade with support of knowledge, technologies and connection to China's important trade networks. The agreement will enhance the capability of Thai business operators in import and export businesses with China, and provide opportunities for them to grow in international markets, and help shape Thailand as a regional sourcing hub where manufacturers, distributors and business operators can find a wide variety of products at the factory price, along with online trading network where they can compare price and request delivery all in one place.
The agreement is co-signed with three China's national trade and investment agencies: the China Shippers' Association, the Emerging Industry Center of Investment Association of China, and the Business Federation under the Belt & Road Investment and Free Trade Alliance (B&R IFTA) policy.
• Signing of cooperation agreement with Zhejiang China Commodities City Group Co., Ltd. (CCC Group), a state-owned enterprise that develops and manages the world's largest wholesale market for miscellaneous goods from Yiwu, China. – helps support the pilot project – the AEC Trade Center Pantip Pratunam at Pantip with the establishment of "Yiwu Selection Thailand Showcase", an exhibition center showcasing selected high-quality products, and "IC Mall", an export service center to China, to help connect Thai exporters who wish to export their products to market in China.
Business operators who are interested to participate in the AEC Trade Center Pantip Pratunam can contact the project at tel. 02-254-9797 or 081-805-7247.
"Looking ahead, we continue to focus on customer centric strategy and take into account new business trends and opportunities in order to quickly respond to changing consumer behaviors and needs. We will pursue new project development as planned in order to build a sustainable growth, by leveraging the strength of our diverse portfolio both in terms of business sector and location to accommodate the New Normal lifestyle for all customer groups with AWC INFINITE LIFESTYLE program that allows customers to enjoy premium services and facilities that suit all their work, travel and leisure needs with packages and promotions that they can customize for themselves. We remain true to the spirit of 'Build a Better Future' for the company, our employees, customers, investors, communities and other stakeholders towards the ultimate goal of becoming a truly progressive and dynamic real estate group," Wallapa added.