Asset World Corporation is Thailand's first real sector company to receive a green loan from The World Bank Group's IFC
19 October 2020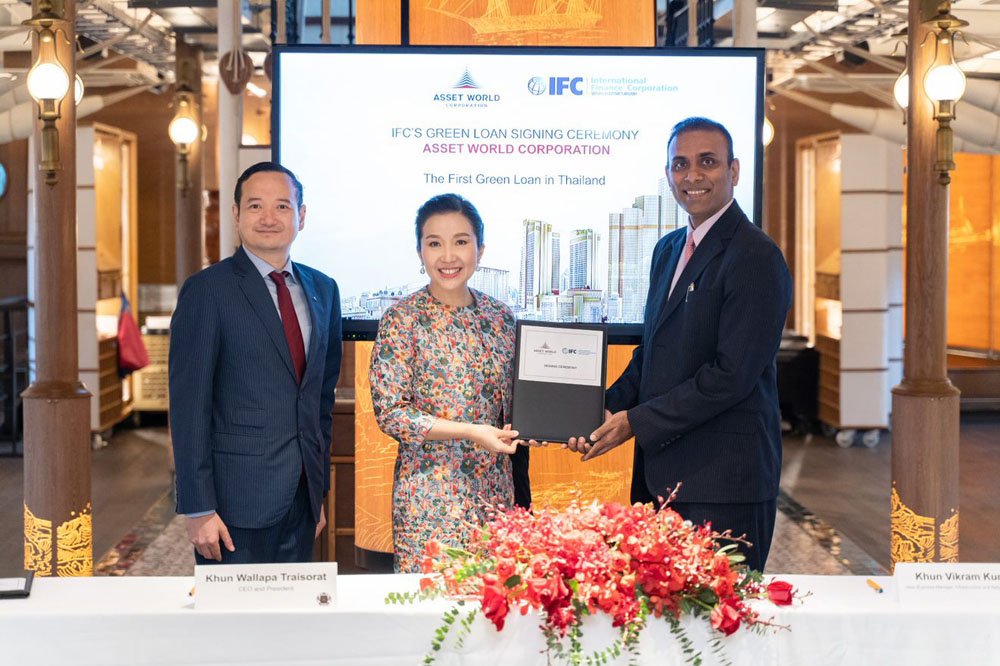 THB 4.5 billion (US$144 million) green loan will be allocated for energy efficiency initiatives and working capital at AWC-affiliated hotels to reshape Thai hospitality market
19 October 2020 – Asset World Corp Public Company Limited (AWC), Thailand's leading integrated lifestyle real-estate group, is the first real estate group in the country to receive a green loan from the International Finance Corporation (IFC), a member of the World Bank Group. During today's signing ceremony, IFC granted AWC a proposed investment of THB 4,500 million (equivalent of US$144 million) to be used toward water and energy efficiency measures and the refurbishment of its four hotels and greenfield development of two new hotels in key tourism destinations in Thailand including Bangkok, Hua Hin, Koh Samui, Pattaya, and Chiang Mai. Part of the green loan will be applied as working capital to support the gradual re-opening of hotels following shutdowns related to COVID-19.
Wallapa Traisorat, CEO and President of Asset World Corp Public Company Limited (AWC), said that "AWC is truly committed to ecologically sustainable value. We are greatly delighted to sign the first IFC's green loan in Thailand. This green loan agreement is a testimonial to our long-standing unwavering determination to sustainability initiatives focusing on reducing carbon emissions, saving energy, and optimizing resource utilization. These help us accelerate the readiness to adopt the IFC's Excellence in Design for Greater Efficiencies ("EDGE") green building standards in our asset portfolio as well as promote the use of the EDGE standards in Thailand all whilst rebuilding an invigorating hospitality and tourism landscape in Thailand for a better and more sustainable future."
AWC is the first company in Thailand to develop projects in accordance with EDGE standards, IFC's green building certification system created for emerging markets. AWC's hotels will become the first in Thailand to be EDGE-compliant, establishing the viability of green construction for the tourism sector.
"Our goal is to help Asset World Corporation become a leader in sustainable tourism in Thailand," said Vivek Pathak, IFC's Regional Director for East Asia and the Pacific. "The project will not only support the long-term green recovery in the tourism sector by enabling a market leader to build up its green asset portfolio and position for the issuance of the first real sector green bond in Thailand, but also provide immediate liquidity relief to support ongoing hotel operations during COVID-19."
IFC's green loan is expected to be compliant with the International Capital Market Association (ICMA) Green Bond Principles. AWC expects to use the funds for green retrofitting and refurbishment of energy efficiency technologies in its several hotel properties throughout Thailand. These include rooftop solar installation, installation of heat pumps for hot water for Intercontinental Chiang Mai Mae Ping Hotel and Melia Chiang Mai, Thailand, construction of two new greenfield hotels i.e., JW Marriott Marquis Hotel Asiatique Bangkok and Innside Bangkok Sukhumvit Hotel. The fund will also be used as working capital to support the gradual re-opening of AWC affiliated hotels following temporary closures brought about by the pandemic. Through the proposed financing, IFC will also help AWC in building internal capacity with regard to green building and obtain EDGE certification for at least five hotels.
AWC is also expected to provide direct and indirect employment opportunities in Thailand as well as underlying benefits across the country's hospitality and tourism value chain. Approximately 1,500 direct jobs will be created for the company's two new hotels as well as indirect jobs in the hotel's supply chain and related linkages such as taxi companies and tour guides. Almost 100% of AWC suppliers are domestic, including local suppliers of goods and services who will benefit from greater demand for better quality products and services in line with Thailand's objectives to move toward higher value tourism products.
AWC and its global partners/operators are also committed to developing managerial staff by upskilling its employees, and the mobility of these employees to progress in the service sector, as well as enforcing our green initiatives on an operational level. AWC has also worked with local suppliers, many of which are small and medium size enterprises, to improve product quality and meet the standards of the globally renowned hotel operators.
AWC is also the first company in Thailand to be certified with 3 Environmental and Social Management System (ESMS) standards. The company has a set of EHS (Environmental, Health, and Safety) policies and an ESMS at the corporate level applied to all business sectors. The corporate ESMS has been certified with ISO 9001 (quality management), ISO 14001 (environment management) and ISO 45001 (Occupational health and safety management). The Athenee Hotel, a Luxury Collection Hotel, Bangkok, one of AWC's affiliated hotels, is also the first hotel in the world to achieve ISO 20121 Event Sustainability Management System (SMS) standard certification.
The signing ceremony for the first IFC's green loan was recently held at the Sirimahannop Tall Ship, a new tourism landmark on the Chao Phraya River at Asiatique The Riverfront, by Asset World Corp Public Company Limited. The company's CEO and President Wallapa Traisorat, (center) and CFO Dr. Karn Prativedwannakij (left) signed with the International Finance Corporation (IFC) represented by Vikram Kumar (right), New Business Manager, Infrastructure and Natural Resources, Asia Pacific.