Asiatique The Riverfront to reopen with three phenomenal experiences that will accentuate the new 'Heritage Alive' concept with launch of "Sirimahannop Tall Ship", a new landmark by the Chao Phraya riverbank
18 September 2020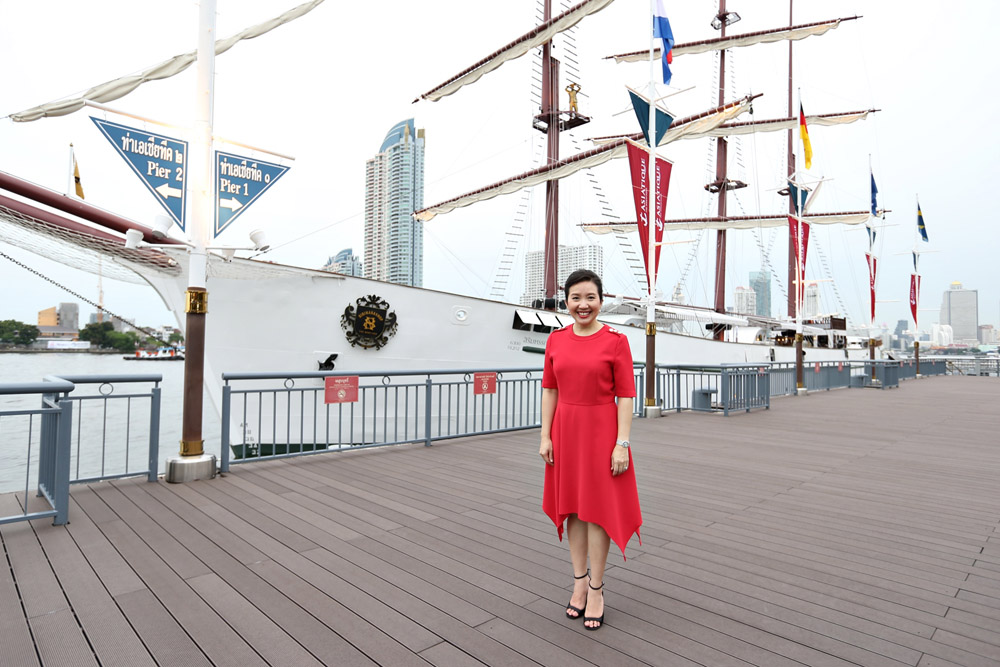 Asiatique The Riverfront to reopen with three new phenomenal sensations created to accentuate 'Heritage Alive' concept
"Sirimahannop Tall Ship" – new landmark by the Chao Phraya riverbank
"Living Museum & Art Festival" – new creative way of experience art and culture
"New Mega F&B Destination"- new gastronomic paradise for all tastes and preferences rising on a progressive path to become the ultimate lifestyle destination with unbeatable mix of tenants and attractions where everyone can enjoy
Bangkok – 18 September 2020 – Asset World Corporation (AWC), Thailand's leading integrated lifestyle real-estate group, is ready to unveil the revamped Asiatique The Riverfront with three new exciting phenomenal attractions to revitalize the sensation of the Chao Phraya riverside – Sirimahannop Tall Ship, Living Museum & Art Festival and New Mega Riverside F&B Destination, all set to mark a major progress on plan to become the ultimate lifestyle destination for both Thai people and international travelers. The launch of Sirimahannop Tall Ship, a replica of the last three-masted sailing ship officially used by The Royal Thai Navy, also known as the historical ship that brought prosperity from the western world to the Kingdom of Thailand, to be anchored at Asiatique The Riverfront pier will create a new landmark by the Chao Phraya River for Thai people and international visitors to commemorate the charm of the legendary ship. Living Museum & Art Festival, set along the path of The Memory Lane, will bring visitors on a journey through time to experience the culture and way of life of the past while immersing themselves with a variety of art exhibits showcased in different zones. New Mega Riverside F&B Destination will become a new international gastronomic paradise by the bank of Chao Phraya, with an excellent variety of food and drink choices of all tastes and styles from famous restaurants and eateries nationwide. The official launch celebration of the new face of Asiatique The Riverfront is set on 15 October 2020.
"Our ambitious revamp plan for Asiatique The Riverfront is a testimony to our determination to create a sustainable future for strong growth according to our "Building a Better Future" philosophy, coupled with our stance to support Thai economy to regain strength," Wallapa Traisorat, CEO and President of Asset World Corp Public Company Limited (AWC), said. "The new face of Asiatique The Riverfront will be truly relevant to the changing lifestyles across various perspectives of all customer groups, especially their evolving behaviors and preferences in dining out, hanging out, shopping, and engaging in leisure and recreational activities. Carrying on the concept of "Heritage Alive", the renovation plan encompasses several exciting new elements and ambiance which build upon our ambition not only to preserve existing historical evidences for economic and social developments, but to bring them back to life again. The new execution reflects the historical facts of the location of Asiatique The Riverfront, which is full of memorable stories from the past that Thai people should be proud of. The neighborhood is an old district on Charoen Krung, the first street of Bangkok that has long served as an important economic pulse point, a center of business and lifestyle that blends the Eastern and Western cultures together and connected the world of the past since the time of King Rama V to the present time."
The re-opening of Asiatique The Riverfront will come with three new phenomenal attractions: Sirimahannop Tall Ship, slated to be a new landmark by the Chao Phraya River; Living Museum & Art Festival leading visitors to experience art and culture in an innovative way with presentation utilizing cutting-edge technology while immersing themselves in a variety of works of art displayed in different zones throughout Asiatique The Riverfront; and New Mega Riverside F&B Destination that brings together the existing F&B options from more than 40 restaurants and eateries, and new collection of delicious food choices through partnership with Krua Khun Toi to create a new flavorful gastronomic paradise for all lifestyles and preferences of foodies."
First phenomenon: Sirimahannop Tall Ship – a new landmark by the Chao Phraya River – Built from the prototype of a three-masted sailboat used at the early time of trade relations between Siam and the Western world during the reign of King Rama V. The boat served as flagship of King Chulalongkorn's fleet while he paid state visit to Europe to establish diplomatic relations with European countries and bring prosperity to the land of Siam. Sirimahannop Tall Ship will be anchored at Asiatique The Riverfront pier where visiting Thai and international customers will be transported back in time to life on-board the legendary ship, while enjoying gourmet food and beverage in relaxing dining room and bar uniquely styled by the Bangkok Marriott Marquis Queen's Park Hotel. The ship is designed to capture the emerging trend of lifestyle and experiential travel and slated to bring together like-minded individuals and visitors on a journey to cultural heritage.
The second phenomenon: Living Museum & Art Festival – Living museum offers a new creative way to experience art and culture with the use of innovative Augmented Reality (AR) interactive technology to create virtual images presented along The Memory Lane where 36 major attractions guide visitors through a memorable journey. With elements that create an atmosphere that reflects the history in the arts, culture and way of life of the Asiatique The Riverfront neighborhood, which was the center of international trade in the past, visitors can enjoy an experience of traveling back and forth re-created for the first time in 3 main zones – The River of Relation Connection, From the Water to the Land of Prosperity, and Transmission of Cultural Heritage Values to the Thai Identity. Art Festival opens up a new experience of immersion into art by integrating art, culture, history and people's way of life into a variety of art pieces like painting, street art, sculpture, dotted throughout Asiatique The Riverfront, as well as serves as photo spots that attracts people to check in and take pictures.
The third phenomenon: New Mega Riverside F&B Destination – With a wide selection of over 40 restaurants of international cuisines ranging from Thai, Chinese, Japanese, to Italian, café, bar & bistro, BBQ, beer garden with live music, strengthened by partnership with "Krua Khun Toi", a famous media platform with one of Thailand's largest network of restaurants and eateries, to bring together a new bountiful collection of delicious food from famous restaurants and street food stalls nationwide selected by Tripop Limpapath, Thailand's leading TV host, making Asiatique The Riverfront the new top-of-mind gastronomic paradise for everyone with a variety of flavorful eat, drink and hang out options that meet all styles and preferences of Thai and international customers.
The grand launch celebration of the new sensation, inspiration and even more immersive and memorable leisure experience at Asiatique The Riverfront is set on 15 October 2020, where the place is ready to welcome Thai and international visitors again on a new journey to experience historical values on civilization, trade, art and culture intertwined with creative, innovative touch of amazing advanced technology of the modern day.