AWC raises The curtain of "Banyan Tree Krabi", elevating the destination as the first luxury resort to open in Krabi after a decade
26 October 2020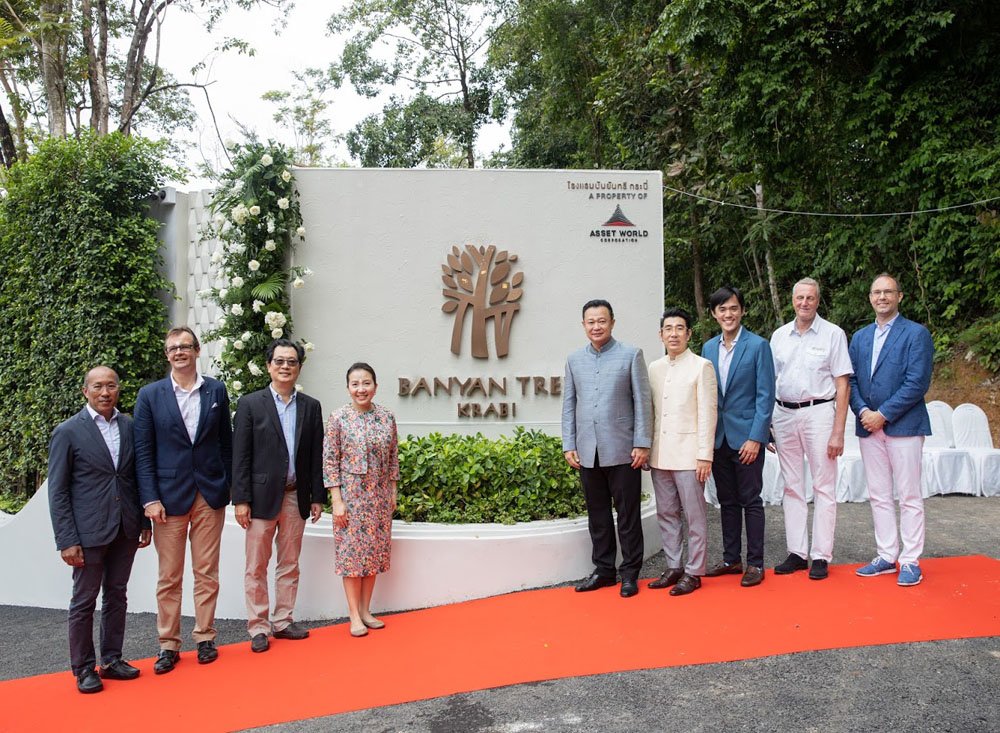 AWC raises the curtain of "Banyan Tree Krabi", elevating the destination as the first luxury resort to open in Krabi after a decade
Reinforcing the company's commitment to shaping Thailand's new dynamic tourism landscape and establishing a new destination
Asset World Corporation (AWC), Thailand's leading integrated lifestyle real estate group, partnered with Banyan Tree Group, an iconic chain of luxury hotels, to launch Banyan Tree Krabi, a new luxury resort nestled on a verdant hillside with spectacular sea view. As the first AWC hotel in Krabi and the company's second Banyan Tree -branded property in Thailand, the new resort is located at Tubkaek Beach, one of the most spectacular beaches in Krabi. The arrival of Banyan Tree Krabi is slated to revive the exceptional hospitality experience in the scenic coastal town as the first luxury resort to open next to the Hat Noppharat Thara - Mu Koh Phi Phi National Park, the golden location of Krabi after more than 10 years. It also reflects AWC's commitment to building a bette r future to the Thai hospitality industry in welcoming a new growth path for Thai tourism and strengthening the country's economy.
"The opening of Banyan Tree Krabi , which will be the first AWC property in Krabi, long considered a top location with great tourism potential, is a testament to our commitment to continuing with our long-term investment plans despite the impactful challenges that we have faced throughout the year. We appreciate the investors' unwavering trust in AWC's growth -led strategy which creates outstanding value for all stakeholders," said Wallapa Trisorat, CEO and President, Asset World Corp Public Company Limited, or AWC. "AWC has continued to engage in strategic business expansions and entered into agreements with several world-class hotel operators in order to ensure constant growth of the company, while offering diversified unique brands to capture different groups of customers and lifestyles across the hospitality scene. Banyan Tree Group is a world-leading hospitality brand that offers exceptional design-led experiences for global travelers. Partnering with Banyan Tree Group in developing Banyan Tree Krabi will enhance the tourism scene in Krabi, a charming seaside town globally recognized for its natural wonder and beauty, as the first luxury resort to open in Krabi in a decade. The new stunning resort will also, once again, reinforce the reputation of Thailand as a country blessed with plenty of world-class seaside and beach destinations."
"Krabi is long known for its outstanding tourism prospects, and more growth opportunities for tourism in the province still lie ahead with constant development of public infrastructure to support travel and transportation. Notable ongoing projects include the expansion of Krabi International Airport to enhance its capacity from 4 million to 8 million passengers per year by 2022; the announcement from the Marine Department that it will launch five new ferry routes to enhance connections between Phuket, Krabi, Phang Nga, Koh Lanta and the nearby islands nearby; and the new double track railway to connect Phuket, Phang Nga and Surat Thani," added Wallapa.
Following the opening of Banyan Tree Krabi, marking AWC's third luxury resort, the company's operating asset in the hospitality segment have increased from 17 to 18 hotels with the number of rooms expanding from 4,869 to 4,941 , resulting in a better cash flow in the company's hospitality business group. Furthermore, Banyan Tree Krabi will contribute to a more diversified brand portfolio as well as provide a brand new property that will boost domestic tourism, and offer unique experiences to our customers, which will help solidify AWC's position as a leading real estate group in Thailand.
Banyan Tree Krabi
Banyan Tree Krabi backs onto a lush national park and Naga Crest Hill, in Mueang district of Krabi, offering 72 beachfront pool villas and pool suites — each of which has its own private salt-water pool — a westward-facing view of the sunset over the Andaman Sea. A natural spring flows from one of those Naga crests downhill into the resort where it transforms into a flower-fringed canal ferrying spring water to the sea. The resort offers seven suite and villa types, ranging from a 99-sq.m. Deluxe Pool Suite with private terrace and plunge pool, to a 587- sq.m. Presidential Beachfront Villa, which guests can opt to combine with two adjoining villas for a palatial seven-bedroom wonderland of 1,335 sq.m.
Facilities at Banyan Tree Krabi include two restaurants – the Saffron Restaurant which uniquely features a ride to the edge of the mountain with an electric funicular as well as the Bird's Nest which provides a dining experience with nature and The Naga Kitchen, a beach bar called Kredkaew Bar, a kids' club with a small water park, a fitness center, meeting facilities, and in keeping with Banyan Tree 's global wellbeing brand standards — a rainforest-themed spa. The predominant themes of the resort are water and nature, as well as the legend of the 'Naga', a sea creature from Hindu mythology that is popular among local legends in Krabi and worshipped by the locals. The centerpiece of the resort, as guests walk through the tranquil Naga legend-inspired entrance, is a circular water feature in the lobby that cascades downstairs into an underground city- like 'Muang Moraghod ' meeting room area. With a backdrop of emerald sea and karsts, the awe- inspiring spectacle is shaping up as one of the resort's signature images. From the lobby, an eye- catching Naga staircase leads us downstairs to a shaded 'grotto', and Naga-themed design motifs are seen throughout the hotel, including artwork of waves on the walls and amenities in all the rooms which represents the movement of the Naga. Elements of the natural landscape are abundantly applied to create a unique ambience and a sense of place.
In keeping with Banyan Tree Group's "Safe Sanctuary" program which was rolled-out during the Covid-19 pandemic, guests at this new resort will be assured of enhanced safety and hygiene protocols with emphasis on wellbeing and nature-focused offerings. Among them is a personalized check-in and check-out service in their rooms. Prior to arrival, each guest is assigned a Banyan Tree Host – similar to a dedicated butler. Upon check-in, guests will receive a Portier Smartphone with unlimited international calls and data – which they can use to contact their Banyan Tree Host at the touch of a button and enjoy personalized service, ranging from in-room dining to tours, as well as room service and housekeeping requests, creating a memorable integrated experience for all.
Banyan Tree has been recognized worldwide for its sustainability stewardship. The sister resort, Banyan Tree Samui, was recognized by global organization EarthCheck in 2018 as the first hotel in Thailand to receive its highest certification.