AWC CONNEXT Welcome Back to Work
End of the sale period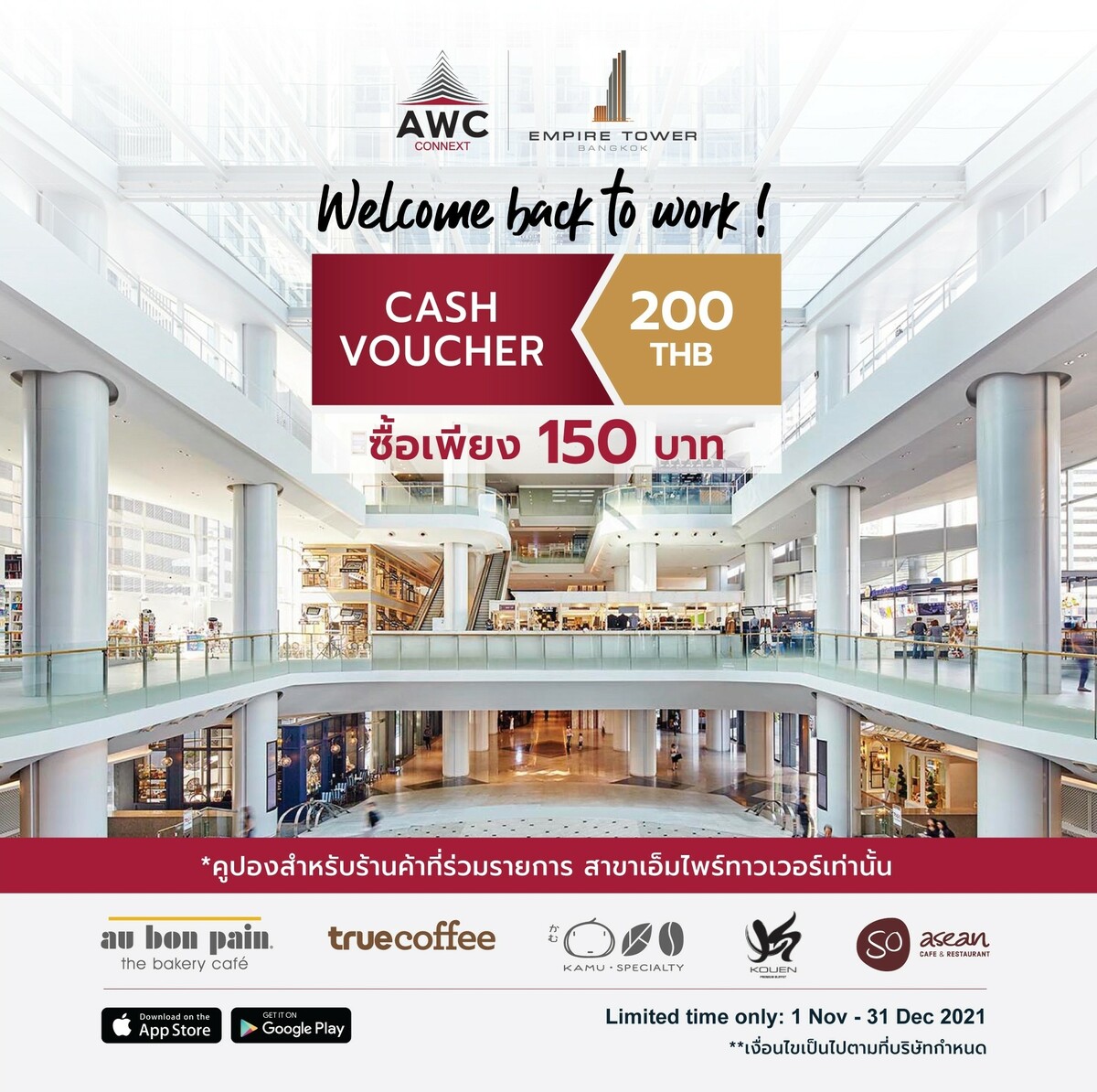 Welcome back to work with a cash voucher valued at 200 baht that you can purchase for only 150 baht! Redeemable for food and beverages only at participating stores in Empire Tower including Au Bon Pain, True Coffee, Kamu Tea, Kouen Yakiniku & Sushi Bar, SO Asean Cafe & Restaurant, and many others. Valid from today until December 31, 2021. This coupon can only be purchased through the AWC CONNEXT application.
Terms & Conditions
The coupon will be automatically displayed on My Coupon after purchase is completed.
This coupon can only be used as cash at the participating stores listed on the coupon and cannot be purchased or exchanged for other products.

SO asean Cafe & Restaurant – Empire Tower
Au Bon Pain – Empire Tower
Kouen Yakiniku & Sushi Bar – Empire Tower
True Coffee – Empire Tower
Kamu Tea – Empire Tower

This coupon cannot be used in conjunction with other promotional offers.
This coupon is valid until 31 December 2021 and cannot be extended. Expired coupons will be invalid and cannot be used under any circumstances.
There is a limit of 2,000 coupons throughout campaign period of 1 November - 31 December 2021.
The digital coupon in the application must be presented to the merchant where you are using the service, screenshots are not eligible for redemption. Delivery services are not applied.
The Terms & Conditions are subject to the company, and we reserve the right to change the conditions without prior notice.