AWC announces continuing increase in net profit in Q3/2023 to 1,136 million baht despite low tourism season, driving nine months' net profit to 3,746 million baht, rising 40% year-on-year, above pre-COVID 2019 levels
08 November 2023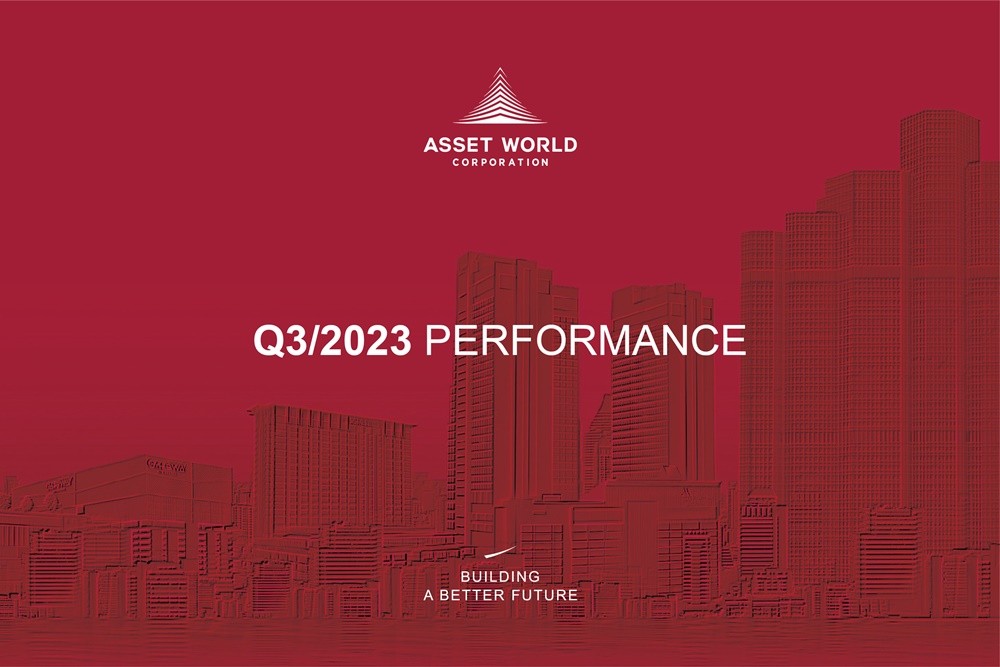 Total revenue in Q3/2023 grew to 4,666 million baht, with revenue in the first nine months of 2023 up 38.5% year-on-year to 14,076 million baht, higher than pre-COVID 2019
AWC's new operating assets, with a combined value of 10,000 million baht, align with the Company's GROWTH-LED strategy to enhance cashflow generation
Move 'Ramp-up' to 'Mature' stage of operating assets with total value of 12,500 million baht, creating strong EBITDA Yield of 10.2% and driving Revenue Per Available Room (RevPAR) in the first nine month up to 3,619 baht, increasing 87.6% year-on-year, and above pre-COVID in 2019 level
8 November 2023, Bangkok, Thailand – Mrs. Wallapa Traisorat, Chief Executive Officer and President, Asset World Corp Public Company Limited or AWC, today announced the performance results per Financial Statements including fair-value gain for Q3/2023 with revenue increasing 20.4% year-on-year to 4,666 million baht, lifting the net profit to 1,136 million baht, due to strong growth despite the low tourism season.
Since the beginning of the year, AWC has successfully increased the capability of assets from 'Ramp Up' to 'Mature' stage, with asset value of 12,500 million baht, creating a strong EBITDA Yield of 10.2%. In the third quarter, operating assets accounted for 85% of AWC's portfolio, with their total value reaching 125,758 million baht, increasing by 52% from pre-COVID in 2019 levels. The strong financial performance reflects the positive impact of the Company's GROWTH-LED strategy, supported by the launch of several hotels and restaurants in Q3/2023 with a combined value of 10,000 million baht.
"During the first nine months of the year, AWC had continuous growth across all its business units with Net Operating Profit (BU EBITDA) according to the Financial Statements of 7,990 million baht, increasing by 28.9% year-on-year. Such a remarkable performance was driven by significant growth in the Hospitality Business, particularly AWC's Bangkok City hotels and others non-Bangkok hotels, which attracted more tourists. This resulted in an average Revenue Per Available Room (RevPAR) of 3,619 baht in the first nine months of 2023, growing a remarkable 87.6% year-on-year. The Retail, Wholesale and Commercial Business also continued to strengthen its strategy by enhancing the competitiveness of projects in our portfolio to meet the diverse needs of customers and tourists to enhance the potential of long-term cash flow growth," Mrs. Wallapa said.
Hospitality Business
In Q3/2023, the Hospitality Business Unit recorded a Net Operating Profit (EBITDA), according to the Financial Statements, of 692 million baht, an increase of 40.9% year-on-year. AWC's hotels yielded a higher Revenue Generation Index (RGI) when compared to hotels in the same group in nearby areas such as Courtyard by Marriott Phuket Town with an RGI of 254.1, and Bangkok Marriott Hotel The Surawongse with an RGI of 218. Moreover, AWC focuses on strengthening its hotel portfolio in strategic locations, enhancing quality projects in the portfolio, and collaborating with global partners to support the growth of operating assets to drive a continuous rise in operational profitability (BU EBITDA).
AWC is committed to continuously developing quality assets through the launch of world-class hotels and restaurants to meet the needs of the market, while providing a memorable experience for tourists, together with world-class food and beverages to strengthen Thailand as a global tourist destination. In Q3/2023, AWC had a total of 6,034 key rooms – up by 76% from 2019 before the COVID-19 pandemic. The increase was achieved through the launch of many new hotels such as 'INNSiDE by Meliá Bangkok Sukhumvit', which has been designed and certified to meet the Excellence in Design for Greater Efficiency (EDGE) standard, and InterContinental Chiang Mai The Mae Ping, which is a luxury hotel and the first InterContinental hotel in Northern Thailand with the unique concept of a living museum hotel where guests can experience the timeless legacy and beauty of Lanna's golden heritage. The InterContinental Chiang Mai The Mae Ping is also the first hotel in Chiang Mai to be certified LEED for building design and construction and WELL pre-certification standards, which aims to meet the luxury travel needs of travelers who focus on sustainable tourism. In addition, AWC also unveiled the Chiang Mai Marriott Hotel, the first Marriott hotel with the largest premium MICE facilities hotel in Northern Thailand. In addition, AWC also launched several world-class restaurants to attract a more diverse range of customers. For example, Yue Restaurant and Bar, offering Chinese cuisine, is now open at Courtyard by Marriott Phuket Town. Kissuisen, with four premium authentic local Japanese restaurants, is operating at the Bangkok Marriott Hotel The Surawongse. Currently, AWC operates 22 hotels.
Retail, Wholesale and Commercial Business
In Q3/2023, the Retail Business Unit recorded a Net Operating Profit (EBITDA), according to the Financial Statements, of 963 million baht, a 124.4% increase year-on-year after the unit's shopping centers continued to be improved in accordance with the Company's marketing strategy. The number of customers rose, especially at Asiatique The Riverfront Destination after successfully repositioning itself as Thailand's largest riverfront 'Retail-Tainment' hub, attracting more Thai and foreign tourists. Meanwhile, the Wholesale Business Unit has partnered with "Koelnmesse", one of the world's leading trade fair organizers located in Cologne, Germany, to enhance Thailand's wholesale industry by connecting partners, sellers and buyers through AWC's and Koelnmesse's network base for Thailand to become a strong and sustainable international sourcing hub in the region.
The Commercial Business Unit has continued to generate cash flow with rental rates rising by 4% in Q3/2023 from the same period a year earlier following upgrades to the Company's office buildings. This included the launch of the "Co-Living Collective: Empower Future" at 'The Empire', offering a new lifestyle space that perfectly answers to a growing trend of work-life integration. Moreover, AWC also welcomed global payments platform 2C2P as a tenant at 'The Empire, further strengthening the building's digital ecosystem, connecting tenants and employees of leading companies, strengthening the building's positioning as a new-style office building that perfectly blends life and work.
AWC is committed to operating its businesses based on its strategies for sustainable growth and is ready to create value for stakeholders across all sectors. Currently, AWC has received a high ESG score of 77 in 2023 from S&P Global ESG. The Company was also listed in SET ESG Rating 'A' from The Stock Exchange of Thailand, and entered the SET ESG Ratings List as one of 193 companies that have passed the criteria and has been announced for the Property & Construction sector for three consecutive years in 2023. In addition, in the past quarter, 18 of AWC's affiliated hotels and shopping center received STAR (Sustainable Tourism Acceleration Rating) certification from the Tourism Authority of Thailand. These accolades reflect AWC's commitment to conduct the business according to Environmental, Social, and Governance (ESG) principles. Moreover, AWC has also demonstrated a commitment to the sustainability development framework (3BETTERs). As parts of its efforts, the Company implemented "AWC Stay to Sustain" in collaboration with the Tourism Authority of Thailand and the Mae Fah Luang Foundation under Royal Patronage with an aim to conserve and restore trees in community forests to strengthen biodiversity in the ecosystem, generate income within local communities, provide important long-term support for the national economy, and promote Thailand as a global sustainable tourism destination.