AWC's Pioneering AI-driven Digital Transformation Clinches IDC's 2023 Future Enterprise Awards in Best in Future of Intelligence Honor
09 November 2023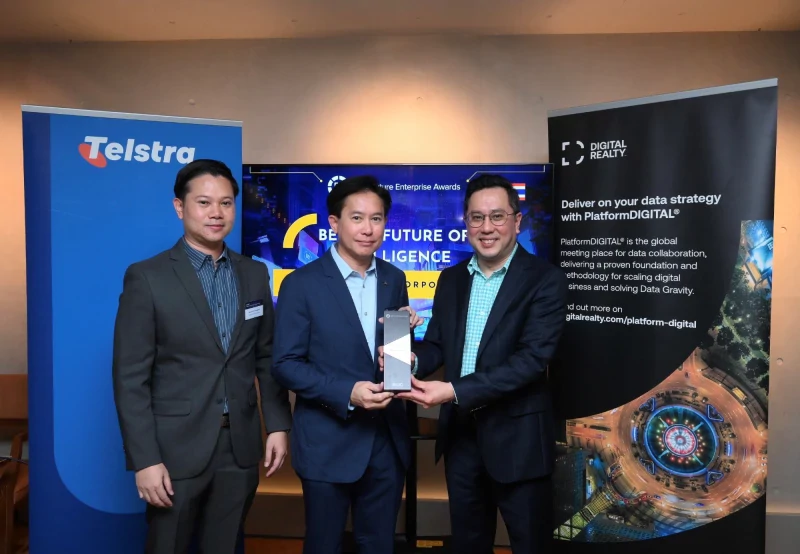 Dr. Satama Sirivunnabood, Head of Enterprise Data Analytics and Dr. Siwate Rojanasoonthon, Chief Corporate Officer of AWC received the prestigious award as "Best in Future of Intelligence" with Mr. Linus Lai, Chief Analyst of IDC Asia/Pacific at IDC Future Enterprise Awards 2023 in Singapore
Bangkok, 7 November 2023 – Asset World Corp Public Company Limited or AWC, Thailand's leading integrated lifestyle real estate group, groundbreaking journey in Digital Transformation has earned the Company the coveted title of "Best in Future of Intelligence" at the 2023 IDC Future Enterprise Awards. At the heart of this recognition is AWC's AI-Driven Procurement Platform, meticulously developed from process standardization to system development, and onto data analytics – all underpinned by rigorous security infrastructure. The platform forecasts demand patterns and identifies cost-saving opportunities, improving business agility, fostering better supplier relationships, and establishing a new benchmark in hospitality industry in Thailand. This approach to AI and digital technology aligns with AWCs operational strategy and supports the Company's long-term sustainable growth.
AWC's commitment to innovation, operational excellence, and sustainable growth is evident in the transition from manual operations to automated systems, developed both in-house and through external partnerships with cloud infrastructure. AWC innovated the development of an AI-Driven Procurement Platform, utilizing Natural Language Processing (NLP). This model enabled the corporate procurement team to identify similar items across AWC-affiliated hotels, making bulk purchasing feasible. To ensure functionality, AWC combined the AI model with cloud-based data lake technology and data visualization dashboards which enabled efficient querying of vast amounts of procurement data and provided valuable insights in a fraction of the time typically required.
Dr. Siwate Rojanasoonthon, Chief Corporate Officer, Asset World Corp Public Company Limited or AWC, said, "AWC is proud to receive this prestigious award as a 'Best in Future of Intelligence' company at the 2023 IDC Future Enterprise Awards. Our Digital Transformation epitomizes AWC's commitment to "Building A Better Future". Continually evaluating challenges and opportunities, we leverage technology to maintain our competitive edge, harnessing the power of data to stay at the forefront of market dynamics. The transformations have allowed for streamlined data analyses, enabling smarter business decisions attuned to evolving customer needs, leading to increased revenue, cost savings, and enhanced overall customer satisfaction."
Measurable benefits of AWC's AI-Driven Procurement Platform have been profound. Starting with over 200,000 SKUs in raw Purchase Order data, successful matching reduced this figure by around 65 percent. This slashed human input from months to weeks. Additionally, categorization of these SKUs into distinct categories has already yielded a 20 percent cost saving from bulk purchasing.
James Sivalingam, Sr. Program Manager, IDC Asia/Pacific, stated, "In the face of evolving challenges and unforeseen disruptions, businesses across Southeast Asia have boldly embraced the Digital Business era. To not only weather the storms but to thrive and chart a course towards becoming the Future Enterprise, Thai businesses recognize the imperative of forging a robust digital strategy. This strategy, anchored in customer centricity, extends its reach to harnessing the transformative power of AI, embracing automation, and leveraging modern digital infrastructure, to ultimately provide enhanced customer experience."
Looking ahead, AWC plans to expand the matching model and bulk purchase initiative to additional categories, utilize the consolidated data for other analyses, such as supplier portfolio optimization and inventory management, integrate the AI model into a web service application, and sync it with the Enterprise Resource Planning (ERP) system for real-time item suggestions to minimize data duplication. By 2024, AWC aims to offer this item matching service to external customers, strengthening the supply chain and creating sustainable growth for all stakeholders.
The 2023 IDC Future Enterprise Awards were organized by International Data Corporation (IDC), the premier global provider of market intelligence, advisory services, and events for the information technology, telecommunications, and consumer technology markets. The awards aim to recognize the pioneers of the new era, especially those with a digital-first approach and tech-driven operating models.