AWC celebrates 10th anniversary of Asiatique The Riverfront Destination with 800 Million Baht investment, creating an 'ALL DAY EVERYDAY HAPPINESS' experience at the largest riverside lifestyle tourist landmark in Thailand
15 February 2023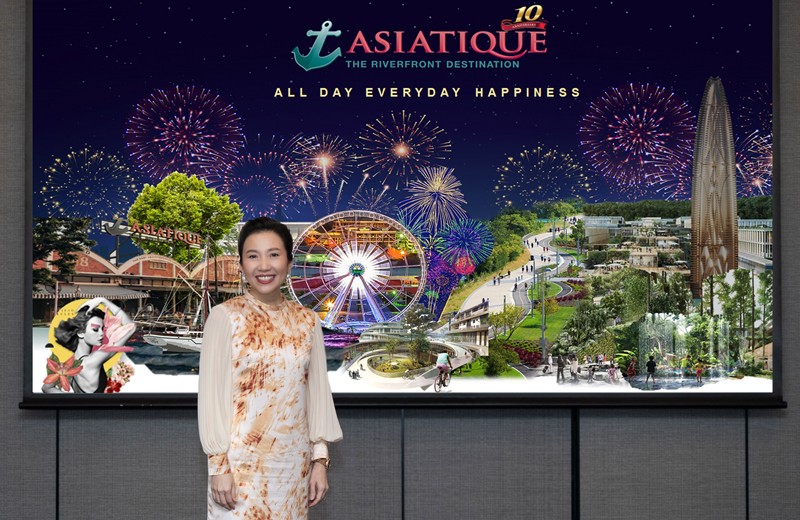 Bangkok, 15 February 2023 - Asset World Corp Public Company Limited or AWC, Thailand's leading integrated lifestyle real estate group, celebrates Asiatique The Riverfront Destination's 10th anniversary, announcing an 800 million baht investment to launch the concept of 'ALL DAY EVERY DAY HAPPINESS' to promote the destination as the country's largest riverfront 'Retail-Tainment' hub. Asiatique The Riverfront Destination will become Thailand's most impressive lifestyle tourist landmark along the Chao Phraya River offering the best travel experiences for tourists from morning to night, offering a wide-range of restaurants along the longest stretch of riverfront in Thailand and a new cool hangout and lifestyle destination. Sustainable development for the environment and community will be a key focus in order to meet the needs of all customer groups, lifestyles and generations.
Mrs. Wallapa Traisorat, Chief Executive Officer and President, Asset World Corp Public Company Limited or AWC said: "Asiatique The Riverfront Destination has made an incredible impression on both Thai and foreign tourists as a unique tourist destination that includes a living museum, a fascinating history, and as a destination for the celebration of all festivals, featuring a variety of lifestyle activities, amid a riverside atmosphere over the past 10 years. AWC is now ready to further develop Asiatique The Riverfront Destination as the ultimate tourist destination landmark along the Chao Phraya River, creating happiness every day for everyone, with the ALL DAY EVERYDAY HAPPINESS concept experience. This will support the revival of the tourism industry in Bangkok and Thailand with a new vibrancy and support the economic growth of our country, following AWC's philosophy of "Building a Better Future."
Under the concept of ALL DAY EVERYDAY HAPPINESS, AWC is investing over 800 million baht to create a world-class riverside lifestyle landmark and upgrades to a lifestyle tourist destination and comprehensive entertainment center that meets the needs of everyone's lifestyles. This will allow to extended opening hours from morning to night in order to deliver a seamless experience every day and position it as a 'Retail-Tainment' destination which combines a Living Museum & Art Festival, a creative learning center for arts and culture in addition to the history of the area where Asiatique The Riverfront Destination is located. Rich in valuable stories that are the pride of Thai people, Asiatique The Riverfront Destination fulfill the lifestyle demands of the new generation and families through three key creative experiences:
FESTIVAL VILLAGE: Discover the landmark's ultimate highlights and international shows such as Asiatique Sky, Thailand's largest Ferris wheel (with a height of 60 meters), a fun merry-go-round, the Haunted House of Mystery Mansion and a well-known Calypso Show.

DISNEY100 VILLAGE: As part of Disney's 100th anniversary, a special pop-up event will bring together consumers and Disney fans in Thailand. From 24 March to 31 July 2023, there will be multiple themed exhibition zones to explore 100 years of timeless storytelling and iconic characters from Disney, Pixar, Marvel and Star Wars. Ticket reservations will be available and can be purchased from Thai Ticket Major soon. For the latest updates, please visit https://www.asiatiquethailand.com/disney or www.thaiticketmajor.com.

LARGEST FOOD AND BEVERAGE DESTINATION: Bringing restaurants from all over Bangkok and street food vendors from various regions across Thailand together at Warehouse 1 and 2, along with opening Big C, a full-scale retail mall which will bring together products and souvenirs popular with tourists. Moreover, Asiatique the Riverfront Destination also offers premium restaurants from leading international hotels such as the Sirimahannop and The Crystal Grill House to ensure that we offer a variety of options for foodies to choose from. Discover a range of food and beverage options stretched out along 300 meters of the Chao Phraya River - Bangkok's longest river promenade - creating a beautiful dining aesthetic with views of the enchanting river.
LIFESTYLE MARKET: a new and cool hangout lifestyle destination for everyone in the family - welcoming all types of gatherings in collaboration with 'Mad Face' and 'Made by Legacy' to organize a 'Lifestyle Market', which will be a community for pet lovers, those who enjoy house decoration and gardening, and vintage product lovers. The creative activities on offer will change based on festivals and seasons, while visitors can enjoy music events, shopping, art, vintage products, healthy products and food throughout the year to fulfil different lifestyles of all generations in one place.
Asiatique The Riverfront Destination has initiated various activities that integrate sustainability, focused on creating value for all stakeholders such as joining hands with Miniwiz to install Trashpresso, a machine that will recycle plastic waste into cool new products that have added value and profitable for community while customers can also learn about recycling. Moreover, the Heritage Lounge space in Asiatique The Riverfront Destination has been allocated for engaging with local communities who can use the area for activities around arts and culture and to exchange knowledge.
"To create the All Day Everyday Happiness experience of Asiatique The Riverfront Destination we have designed the space to ensure there is good ventilation airflow from the river to create a garden-like atmosphere for visitors, with a wide variety of plants and flowers (RETAIN-TAINMENT IN THE PARK) helping bring happiness for everyone in one place by providing a shady atmosphere along the Chao Phraya River. This will also give Asiatique The Riverfront Destination a central role in promoting Thailand as a world-class lifestyle destination." Ms. Wallapa concluded.