"Forbes Asia" has selected "Wallapa Traisorat", CEO of "Asset World Corporation" as one of the twenty women on its 2021 Asia's Power Businesswomen list
02 November 2021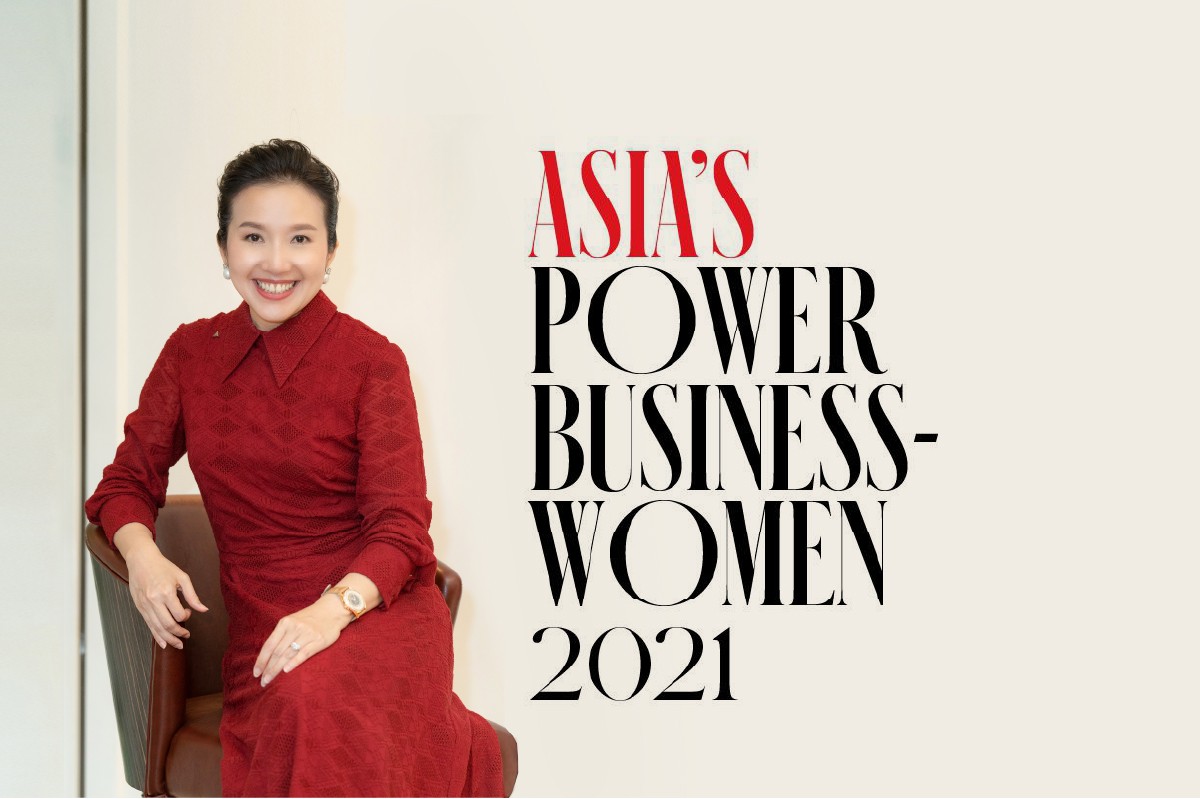 Khun Wallapa Traisorat, CEO and President of Asset World Corp Public Company Limited or AWC, Thailand's leading integrated lifestyle real estate group, a talented businesswoman with extensive experience and history in the real estate industry and a strong leader of AWC, holds a business portfolio of hotels, retail and wholesale centers, and commercial buildings. Khun Wallapa Traisorat has built an organization that is well-known to both domestic and international investors, which continued to grow in the midst of the challenging years of the Covid-19 pandemic and has thus been selected as 1 out of 20 of influential businesswomen of 2021 (Asia's Power Businesswomen 2021) in Forbes Asia magazine.
Khun Wallapa Traisorat is the second heir of Chairman Charoen and Khunying Wanna Sirivadhanabhakdi and has fully stepped up to be the CEO of the AWC empire since 2019 by leading the organization to register with the Stock Exchange of Thailand on 10 October 2021 with an Initial Public Offering (IPO). At that date, it was considered the world's largest IPO trading in the past 5 years for the real estate industry. In addition to this, it was also the largest IPO on the national stock exchange with a fundraising value of THB 48,000 million which enhances the organization's success as the nation's leader in real estate development that offers an integrated lifestyle as well as becoming a leading real estate brand in Asia. Despite the shortcomings of the Covid-19 pandemic, the organization continues to grow and create holistic values for the society.
Under her management of the AWC empire, Khun Wallapa Traisorat has led the organization to prosper and grow with many emerging projects including a new landmark on the Chao Phraya River, the launch of Meliá Koh Samui, Thailand which has been recognized as the biggest beach resort in the world, the grand opening Banyan Tree Krabi, and the establishment of AEC TRADE CENTER - Pantip Wholesale Destination. Until the year 2021, despite being a year where the nation has to continuously face the Covid-19 pandemic, Khun Wallapa Traisorat managed to sustain her business through these hardships by seeking opportunities amidst a crisis, utilizing this time productively to develop and improve the organization both internally and externally in preparation for the recovery of the nation's economy.
Prior to this, Khun Wallapa Traisorat assumed the role of a Financial Analyst at Merrill Lynch Asia Pacific Ltd. (Asia-Pacific) in Hong Kong before entering real estate management. In 2001, she was appointed the role of the Executive Director of TCC Holding Co., Ltd. before being promoted to the position of Executive Vice President of TCC Land Co., Ltd. where she oversaw the management systems of real estate assets.
Khun Wallapa Traisorat graduated with a Bachelor's Degreee in Architecture with Honors from Silpakorn University and a Master's Degree in Urban Development Planning, Department of Economics at the University of London along with another Master's Degree in the Department of Land Economy at the University of Cambridge in the United Kingdom.
Khun Wallapa Traisorat is married to Khun Soammaphat Traisorat and has 5 children (2 sons and 3 daughters), all of whom are in school. She allocates her time perfectly to care for her children by sending them to school daily, along with spending her free time on activities with her children, which can be a challenge when simultaneously being responsible for such important roles. However, Khun Wallapa Traisorat succeeds in fulfilling her familial role at the same time as managing an organization with great efficiency through these challenging times.
With a work ethic that is ambitious yet simple, Khun Wallapa Traisorat has always adhered to the philosophy that "all is good when we have the opportunity to learn. If we do our best, the best will happen", which can be applied to all situations.