AWC Announces the Second Quarter 2021 Performance Focuses on Financial Strength and Investment Discipline to build up Sustainable Growth
10 August 2021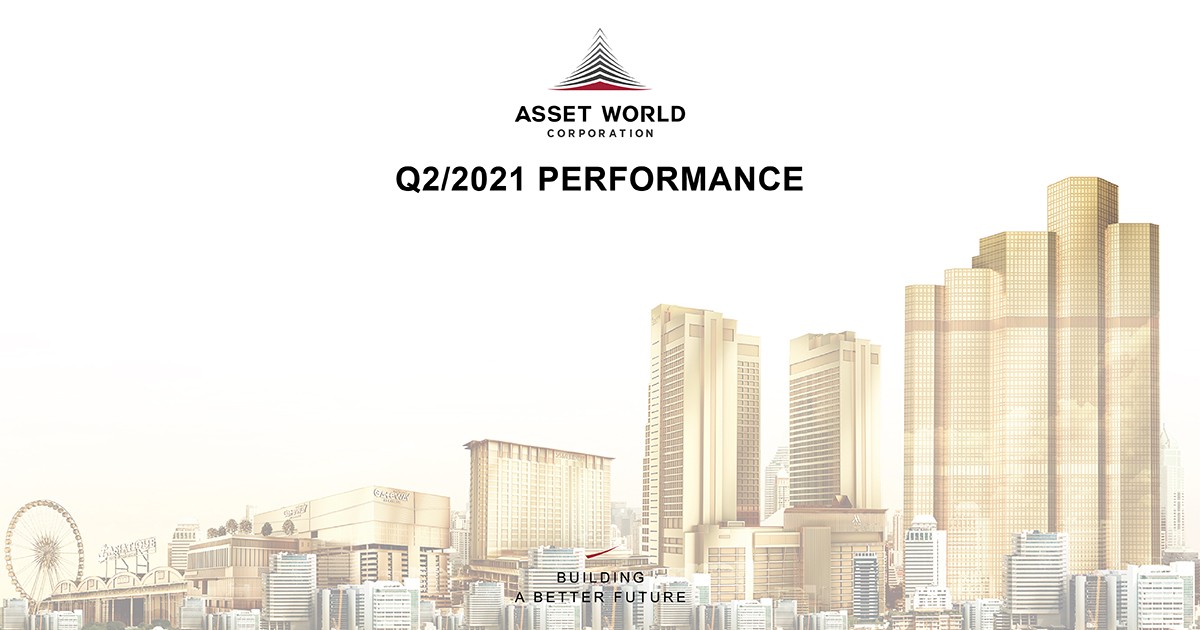 BANGKOK, 10 August 2021 - Asset World Corp Plc. (AWC), Thailand's leading integrated lifestyle real estate group, announces its 2Q/2021 financial results. Acknowledging prolonged COVID-19 outbreak but believing that the tourism industry and Thai economy will start to improve by year end. AWC has reinforced its financial strength and managed investment opportunities effectively to tap new segments and ensure long-term growth and strong cash flow.
Mrs. Wallapa Traisorat, Chief Executive Officer and President of Asset World Corp Plc., reported the company's 2Q/2021 performance, the company changed the accounting policy for the measurement of investment properties by using a fair value method in order to realize and reflect its intrinsic investment value. In the second quarter, the company booked total revenue of 1.546 billion Baht, up 94.6% YoY and posted loss of 198 million Baht. The improvement when comparing to the same period of last year was attributed by government permissions for inter-provincial travel during Songkran. This resulted to revenue increase throughout the holiday period.
During 1H/2021, the Hospitality Businesses were directly impacted by cross-border travel restrictions, but the Company managed to keep its Occupancy Rate at a satisfactory 15.91%, notably higher than the 5.71% as shown in 2Q/2020. The group's RGI Index was at 125.3 higher than the market average, some of the exceptional examples included 1) Le Meridien Bangkok (RGI at 322.4), 2) Le Meridien Chiangmai (RGI at 249.6), 3) Banyan Tree Krabi (RGI at 217.3), and 4) Bangkok Marriott Hotel The Surawongse (RGI at 216.3). The occupancy Rate for Grade A office buildings within the company's Retail & Commercial Real Estate Business remained at a high level, resulting in an EBITDA in 2Q/2021 of 1.094 billion Baht, 101.5% increase YoY. To ensure its
EBITDA growth, AWC continues to implement its strategy of diversified quality assets portfolio in order to reduce revenue volatility. The Company has also focused on enhancing the value and standards of its assets by utilizing its "financial strength and investment disciplines" to ascertain that the Company will have sufficient credit facilities lines to support its liquidity requirements and investments which will generate strong EBITDA and targeted return, and ultimately support long-term growth as wealth preservation for the Company.
"We believe that tourism and the real estate sector in Thailand will begin to recuperate by end of this year when vaccinations progress is better and infections rate declines. It is the good opportunity for us to reinforce ourselves in all dimensions so that AWC can leapfrog once the economy returns to normal" Mrs. Wallapa said.
AWC has been active in exploring new business opportunities to enhance its standards and long-term brand value. Some of the key accomplishments include the partnership with InterContinental Hotels Group (IHG) to jointly manage hotels and resorts, collaboration with global lifestyle brand Nobu Hospitality, forging ties with haute couture fashion brands, integration of diverse array of business plans to generate revenue from new customer demographics, and development of the AWC Connext application which provides a boundless and convenient payment platform connected to the AWC Infinite Lifestyle program.
Mrs. Wallapa added that AWC has also committed to "Sustainable Development". It should be noted that in May 2021, AWC was invited to participate in the 2021 Stock Exchange of Thailand: Thailand Sustainability Investment Index (SET THSI) evaluation as part of the Real Estate and Construction Industry Group. The Company submitted data and an outline of its efficacy in the three dimensions of Economy, Environment and Society, and answered the 20 categories of questions of the Stock Exchange of Thailand while also performing risk assessments for a comprehensive range of crises and developing a plan for good governance as to maintain its leadership in Thailand's real estate development segment and to grow internationally.
"Operating business in the era of COVID-19 has been one of the greatest challenges we have faced. We have to strategize to ensure our businesses can generate profit and short- term cash flow while also enriching our value to drive long-term growth that benefits the Company, our employees, and shareholders." Mrs. Wallapa remarked.