Asset World Corporation launches new Revolving Development Credit Program – Cum Debenture (RDPD) with Siam Commercial Bank for THB 30bn credit lines as part of a forward-looking investment strategy
14 May 2020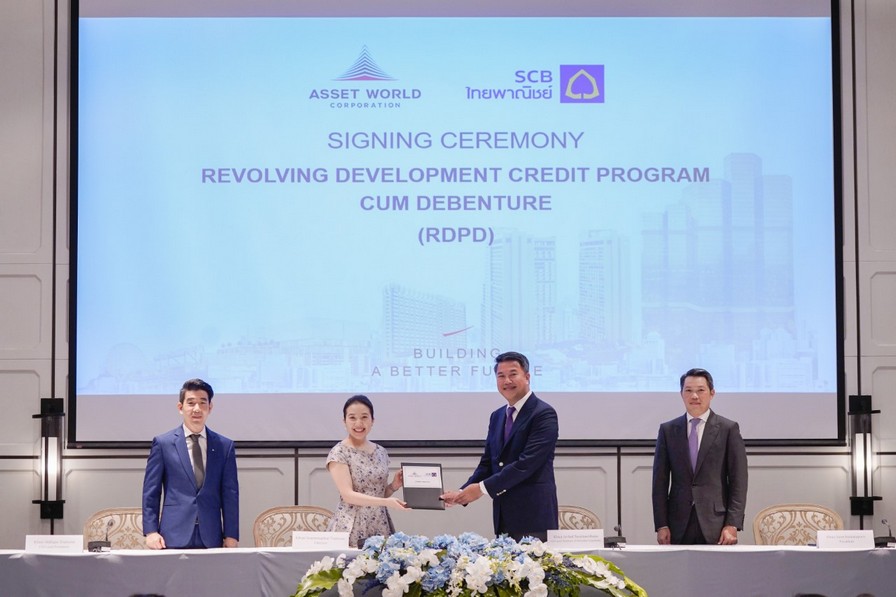 Asset World Corporation launches new Revolving Development Credit Program – Cum Debenture (RDPD) with Siam Commercial Bank for THB 30bn credit lines as part of a forward-looking investment strategy The move is driven by confidence to support the overall growth of Thailand's economy.
May 14, 2020 – Asset World Corp Public Company Limited (AWC), Thailand's leading integrated lifestyle real-estate group, has signed an agreement with Siam Commercial Bank for a "Revolving Development Credit Program – Cum Debenture (RDPD)", a new revolving credit scheme designed specifically for large real estate development business.
The program grants the company to draw on credit lines as needed for the development of projects. Once a project starts the operation of the business, the company could repay the loan by the income from operation or debenture issuance, and draw on credit lines again for further project development.
This RDPD program enables financial institutions to join the partnership and share vision to build a long-term, sustainable growth.
Wallapa Traisorat, CEO and President of Asset World Corp Public Company Limited (AWC), said the agreement is a strategic decision for the company.
"We are greatly delighted to build a strategic partnership with Siam Commercial Bank to form this new innovative credit program," Ms. Wallapa said. "The success of the partnership reflects SCB's strong commitment to innovation and customer centricity as the lead arranger of 30,000-million-baht credit lines, which testifies to the bank's confidence in the long-term potential of the Thai economy as well as AWC's growth-led strategy aimed at achieving the goal of creating a better future for the economy, society and Thailand as a whole."
"SCB has always been confident in the outstanding potential of AWC. Its strong performance undoubtedly reflects its relevant strategic moves amid the COVID-19 pandemic. Despite the crisis, the company has impressively demonstrated its capability in maintaining the momentum of managing expenses and increasing efficiency. The Bank is pleased that this 30 billion baht in financing will help support AWC in readying itself for business, while also aiding in the post COVID-19 recovery for real estate sector and the tourism industry which will be an integral part in quickly boosting the Thai economy." said Siam Commercial Bank CEO and Chairman of the Executive Committee Mr. Arthid Nanthawithaya.
The success of the RDPD program is a testimony to AWC's strong business fundamentals as a leading real estate company, and the 19th largest SET-listed company in Thailand by market capitalization with total assets of 124,921.4 million baht as of March 31, 2020. The company's robust financial strength and well-positioned development strategy makes it eminently suited to continue with the development of high-potential projects for sustainable growth, in addition to a strong shareholder structure with major shareholders including such industry leaders as TCC Group, one of Southeast Asia's largest conglomerates, and GIC Private Limited, Singapore's National Wealth Fund and the world's sixth largest national wealth fund focusing on investing in foreign assets.
AWC has been included in the calculation of MSCI (Morgan Stanley Capital International) Index, an internationally accepted benchmark to measure stock market performance, to be effective on May 29, 2020.