Asset World Corporation continues to move forward in its commitment to build a better future by implementing 3 strategies to enhance business potential with SHA standard
29 May 2020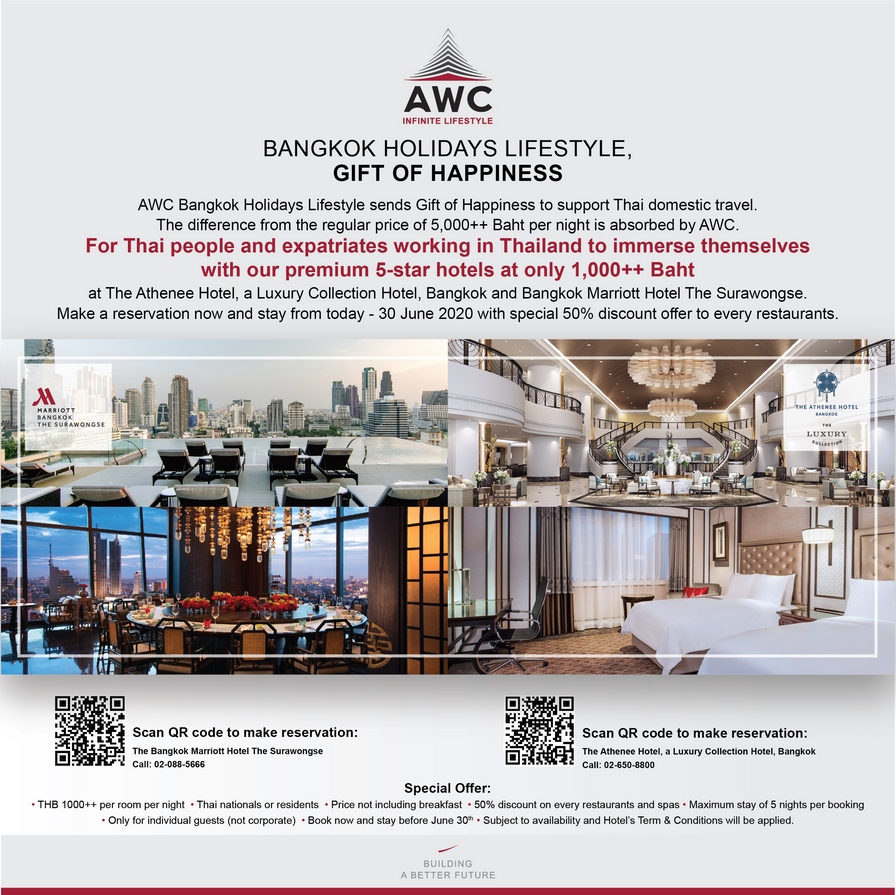 Asset World Corporation continues to move forward in its commitment to build a better future by implementing 3 strategies to enhance business potential with SHA standard, The Core 5 for Safety and Clean Master Plan and "AWC Infinite Lifestyle" introducing gift of happiness to Thai residents with Bangkok Holidays Lifestyle geared towards strengthening the Thai economy after COVID-19.
29 May 2020 – Asset World Corp Public Company Limited (AWC),Thailand's leading integrated lifestyle real-estate group, reinforces its commitment in Building a Better Future by empowering its affiliates to accelerate business recovery from the COVID-19 pandemic with key 3 strategies: BETTER PEOPLE, BETTER LIFESTYLE, BETTER ECONOMY.
BETTER PEOPLE ensures the implementation of a comprehensive health safety and hygiene program at all affiliated properties in compliance with the government's policies on the Safety and Health Administration (SHA) standard and the "The Core 5 for Safety and Clean" master plan to ensure the wellbeing of employees, tenants and customers.
BETTER LIFESTYLE leverages the company's outstanding diversified portfolio in response to a New Normal in lifestyles by introducing "AWC Infinite Lifestyle" to create new customer experiences through offering flexible customized services with enhanced safety and hygiene practices and world-class standards.
BETTER ECONOMY underlines AWC's readiness to help return all its affiliated businesses to their normal operations together with going ahead with new project developments as planned and improvements of high quality projects to promote Thai tourism industry while creating a better future for all sectors and Thai economy in a sustainable manner.
Wallapa Traisorat, CEO and President of Asset World Corp Public Company Limited (AWC), has stressed that the pandemic has created challenges but also opportunities.
"The COVID-19 pandemic has resulted in significant behavioral changes among people around the world, leading to a New Normal across all industry sectors, in particular the tourism sector where health safety and hygiene are of utmost importance," Wallapa said.
"AWC is ready to adapt to a different dimension in the socioeconomic environment by creating new benchmarks to support the tourism ecosystem in Thailand as it is getting back to normal, along with enhancing the capacity of affiliated businesses after overcoming the COVID-19 crisis," she added. "This will ultimately create a better quality of life for people and strengthen the fundamentals of the country."
AWC's three key strategies in moving towards a better, stronger future consist of BETTER PEOPLE, BETTER LIFESTYLE and BETTER ECONOMY.
BETTER PEOPLE: ensures the highest standards of safety and hygiene for customers and visitors at all AWC affiliated properties by participating in the Amazing Thailand Safety & Health Administration (SHA) certification program aimed at supporting the Thai government's tourism policies. All 29 AWC properties, which cover hospitality business and commercial business comprising retail and office buildings, are pursuing the Safety & Health Administration (SHA) certification, in order to ensure the high safety and hygiene standards of tourism establishments while creating great experiences on tourism products and services in Thailand for international and domestic tourists.
The Athenee Hotel Bangkok, a Luxury Collection Hotel, has been the first tourism establishment in Thailand to be certified with the SHA standard, signifying AWC's readiness and capacity in pursuing the highest standards in its business operations while helping drive Thailand's tourism industry on the road to full recovery in the wake of the COVID-19 pandemic.
In compliance with the SHA standard, AWC has implemented "The Core 5 for Safety and Clean" Master Plan for the benefits of its employees, tenants and customers across its properties:
Secure Screening – proceed with temperature checks and visitor registration via the government's Thai Chana check-in platform for everyone when entering buildings.
Social Distancing – observe specific distances between people and limit the number of people at gatherings.
Super Hygienic Cleaning – clean and sanitize frequently touched surfaces every 1 hour and public areas every 2 hours.
Support Care Service – promote awareness of the need for personal hygiene and cleanliness among people to reduce the risk of infections.
Safety Trace – implement visitor data collection for the sake of convenience and accuracy in tracking. In addition to visitor registration with the Thai Chana check-in platform, Asset World Corporation also uses its own "AWC Application" to collect visitor data.
BETTER LIFESTYLE – leverages the company's distinctive portfolio of Hospitality and Retail & Commercial properties spread across key locations in Bangkok and major tourism locations throughout Thailand to create new service offerings in response to a New Normal in the lifestyles of customers and tourists. "AWC INFINITE LIFESTYLE" is a new service introduced to allow customers to enjoy life to the fullest with creative freedom and flexibility. This service enables customers to design a suite of services that best suit their working and leisure preferences with premium products and service offerings available from AWC's affiliated hotels, all of which are of world-class standards with the highest degrees of safety, hygiene and quality. They range from health and wellness retreat programs e.g., fitness and relaxing spa, food and beverage, as well as meeting, seminar and business facilities. Customers can also choose their preferred validity period for services.
In June 2020, "AWC INFINITE LIFESTYLE" introduces a special program to delight Thai consumers and promote domestic travel – Bangkok Holidays Lifestyle, Gift of Happiness, a best gift that inspires Thai people and expatriates working in Thailand to immerse themselves in bustling Bangkok metropolitan with a comfort stay, world-class cuisines from award-winning chefs, exceptional service and a full range of hotel amenities during difficult time at The Athenee Hotel, a Luxury Collection Hotel, Bangkok, and The Bangkok Marriott Hotel The Surawongse, at a special price of only 1,000++ Baht per room excluding breakfast (Difference from the regular price of 5,000++ Baht per night is absorbed by AWC in order to support domestic travel), with special 50% discount offer at selected hotel restaurants and spa. Make reservation from 30 May 2020 and stay from 30 May – 30 June 2020. Offers are only valid for direct bookings by phone or email to hotel reservations, with limited maximum stay of 5 nights per booking. To make reservation:
BETTER ECONOMY – AWC-affiliated businesses are ready to resume full operations. All retail properties reopened on 18 May 2020, while the reopening of hospitality properties has varied from location to location, with preparedness on safety and hygiene practices to accommodate domestic tourism which started to recover. For instance, Hua Hin Marriott Resort & Spa, which reopened on 18 May 2020, saw an occupancy rate of over 80% during weekend. New shopping and lifestyle project development goes side by side with enhancement of existing projects to be top tourist destinations. Asiatique The Riverfront, for example, will be closed for renovation starting 31 May 2020, with improvement of safety system, infrastructures and parking space, as well as new strategy and development of new tourist attractions, to be a more sensational must-visit destination that creates new impression among local and international visitors alike. The company has also moved ahead with new project developments as planned and reopening of existing projects to welcome international tourists back to Thailand. In addition, it is continuing its collaborations and partnerships both in the private and public sectors for initiatives aimed at restoring robust growth in the Thai tourism industry while helping drive the country on its path to full social and economic recovery.
"We hope that by implementing the three strategies geared towards a better future we will help build confidence among customers, tourists and visitors who enter our properties. These strategies are all relevant to people's lifestyles in light of New Normal dynamics," Wallapa said.
"They reflect our unwavering commitments to building a better future for Thai tourism in the long term, which is an essential part of accelerating strong economic recovery and growth," she added.