AWC introduces the inspiring lifestyles in the New Normal with "AWC INFINITE LIFESTYLE"
19 June 2020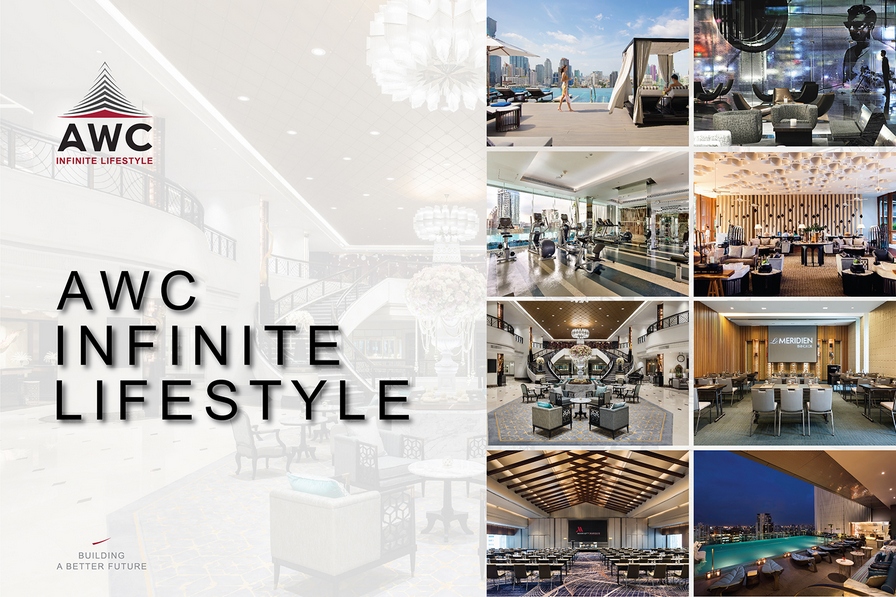 AWC introduces the inspiring lifestyles in the New Normal with "AWC INFINITE LIFESTYLE" Supporting "Travelling Together" campaign by presenting special 50% discount packages for accommodations and other offerings at all affiliated hotels while empowering Thai economy for a strong recovery.
19 June 2020 – Asset World Corp Public Company Limited (AWC), Thailand's leading integrated lifestyle real-estate group, has unveiled "AWC INFINITE LIFESTYLE", a program which will be an innovative way of living & working integration, combining "Office-Home-Hotel-Retail" to assist consumers in their changing working habits and lifestyles according to current trends of Work From Anywhere in the world of New Normal. The innovative service allows customers to design their own living and working experiences from a full range of service offerings available in AWC's affiliated businesses. By availing themselves of AWC INFINITE LIFESTYLE memberships, available in Executive, Signature and Elite packages, clients can take advantage of benefits all designed to offer new experiences in inspiring and flexible lifestyles. The memberships are available to corporate customers, businesses and individual consumers alike. AWC INFINITE LIFESTYLE is poised to strengthen AWC's affiliated businesses, while enhancing the Thai tourism industry and economy to achieve fast-paced recovery in the wake of the COVID-19 crisis. The initiative also helps to reaffirm the company's commitment as set forth in its AWC Building a Better Future strategy.
Wallapa Traisorat, CEO and President of Asset World Corp Public Company Limited (AWC), said that changing consumer habits and demands necessitate creative solutions.
"The currently evolving situation has resulted in fast-changing consumer behaviors and lifestyles. In light of the emerging trend of work from anywhere, coupling with AWC's key strategy as a leading lifestyle real estate group striving to provide consumers with infinite living experience, we are keen to revamp the product and service concepts of our affiliated businesses in response to a world of New Normal while building upon the fundamentals of the AWC Building a Better Future annual growth strategy in creating value for all relevant stakeholders, including our shareholders, customers, employees, as well as society and the country at large,"
Leveraging the company's outstanding and diversified portfolio in response to New Normal lifestyles, "AWC INFINITE LIFESTYLE" is a new innovative way of living & working, combining "Office-Home-Hotel-Retail" in our day to day meeting and working schedule while integrating a better work-life balance. It allows customers to enjoy endless inspirations with full creative freedom and flexibility. The company's customers can design a suite of services that best suit their working and leisure preferences with premium products and service offerings available from AWC's affiliated projects, all of world-class standards with the highest degrees of safety, hygiene and quality. Customers can enjoy special privileges and premium services that accommodate their working and living needs across all AWC properties, starting at 16 affiliated hotels, and soon to be expanded to affiliated office buildings and shopping and retail malls at various strategic Bangkok CBD locations and major tourism provinces across Thailand. AWC INFINITE LIFESTYLE – a new lifestyle membership service program that helps create a work-life balance in the current fast-evolving world. Membership privileges vary depending on selected packages as follows:
Unlimited Benefit – unlimited access to working and lifestyle facilities, including working space at hotel lobby and business center equipped with high-speed internet, and hotel amenities including swimming pool, fitness center (during off-peak hours) and valet parking service
Discount – enjoy 10% – 20% discounts at food and beverage outlets, spas and laundry services at AWC's properties with plans to offer discounts on hotel rooms in future
Coupon – additional service top-up for facilities at AWC properties, including meeting rooms, club lounges, soft drinks, coffee and tea, and printing services with a variety of packages available to meet different needs
Infinite Point – earn reward points to redeem coupons or cash vouchers to be used at hotel facilities
AWC INFINITE LIFESTYLE, at a starting price of only 3,000 baht per month, is available in three packages designed to meet different customer needs.
EXECUTIVE – allows members to enjoy flexible working lifestyle at any AWC property;
SIGNATURE – ideal for those whose working habits require extensive use of meeting rooms
ELITE – designed for those who need to optimize working productivity with access to hotel club lounge
Another three 'plus' packages, EXECUTIVE+, SIGNATURE+ and ELITE+, have been devised to offer enhanced work-life balance experiences with addition of access to swimming pools and fitness centers (during off-peak hours) as well as higher benefits in earning coupons and Infinite Point.
AWC INFINITE LIFESTYLE will be available starting 19 June 2020. For more information and inquiry, contact info.awcinfinitelifestyle@assetworldcorp-th.com.
The Thai government has recently approved a domestic tourism campaign known as "Travelling Together," aimed at kick-starting the recovery of the tourism sector from July to October 2020. AWC is keen to support this forward-thinking policy and join the program by offering 50% discount packages for accommodations at all AWC's affiliated hotels, as well as special offer at food and beverage outlets and spas at its hotels.
"We have employed our best efforts to resume business in the world of new normal and are ready to give full support to the government and relevant organizations to help promote Thai tourism industry on the road to full recovery of Thai economy in a sustainable manner," Wallapa said.
For more information and news updates at AWC's affiliated projects, go to www.facebook.com/AssetWorldCorporation