Asset World Corporation joins hands with Krua Khun Toi bringing together famous restaurants nationwide to ASIATIQUE The Riverfront to serve customers with new gastronomic experience in the Charoen Krung district
18 September 2020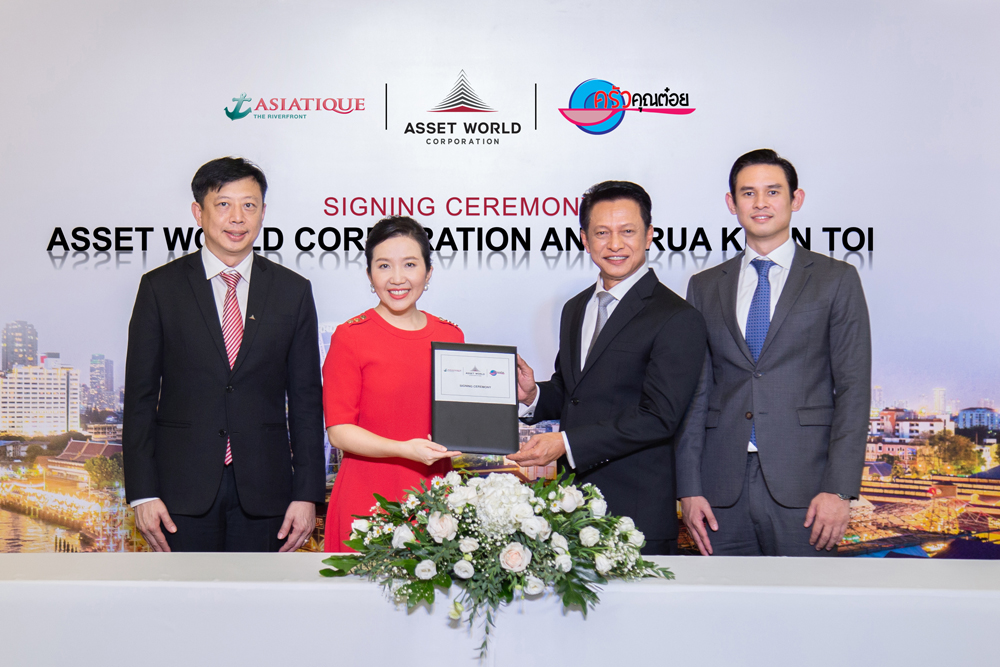 21 September 2020 – Asset World Corporation (AWC), Thailand's leading integrated lifestyle real estate group, announced a strategic partnership with Krua Khun Toi, a famous media platform with one of Thailand's largest network of restaurants and eateries, to bring new experience to customers in celebration of the re-opening of ASIATIQUE The Riverfront. Set on 15 October 2020, the celebration will be held through the conversion of ASIATIQUE The Riverfront's Warehouse 7 into a gastronomic paradise in which "Top Picks" restaurants from Krua Khun Toi are carefully selected to cater all preferences of foodies.
Wallapa Traisorat, CEO and President of Asset World Corp Public Company Limited (AWC) revealed that "AWC is determined to implement the quality development plan in collaboration with partners for continuous sustainable growth. Recently AWC has partnered with Born Project Company Limited, a subsidiary of Born and Associate Company Limited, the producer of "Krua Khun Toi", a TV variety show and media platform with one of Thailand's largest network of restaurants and eateries, to deliver unique experience of culinary delights to customers of all lifestyles, marking ASIATIQUE The Riverfront as the new top-of-mind gastronomic paradise for everyone. With a network of thousands of restaurants as well as over 700,000 fans on its fan page, Krua Khun Toi has shown its limitless potential as a foodie content creator throughout seven years of experience. The outstanding performance of Krua Khun Toi together with the strength of AWC will surely enhance Thai cuisine's reputation and make it even more internationally recognized. In addition, Krua Khun Toi will be brought to Tawanna-Bangkapi Community Mall by the end of this year."
"The collaboration will create a new flavourful gastronomic empire where a wide choice of delicious food is brought together from famous restaurants nationwide to meet all lifestyles and preferences of customers. Please come and witness the charm and excitement at ASIATIQUE The Riverfront re-opening and be enthralled by new experience amidst the uniquely historical atmosphere by the Chao Phraya River" added Wallapa Traisorat.
Tripop Limpapath, Managing Director of Born Project Co., LTD and Born & Associated Co., LTD. unveiled that "This is a long-term collaboration which will utilize the strength of both organizations to the full. We are committed to delivering sustainable food experience which meet lifestyles of customers in the modern era. The customers will enjoy the most flavourful and carefully selected food by Krua Khun Toi while AWC enhances memorable leisure experience."
"The underlying concept of the project is the creation of a new bountiful collection of food, ingredients and workshops unprecedented in the market, selected from Krua Khun Toi network of over 2,000 restaurants nationwide which appeared in the Krua Khun Toi TV show. The foodies will be thrilled by the gustatory experience of authentic flavors, rare dishes, legendary recipes, and festival food. Moreover, special seasonal ingredients and materials available only in some specific locations both in Thailand and other countries will be waiting to be explored. Featuring permanent and temporary eateries, the project also focuses on the community participation through organizing food workshops to deliver direct experience to the visitors" Tripop Limpapath concluded.
For further information about ASIATIQUE The Riverfront and Asset World Corporation, please visit
Website: www.asiatiquethailand.com, www.assetworldcorp-th.com
Facebook: Asiatique.Thailand, AssetWorldCorporation
IG: Asiatique.Thailand, AssetWorldCorporation