Asset World Corporation Joins Hands with public and private sectors alongside "Yiwu" to announce the Grand Opening of AEC TRADE CENTER – PANTIP WHOLESALE DESTINATION Enhancing Thailand's Economy
30 November 2020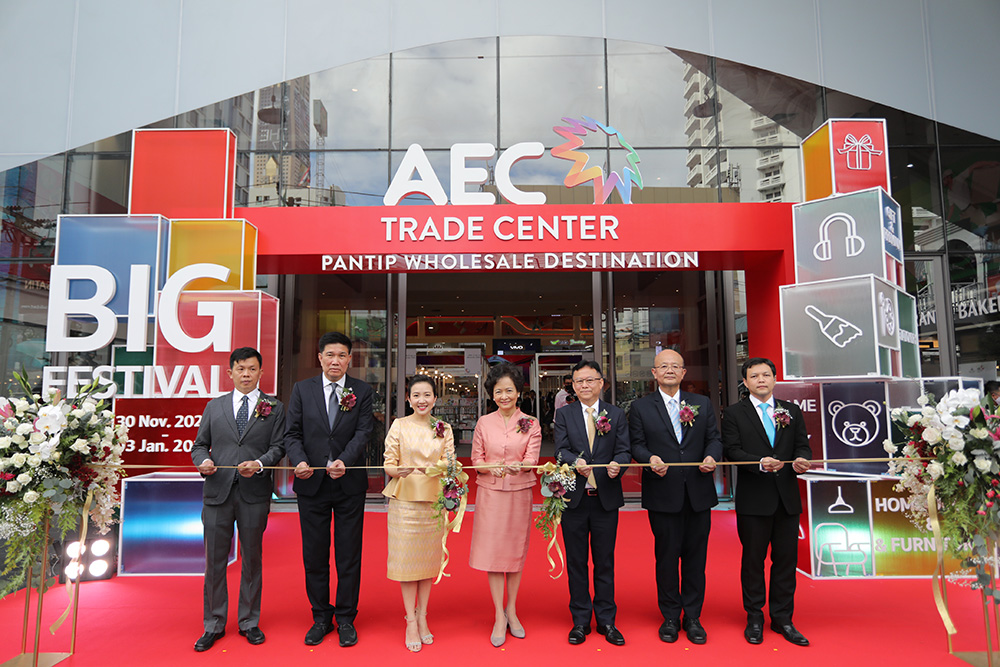 AWC along with public and private sectors will open doors for local manufacturers and business operators to expand their businesses by broadening their sales distribution channels and reaching new markets both domestically and internationally

AWC will collaborate with "Yiwu", a state-owned enterprise that develops and manages the world's largest wholesale market for miscellaneous goods from Yiwu, China, to help connect Thai exporters who wish to export their products to China

AEC TRADE CENTER – PANTIP WHOLESALE DESTINATION, the first one-stop wholesale hub in Thailand located in the heart of Bangkok, houses more than 400 shops offering over 50,000 products across 18 categories
30 November 2020, Bangkok / Asset World Corporation, or AWC, Thailand's leading integrated lifestyle real estate group, has marked a new era for Thailand's wholesale industry with the launch of AEC TRADE CENTER – PANTIP WHOLESALE DESTINATION.
The region's largest wholesale hub, AEC TRADE CENTER – PANTIP WHOLESALE DESTINATION is located in downtown Bangkok and will meet the needs of all buyers and sellers all in one place under the concepts of 'Most convenient', 'Most Entirely' and 'Best price'.
Wallapa Trisorat, CEO and President, Asset World Corp Public Company Limited, states: "We are committed to helping the Thai economy regain its strength in line with our vision for 'Building a Better Future' by launching the 'AEC TRADE CENTER – PANTIP WHOLESALE DESTINATION,' Thailand's first comprehensive, one-stop wholesale trade center located in the heart of Bangkok, a prime location in the middle of Pratunam district. Through this, we are encouraging Thai entrepreneurs to join hands with both public and private sectors alongside "Yiwu" to stimulate the local economy and establish Thailand as the largest wholesale destination in the region."
AWC has established marketing strategies to strengthen the local economy by collaborating with both public and private sectors, the Department of International Trade Promotion of the Ministry of Commerce, the Board of Trade of Thailand and 11 trade associations, the Federation of Thai Industries and "Yiwu", or Zhejiang China Commodities City Group Co., Ltd. (CCC Group), a state-owned enterprise that develops and manages the world's largest wholesale market for miscellaneous goods from Yiwu, China to enter into new markets both domestically and internationally with:
– "Yiwu Selection Thailand Showcase", an exhibition center for quality products from China at wholesale prices from the manufacturer for buyers to purchase;
– "IC Mall" which selects quality products from Thai manufacturers to export to China both via offline and online channels including e-commerce and social media platforms such as Tmall.com, JD.com, Alibaba.com, Koala.com, and the IC_Mall Wechat Application
In addition, the wholesale hub is equipped with a Solution Service Center (SSC) that provides consultation services about the import and export industry to provide more business opportunities both domestically and internationally, meeting rooms and event space for product launches. AWC serves as a facilitator of Business Matching between manufacturers, exporters and importers.
"This wholesale hub puts an emphasis on the needs of both sellers and buyers in one destination under the three concepts of 'Most convenient' – with the location in the heart of the city; 'Most entirety' – with more than 400 shops from wholesale entrepreneurs which offer more than 50,000 products from 18 categories such as bags, leather goods, clothing, costumes, furniture, IT gadgets, household items and kitchen utensils, souvenirs and gifts, accessories, stationery and office supplies, snacks, food and beverage, toys and games, processed foods and fruits, frozen foods, household decorations, beauty and spa products, personal care and cosmetics, printing facilities, containers; and 'Best price' – with wholesale prices from quality entrepreneurs. As well as opening opportunities for buyers and sellers to engage and interact with each other all year round to broaden unlimited business prospects", added Wallapa Traisorat.
Anan Lapsuksatit, Chief Wholesale Business Officer, Asset World Corp Public Company Limited, states: "To celebrate the opening of AEC TRADE CENTER – PANTIP WHOLESALE DESTINATION at Pantip Pratunam, AWC has a 'double luck' special campaign to deliver happiness and welcome entrepreneurs and business operators as well as attract new customers. On the first seven days, customers can win a free iPhone 12, a free stay at a luxury AWC affiliated hotel and many more prizes with a total value of more than THB 10 million. Just bring a receipt or proof of purchase to the prize counter between 10:00 – 19:00 hrs, exclusively from November 30 to December 6, 2020. Winners will be selected by lucky draw and will be announced every day at 20:00 hrs on facebook.com/aecpantip."
• Tier 1 prize: With every purchase valued at THB 5,000, receive a coupon for a chance to win one iPhone 12 each day of the campaign. Eligible buyers can register from 10.00 – 19.00 hrs daily. Winners will be selected by a lucky draw and will be broadcast live on the Facebook page of AEC Trade Center – Pantip Wholesale Destination at 20.00 hrs every day of the campaign duration.
• Tier 2 prize: Receive a free 2-night stay at a luxury AWC affiliated hotel for the 50 first customers with purchases valued at THB 30,000 and THB 50,000 or more each day. Just bring a receipt or proof of purchase to register at the prize counter. Buyers who have a receipt worth THB 30,000 baht or more will be eligible for a 2-night stay at Le Méridien Chiang Mai, Phuket Marriott Resort and Spa, Nai Yang Beach or Sheraton Samui Resort. For those with a receipt worth more than THB 50,000, they can win a 2-night stay at Banyan Tree Krabi, Banyan Tree Samui or Vana Belle, a Luxury Collection Resort, Koh Samui.
• Special prize: One iPhone 12 per day for the top spender of the day.
"AWC would like to invite shoppers, buyers, retailers, corporate clients and online entrepreneurs who are looking to purchase gifts and souvenirs for the coming festive season to the year-end campaign called "BIG Festivals", the year's festival of happiness. The wholesale hub has sourced special products directly from manufacturers and exporters at wholesale prices. Featured products include gifts, stationery, toys, home decorations, household items and printing facilities manufactured by quality manufacturers in Thailand and overseas. BIG Festivals is taking place from now until January 3, 2021," added Anan Lapsuksatit.
Entrepreneurs who are interested booking a retail space can contact 0-2254-9797 or 081–805-7247. For more details, please contact Line: @aecpantip or Facebook.com/AECPantip