Asset World Corporation and the Department of International Trade Promotion join hands to Promote 'AEC TRADE CENTER – PANTIP WHOLESALE DESTINATION' Enhancing Opportunities for Thai Entrepreneurs in a Digital Economy
30 November 2020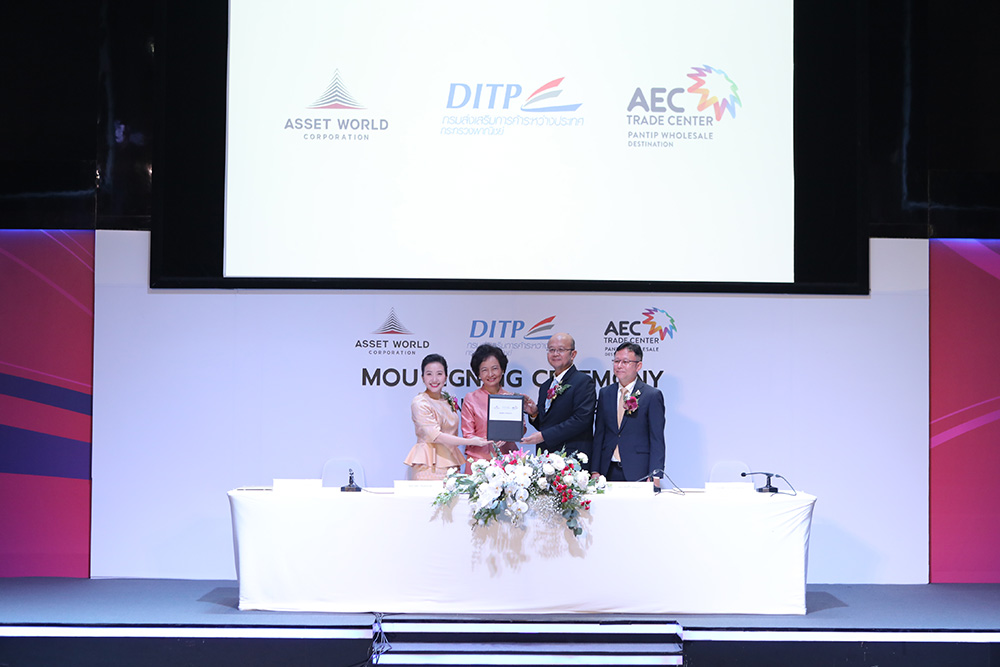 30 November 2020 – Bangkok / Asset World Corp Public Company Limited, or AWC, Thailand's leading integrated lifestyle real estate group, signed a Memorandum of Understanding with the Department of International Trade Promotion (DITP) to develop more opportunities for Thai entrepreneurs, to kickstart the grand opening of 'AEC TRADE CENTER – PANTIP WHOLESALE DESTINATION,' the region's largest wholesale center in the heart of Bangkok.
Wallapa Traisorat, CEO and President of Asset World Corporation, signed the MOU together with Somdet Susomboon, Director-General of the DITP, the Ministry of Commerce. Through this collaboration, AWC and DITP will focus on marketing data integration to provide in-depth knowledge and insights on international trade for Thai exporters.
The MOU aims to support Thai exporters in utilizing their innovative capacity and provide access to information technology in the digital age so that they can expand their businesses with the long-term goal to compete in the international market while contributing to Thailand's economic development.
Somdet Susomboon, Director-General of the Department of International Trade Promotion states: "The MOU connects the public and private sectors, whose expertise and trade data will be integrated to create more trade opportunities and export channels in the global market for Thai entrepreneurs. The collaboration between DITP and AWC will help the Thai export sector develop as a whole and enable Thai exporters to compete with global players. With this MOU, Thai exporters will be ready to face challenges in the global market and the shift towards a digital economy."
Wallapa Traisorat, CEO and President of Asset World Corporation states: "With our determination to strengthen the Thai economy, in line with our vision towards 'Building a better future,' we are delighted to partner with the Department of International Trade Promotion, the Ministry of Commerce. With the project's positioning as the region's largest downtown wholesale trade center, AEC TRADE CENTER – PANTIP WHOLESALE DESTINATION will provide a wide variety of products, as well as being located in close proximity to multiple important business districts and comprehensive services. These are among the many advantages that will support Thai exporters in their search for new opportunities and business expansion. The sales channels that we develop will help them reach new customers both locally and internationally in order to grow their businesses continuously and boundlessly."
Wholesalers who are interested to trade at the AEC TRADE CENTER – PANTIP WHOLESALE DESTINATION can directly contact us at 0-2254-9797 or 081–805-7247. For further information, please contact Line@: aecpantip or Facebook.com/AECPantip