Asset World Corporation announces the annual business performance 4Q/2020
15 February 2021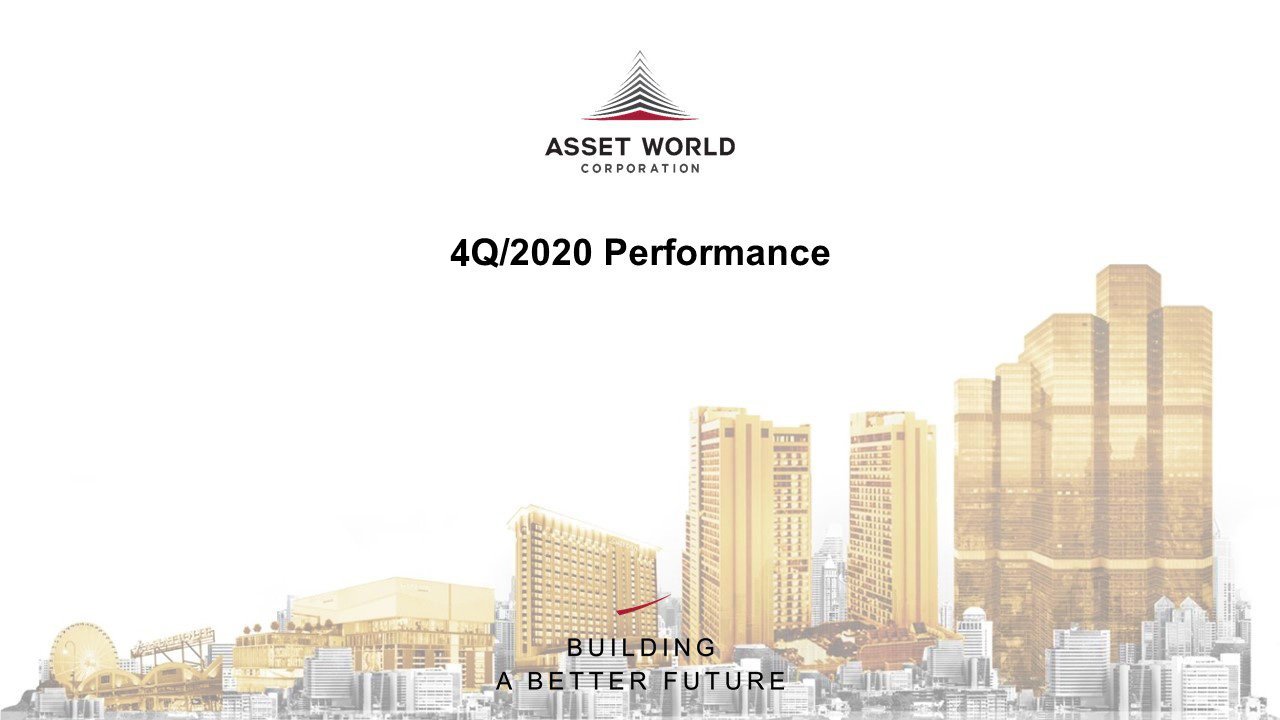 Asset World Corporation announces 2020 business performance with a total loss of THB 1,881 million as a result of the COVID-19 pandemic
Q4/2020 results showing a strong recovery from the lowest point in Q2, coupling with stable performance of the Commercial business, leading to a strong and positive net cash flow while maintaining continued growth and stability in a sustainable manner
15 February 2020, Bangkok - Asset World Corporation (AWC), Thailand's leading integrated lifestyle real estate group, announces 2020 operating performance and fourth quarter results of the year with gross operating income of THB 6,133 million and THB 1,578 million respectively. The gross operating income in Q4 has increased by 24.60% from that of Q3, reflecting a continued improvement from Q2 of 2020, thanks to continued benefits from the company's Balanced and Diversified Portfolio investment strategy which enables the company to generate a stable cash flow, in particular, by the Commercial Business which was not directly affected by the pandemic.
Meanwhile, the company's Hospitality Business and Retail Business have seen a constant improvement, resulting in a positive net cash flow by end of 2020, reflecting the company's business continuity. The overall business improvement also demonstrated a continued recovery of domestic business sectors. In addition, the company achieved effective cost management with the ratio of operating expenses to operating income in Q4 decreased 13.6% from Q3, as a result of the organization restructuring program together with the implementation of cost control and efficiency initiatives, contributing to a solid foundation to ensure optimal cost and operational efficiency in a sustainable manner for long-term growth.
Wallapa Traisorat, CEO and President, Asset World Corp Public Company Limited, states that, "We remain optimistic on the long-tern perspective of Thai tourism industry, which serves as a driving force for AWC's commitment to constant development of new landmark projects to enhance the reputation of Thailand and its tourism sector. Our new project development has resumed as planned to achieve our business objective with optimal efficiency and effectiveness. Major recent achievements include the acquisition of Group 3 properties, and the launch of Meliá Koh Samui, Thailand; Banyan Tree Krabi; Sirimahannop Tall Ship and Lasalle's Avenue - Phase 2, all of which have significantly strengthened AWC's asset portfolio and increased the company's total asset value by 26% to THB 125,696 million by end 2020, from THB 99,549 million in 2019. Furthermore, renovation plans for other affiliated properties have still be carried out at Tawanna Bangkapi 2 and Courtyard by Marriott Phuket Town. However, the tourism industry was still affected by the Covid-19 pandemic which obstructed arrivals of international travelers. We have also implemented measures to reduce rental fees for business operators and tenants in the Retail business unit to help them overcome the difficulties together. As a result of these, AWC recorded a net loss of THB 492 million in 4/2020, which is a 20.6% decrease from 3/2020. However, the company was able to generate a stable cash flow due to our Balanced and Diversified Portfolio investment strategy which contributes to continued growth and stability in a sustainable manner."
The Hospitality Business was still impacted by the slowdown of international tourism, which has directly dampened the revenue of AWC affiliated hotels. However, AWC has continued to participate in the government's domestic tourism promotion and economic stimulus programs such as Workation Thailand (work in one place, help the nation together), the We Travel Together (Rao Tiew Duay Kan) campaign, as well as launched AWC INFINITE LIFESTYLE: INFINITE POINT OF HAPPINESS. As a result, the revenue of the Hospitality Business saw a significant increase from THB 470 million in Q3 to THB 773 million in Q4, or a 64.6% increase. At the same time, the revenue of Retail Business and Commercial Business rose from THB 836 million in Q3 to THB 872 million in Q4, or a 4.3% increase. This is due to the recovery in the Retail Business which saw a continuous increase in customer traffic. The company's revenue in Hospitality Business and Retail Business would have been higher should the second wave of the COVID-19 not occur.
AWC has also carried out its Corporate Transformation plan along with Cost Control and Efficiency Initiatives without affecting the company's future operations. The ratio of operating expenses to operating income decreased from 92.8% in Q3 to 78.6% in Q4, reflecting the efficiency of the company's cost control initiatives. In addition, the company moved forward in organizational cost management by cutting costs in many aspects.
"In transition to 2021, we will continue to adhere to our mission of 'Building A Better Future' for all stakeholders, the community, the society and the nation in the world of the 'New Normal' with a massive change to people's daily lives. Our key strategies for 2021 in moving towards a better and stronger future consist of BETTER PEOPLE - ensuring confidence in the safety and hygiene standards at all AWC affiliated properties, BETTER LIFESTYLE - utilizing the unique strengths of our diversified portfolio to respond to the ways of the 'New Normal', and BETTER ECONOMY - continuing to develop the business as planned as well as developing new quality projects and renovating existing affiliated properties to be ultimate tourist destinations. All these are contributing factors for strengthening confidence for all stakeholders and get the Thai economy back to normal as soon as possible for a strong, constant growth," concluded Wallapa.