Celebrate the New Year and elevate your happiness with 6 AWC Infinite Lifestyle packages that correspond to all lifestyles. Choose the most suitable package for you now!
End of the sale period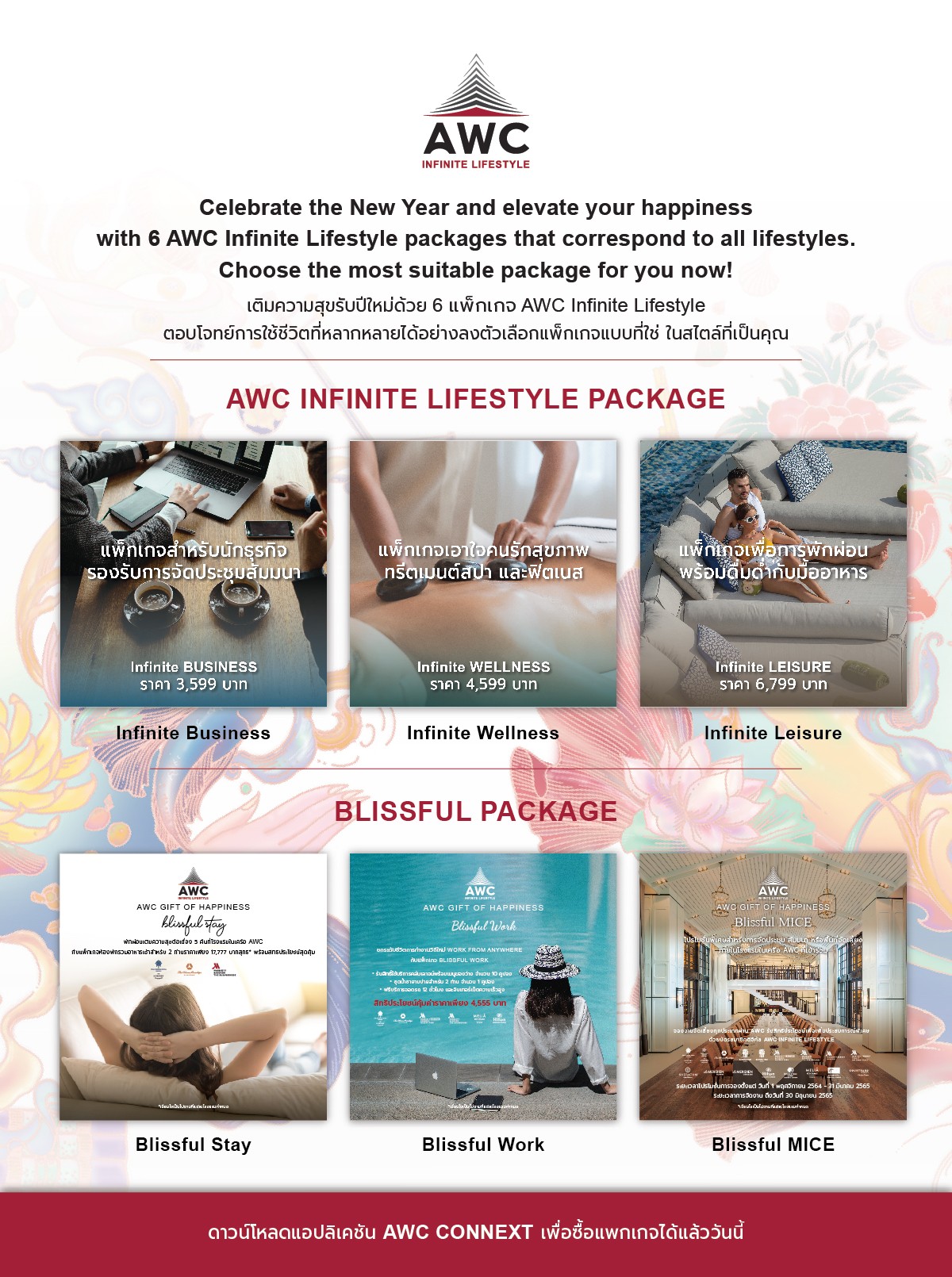 Experience an integrated lifestyle combining Office-Home-Hotel and enjoy the benefits and conveniences brought to you by AWC Infinite Lifestyle, assembling privileges and services that have been perfectly designed to correspond to all lifestyle activities. Providing packages that will fulfil your happiness in recreation, work, hosting meetings and semi-nars, as well as changing up the ambience to inspire creativity and liveliness.
AWC Infinite Lifestyle Package*
Digital coupons to redeem privileges with the valdity of 90 days from the first day of purchase
INFINITE BUSINESS THB 3,599
2 Coupons – Use of meeting room for 5 persons per 2 hours (room only)
4 Coupons – Access to the participating hotel's business center (excluding meeting rooms)
4 Coupons – 1 cup of coffee or tea at the participating hotels
2 Coupons – 1 glass of soft drink or fruit juice at the participating hotels
4 Coupons – Printing services for A4 paper in black & white per 1 page
2 Coupons – Printing services for A4 paper in color per 1 page
A total of 18 coupons at the total value of THB 5,500
INFINITE WELLNESS THB 4,599
2 Coupons – Signature spa treatment, 90-minute aromatherapy massage
2 Coupons – All-day access to swimming pool and fitness center of the participating hotels in Bangkok
A total of 4 coupons at the total value of THB 6,500
INFINITE LEISURE THB 6,799
2 Coupons – Accommodation for 1 night, exclusively from Sunday to Thursday at the participating hotels
4 Coupons – Unlimited buffet breakfast during your stay at the participating hotels
2 Coupons – Access to participating hotel's club lounge (including Happy Hour)
A total of 8 coupons at the total value of THB 12,500
Blissful Stay Package THB 17,777 net*
Stay up to 5 consecutive nights with breakfast for 2 persons at participating hotels and other package privileges
200 Infinite Point for redeeming benefits and services e.g. accommodation, food & beverages or spa on AWC CONNEXT application
Free Welcome Gift
Free room upgrade
Valid from today – 31 July 2022
Blissful Work Package THB 4,555 net*
Change up your ambience and Work From Hotel at AWC affiliated hotels with exclusive privileges
10 Coupons – Access to participating hotel's club lounge (including snack menu)
1 Coupon – Afternoon Tea set for 2 persons
Free parking for 12 hours
Free high-speed WiFi
Valid from today – 31 July 2022
Blissful MICE Package
Receive exclusive privileges from the AWC INFINITE LIFESTYLE digital membership card
Receive exclusive promotions for meetings, seminars, or banquts at participating AWC affiliated hotels
Valid from today – 30 June 2022