INNSiDE by Meliá Bangkok Sukhumvit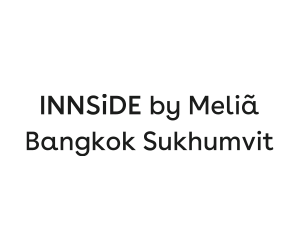 Location
Sukhumvit, Bangkok
INNSiDE by Meliá Bangkok Sukhumvit is a modern lifestyle hotel, catering to the new generation of travelers and business professionals who are "Stay Curious" (seeking new and endless experiences), while also looking for a hotel that offers comprehensive amenities, and is sustainability focused with a cool and modern style.
With 208 rooms, INNSiDE by Meliá Bangkok Sukhumvit draws inspiration from Bangkok's iconic cultural landmarks, infused with a modern lifestyle experience that allows travelers to enjoy a lively stay in the Thai capital. The highlight of the design lies in the seamless connection between the sky lobby and the bar on the upper floor, showcasing the well-thought-out spatial design. Each floor offers a unique identity, while the Open Living Lobby features patterns inspired by the revered temples of Wat Phra Kaew and Wat Arun, longstanding architectural gems of Bangkok. The meeting rooms and Big Idea Space are influenced by the giant guardians at the gates of Wat Pho, reflecting their majestic presence. In addition, the hotel's primary amenities such as swimming pool and gym, are situated on the higher floors, allowing guests to enjoy breathtaking panoramic views of Bangkok while using these facilities.
Located in the trendy On Nut neighborhood, one of Bangkok's new hotspots, the hotel is just 30 minutes from Suvarnabhumi International Airport and 50 minutes from Don Mueang International Airport. Close to many tourist attractions, INNSiDE by Meliá Bangkok Sukhumvit is near Sansiri Backyard @T77 Community, The EM Shopping District, Terminal 21, W District (Art & Lifestyle Mall), Bitec Bangna, Mega Bangna, and many local markets.