AWC welcomes all to "Disney100 Village at Asiatique"
24 March 2023
A special pop-up event with joy at every turn
at Asiatique The Riverfront Destination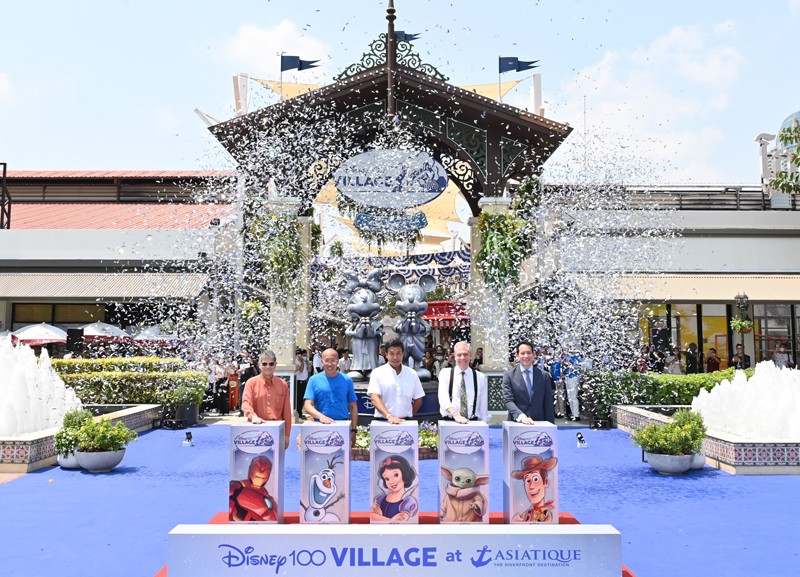 Photo Caption (from left to right): The Disney100 Village at Asiatique opening event joined by Guests-of-honour Mr. Chattan Kunjara Na Ayudhya, Deputy Governor for Marketing Communications, Tourism Authority of Thailand; Mr. Chokdee Wisansing, Executive Director Asset World Corporation Group, Asset World Corp Public Company Limited; H.E. Mr. Robert F. Godec, Ambassador of the United States to Thailand; and Winradit Kolasastraseni, General Manager, The Walt Disney (Thailand) Company Limited
Bangkok, 24 March 2023 - Today, Asset World Corp Public Company Limited ("AWC"), Thailand's leading integrated lifestyle real estate group, officially opens "Disney100 Village at Asiatique", a special pop-up event, to the public, celebrating Asiatique The Riverfront Destination's 10th anniversary.
As part of Disney's 100th anniversary, the Disney100 Village at Asiatique will showcase 100 years of timeless storytelling and iconic characters from Disney, Pixar, Marvel, and Star Wars exhibits in multiple themed exhibition zones for consumers and Disney fans in Thailand.
Ms. Wallapa Traisorat, Chief Executive Officer and President, Asset World Corp Public Company Limited or AWC said, "AWC is very excited and delighted to bring 'Disney100 Village at Asiatique' to Thai people and all Disney fans, in one location at Asiatique The Riverfront Destination that also celebrates the venue's 10th anniversary. AWC hopes the pop-up event will bring joy and happiness to everyone of all ages."
Under the concept of ALL DAY EVERYDAY HAPPINESS that celebrates Asiatique's 10th anniversary as a popular lifestyle travel destination in Bangkok, the pop-up event is part of the landmark's development plans for the 'Festival Village' as a tourism highlight and hub of international shows.
"Asiatique The Riverfront Destination has always strived to create unique experiences for our customers and tourists over the past ten years. Today, we have synergized the power of determination and inspiration in delivering mesmerizing experiences and bringing together the best of all fun festivity, entertainment, and diverse tourism offerings to meet the demands of every lifestyle to promote Asiatique The Riverfront Destination as a 'Retail-Tainment' the largest Chao Phraya Riverside lifestyle tourist landmark in Thailand and strengthen Thailand as a tourist destination for Thais and foreigners around the world, under the ALL DAY EVERYDAY HAPPINESS concept experience," concluded Wallapa.
'Disney100 Village at Asiatique' is organised by Asset World Corporation PCL with support from the Tourism Authority of Thailand (TAT). Its main sponsors are Crystal Drinking Water, TikTok (Thailand) Co., Ltd., United Overseas Bank (Thai) PCL, The Siam Commercial Bank PCL, KASIKORNBANK PCL, Toyota Motor Thailand Co., Ltd., AIA Co., Ltd., Advanced Info Service PCL (AIS), BJC Big C Group, and TCC Assets Thailand Co., Ltd.
'Disney100 Village at Asiatique' is now open to the public with multiple themed exhibition zones that include free entry and select ticketed exhibits. Tickets are available for purchase at Thai Ticket Major website and every retail counters, as well as the box office at Asiatique The Riverfront Destination.
Please visit https://www.thaiticketmajor.com/disney100atasiatique for tickets.
More information can be found at https://www.asiatiquethailand.com/disney.