AWC reports remarkable Q4/2022 operating results, boosting full year 2022 net profit to 3,981 million baht, increasing 2.8 times year-on-year
27 February 2023
Robust growth rides on rebounding Thai tourism industry, Underlines strong performance from expanding portfolio of quality operating assets & continued cost management efficiency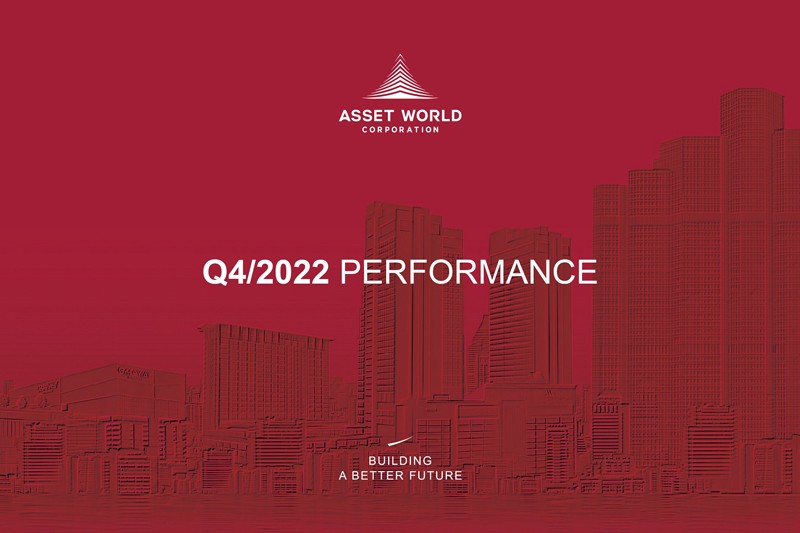 Bangkok, 27 February 2023 - Ms. Wallapa Traisorat, Chief Executive Officer and President, Asset World Corp Public Company Limited or AWC, today announced that company reported a net profit of 1,438 million baht Q4/2022 as stated in the consolidated financial statement. Presenting AWC's strongest quarterly performance of 2022, the 30% year-on-year increase in net profit helped push up the company's full-year net profit to 3,981 million baht, a remarkable increase of 280% from a year earlier. The robust growth is in line with the highest ever Average Daily Rate (ARD) that the Hospitality Business Unit has contributed to the company, and Thailand's full-scale reopening in the latter half of 2022, as well as AWC's ability to generate cash flow from its growing portfolio of quality operating assets, efficient cost management, and readiness to solidly drive the Thai economy ahead.
"AWC's Q4/2022 operating results are the most impressive in 2022 thanks to a rebound in tourism following Thailand's full-scale reopening after COVID-19, and strong performance during the high season festive period at the end of the year. Combined, these factors helped AWC bounce back stronger and deliver steady growth. Our operating results show that AWC is effectively and efficiently meeting the needs of our customer target groups. Our Hospitality Business Unit, in particular, has been growing significantly on a continual basis since the COVID-19 pandemic in early 2020, while the Retail & Commercial Business Unit continues to generate solid cashflow. AWC's development plans and strategic launches to our projects are continuously meeting the diverse needs of customers, such as the launching of 'The Empire' building under the concept of "Co-Living Collective: Empower Future", creating an 'ALL DAY EVERYDAY HAPPINESS' experience at Asiaique The Riverfront Destination, the largest riverside lifestyle tourist landmark in Thailand, and offering entertainment activities, together with The Walt Disney Company, to bring the 'DISNEY100 VILLAGE AT ASIATIQUE' to Thailand. Moreover, AWC recorded a profit of over 4,920 million baht from its assets' fair value in 2022. This part of the profit reflects that the value of our quality assets has been rising higher and faster than the inflation rate," Mrs. Wallapa said.
Hospitality Business
In Q4/2022, the Hospitality Business Unit showed remarkable growth in response to Thailand's full-scale reopening. More than 11.8 million free independent tourists (FIT) in the High-to-Luxury group visited Thailand in 2022. Growth was recorded across all of the Hospitality Business Unit's segments, especially its MICE hotels, Bangkok city hotels, luxury resorts, and the F&B segment that benefited from the growing number of events such as New Year parties. In Q4/2022, the overall occupancy rate of AWC hotels was at 63.5%, while the average daily rate (ADR) rose to 5,697 baht per night, an increase of 45.7% year-on-year (YoY), which is the highest ever for the company.
The Hospitality Business Unit delivered revenue of 2,499 million baht in Q4/2022. Net operating profit (EBITDA) for the Unit was over 848 million baht, a significant increase of 11,535% compared to the same period a year earlier and an increase of 71.9% compared to the previous quarter. The overall Revenue Generation Index (RGI), which compared hotels in the same group in nearby areas, showed AWC's hotels performed higher than the average such as Bangkok Marriott Hotel The Surawongse which had an RGI score of 223.6, Banyan Tree Krabi which had an RGI score of 184.4, and Courtyard by Marriott Phuket Town which had an RGI score of 176.8.
AWC has continued to enhance its asset portfolio in the Hospitality Business Unit by investing in The Westin Siray Bay Resort & Spa, Phuket and dusitD2 Chiang Mai with an aim to strengthen its quality asset development for a competitive edge and even stronger cashflow-generation ability. Both assets enable AWC to instantly recognize revenue from the investments. Moreover, AWC has invested in Grand Mercure Bangkok Windsor that is now under development. As of the end of 2022, AWC has 20 hotels in its portfolio with 5,458 rooms altogether - up from 16 hotels and 3,432 rooms in 2019.
Retail & Commercial Business
The Commercial Business Unit generated growing cash flow for AWC since the start of 2022 and reported revenue growth of 7.6% in Q4/2022 from a year earlier, due to its Grade-A office quality assets, focusing on green building standards and integrating technologies to manage space efficiency. Moreover, AWC set a new benchmark in the commercial building industry by offering 1,500 sq.m. of co-living space to tenants without any additional charge, empowering people to work in the New Normal lifestyle. This new co-living space will also strengthen Thailand as a world-class destination for the global workforce, and make it a top-of-mind destination for new-gen working people.
The Retail Business Unit continued to grow in most of its segments thanks to increasingly vibrant economic activities, with consumers spending and dining out for New Year get-togethers, especially the Community malls. These factors contributed to the Business Unit's revenue growth of 18% compared to the same period a year earlier. Asiatique the Riverfront Destination's revenue also grew by 98% compared to the same period a year earlier in the face of increasing visitor traffic, both Thai and foreign tourists, and supported by its strategy to respond to the diverse needs of its various target groups with special events throughout the year.
"AWC is committed to strengthening Thai tourism in response to the "Visit Thailand Year 2023" policy via experiential tourism, with the number of both Thai and foreign tourists forecast to rise this year. We are therefore in the process of turning our assets under development into operating assets to grow returns on assets in support of AWC's solid cash flow. At the same time, we continue to efficiently manage our costs without compromising our service quality such as the increase in direct hotel room bookings, installation of solar panels to increase clean energy usage and reduce the environmental impact, along with efficient people cost management and controls (HR multiple) to maximize value and returns to shareholders transmitting as an EBITDA flow through that is greater than the target.
In 2023, AWC continues to develop our many projects that are scheduled for opening later this year. Among them are Innside Bangkok Sukhumvit, InterContinental Chiang Mai Mae Ping Hotel, and Chiang Mai Marriott. Also, we are setting a new benchmark for the office buildings industry and launching the new Asiatique The Riverfront Destination, which promises to strengthen AWC on a sustainable basis," Mrs. Wallapa added.
AWC is determined to operate its businesses based on its sustainable development strategy for the ultimate goal of "creating sustainability value for all stakeholders via 3BETTERs namely Better Planet, Better People, Better Prosperity". AWC was recently included in the S&P CSA Yearbook 2023 for the second year in a row. It has been ranked among the "Top 1% S&P Global ESG Score 2022" and was an "Industry Mover Award" winner in the Hotels, Resorts and Cruise Liners category. These accolades reflect AWC's commitment to its sustainable development strategy, which is implemented under its "Building a Better Future" mission.