AWC Announces Net Profit of 1,026 Million Baht in 3Q/2022 as Return of Foreign Travelers Drives Robust Growth
09 November 2022
Sharp increase in net profit of 2,448 million baht in the first 9 months in 2022. Preparing to invest of 8,856 million baht in two hotels strengthens Thai tourism industry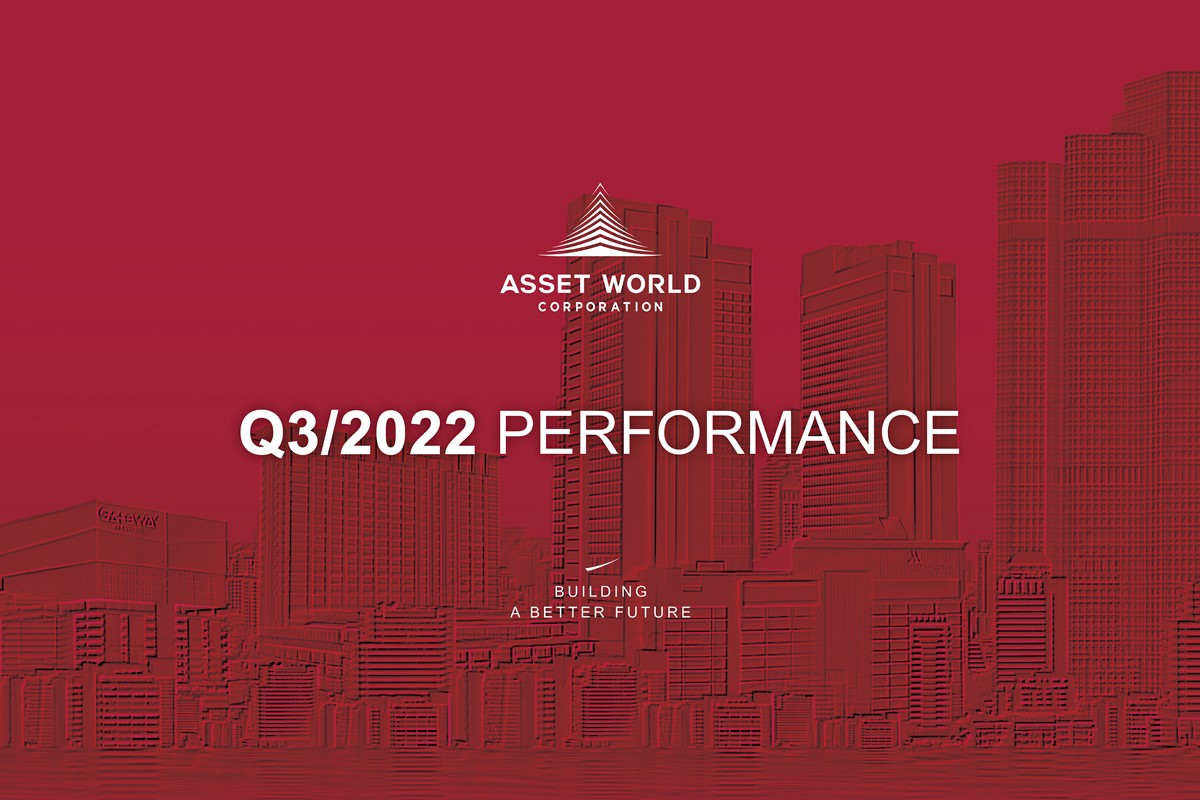 9 November 2022, Bangkok, Thailand - Mrs. Wallapa Traisorat, CEO and President of Asset World Corp Public Company Limited or AWC today announced the company reported a net profit of 1,026 million baht in Q3/2022, according to the financial statement, an increase of 49.4 percent. The Company booked a significant increase in net profit from the Operating Performance excluding fair-value, of 36 million baht, and total revenue of 3,727 million baht, an increase of 46.8 percent year-on-year (YoY). The operating profit, excluding fair-value, increased to 994 million baht from 47 million baht in the same period last year, representing growth of more than 2,029 percent due to the Company's strong operating assets and efficient strategy for Thailand's full-scale reopening, as well as the increase in the number of quality travelers and the Company's quality assets that are continually increasing in value.
"In the first nine months of 2022, AWC's robust growth continued across all business segments, with a net profit of 2,448 million baht, an exponential increase from the same period a year earlier, as a result of solid growth from our Hospitality Business Unit and continued growth from our Retail and Commercial Business Units. This reflects AWC's ability to reach potential targets and implement strategies to restructure cost management and enhance cost control efficiency. As a result, in the third quarter of 2022, the Company was able to increase its group's Net Operating Profit to Revenue (excluding fair value) to 39 percent, a significant increase of 34 percent year-on-year, to the same rate as before COVID-19, while the average daily number of travelers arriving was about 50 percent of the number before the pandemic," Mrs. Wallapa said.
Hospitality Business
The Hospitality Business Unit has rebounded and recorded business growth across all its segments, especially MICE hotels, Bangkok city hotels, and luxury resorts that appeal to high-to-luxury travelers who were the first visitor group to return to Thailand. In Q3/2022, the overall occupancy rate of AWC hotels was at 53 percent compared to only 14.2 percent in the same period last year, while the average daily rate (ADR) increased to 4,920 baht per night from 4,052 baht per night in 2019 (pre-COVID period), as a result of an increase in international flights to Thailand to 49,675* in 3Q/2022, a 41 percent increase compared to the previous quarter. Quality travelers are estimated to account for 60 percent of all travelers entering Thailand.
The hospitality business in Q3/2022 delivered revenue of 1,789 million baht, an increase of 100 percent, and Net Operating Profit (BU EBITDA) of 493 million baht, an increase of more than 100 percent year-on-year. The Revenue Generation Index (RGI), which compared hotels in the same group in nearby areas such as Bangkok Marriott Hotel The Surawongse, had an RGI score of 241.7 for MICE hotels. The most popular luxury-resorts, such as Banyan Tree Krabi, also had an RGI score of 261.4. The impressive figures reflect AWC's dedicated efforts to constantly develop its projects for remarkable competitiveness and meet the needs of customers, and quickly enable them to generate strong cash flow. In Q3/2022, AWC's hotels had a total of 5,199 rooms, an increase from 3,432 rooms in 2019.
Retail & Commercial Business
The Commercial Business Unit has generated continuous cash flow for AWC and reported revenue growth of 12.8 percent in Q3/2022 from a year earlier. International business tenants, which are considered quality tenants, accounted for 60 percent of all tenants. AWC's office buildings are Grade-A quality assets in a prime location in central business districts and are equipped with technologies that guarantee digital-age tenants' convenience and safety.
The Retail Business Unit continued to generate cash flow as a result of increasing visitor traffic, along with efficient cost management and control, transmitting as an EBITDA flow through that is greater than the target. For example, Asiatique The Riverfront Destination's flow through ratio for the same period last year was equal to 106 percent.
"AWC is committed to enhancing Thailand's real-estate industry by developing more quality projects. In Q3/2022, AWC established AWC Hospitality Development Co., Ltd., (a "Joint Venture") to invest in high-potential hospitality projects in Thailand's key traveler destinations and develop sustainable tourism in the country. This project will increase the registered capital to 10,800 million baht. Additionally, AWC joined forces with Nobu Hospitality - the globally iconic and fastest growing luxury lifestyle brand, Marriott International, Siam Commercial Bank, and Digital Ventures. More significantly, we have collaborated with the Tourism Authority of Thailand (TAT) and partners to drive sustainable tourism and enhance Thailand as a "Global Sustainable Tourism Destination," Mrs. Wallapa added.
AWC is also preparing to invest and develop two new projects in Bangkok and Phuket which are Grand Mercure Bangkok Windsor and The Westin Siray Bay Resort & Spa, Phuket with a total value of 8,856 million baht in order to expand the quality asset of the Hospitality Business portfolio and strengthen the Thai tourism industry.
AWC is committed to its mission of "Building a Better Future" which is operated under the 3 pillars of the sustainable development framework in 6 dimensions, named 3BETTERs: Better Planet, Better People, Better Prosperity. Alongside this, the Company has been recognized for its sustainability efforts by both national and international institutions, listed on the Thailand Sustainability Investment (THSI) of the Stock Exchange of Thailand, rated AA in the MSCI ESG Ratings and listed in the S&P Global Sustainability Yearbook 2022 as a member in the Hotels, Resorts & Cruise Lines sub-industry index, rated "Excellence CG Scoring" in the Corporate Governance Report and certified by the Thai Private Sector Collective Action Against Corruption (CAC).