AWC successfully transferred the Leasehold Rights of "Gateway Ekamai" to enhance cash flow, aims to offer a retail portfolio with more diversity in response to the new lifestyle
19 October 2022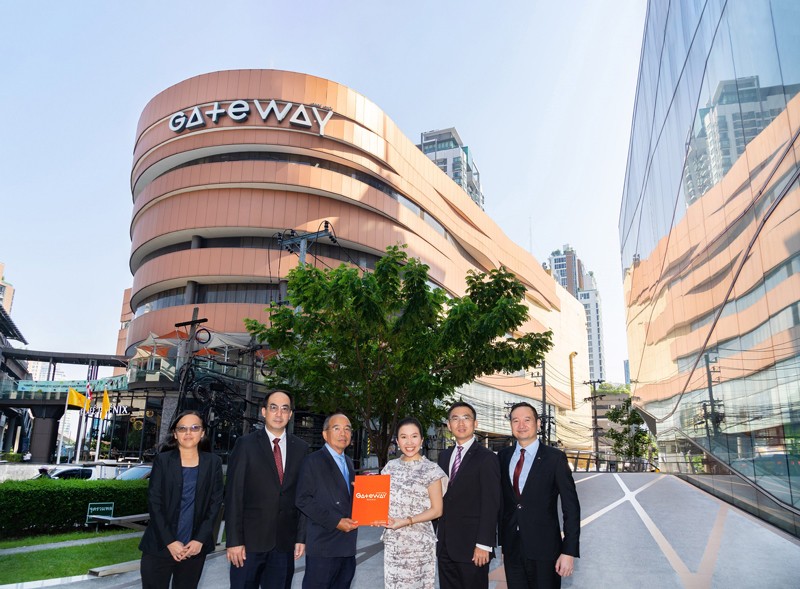 Bangkok, 19 October, 2022 - Asset World Corp Public Company Limited (AWC), Thailand's leading integrated lifestyle real estate group, continues to enhance Gateway Ekamai through the transfer of the leasehold rights from Thippatana Arcade Co., Ltd., with a total value of more than 4,000 million Baht. Through this transaction, AWC aims to generate cash flow, and strengthen business growth immediately and throughout the long-term lease agreement. AWC will enhance Gateway Ekamai's positioning under the new concept of 'THE LIFESTYLE MASTER: Master in Food, Master in Fashion and Master in Family,' introducing a variety of food, fashion, and family activities to serve the needs of modern consumers and reinforce the Company's commitment of "Building a Better Future".
Mrs. Wallapa Traisorat, CEO and President, Asset World Corp Public Company Limited or AWC, states that "AWC is pleased to have successfully transferred the leasehold rights of Gateway Ekamai from Thippattana Arcade Co., Ltd. to hold the leasehold rights of the land and the project, a property which AWC has managed previously. AWC will increase the variety retail offerings at Gateway Ekamai to comprehensively serve the lifestyle of modern consumers. Gateway Ekamai is a comprehensive shopping center, offering a wide range of shops and services. It is located in the heart of Ekkamai, an area where land has high potential, where real estate has high growth and residential properties continue to expand. Moreover, Gateway Ekamai is easily accessible by public transport, with a BTS station on its doorstep. These strengths form part of the business strategies to drive growth of the Company's retail business."
AWC's investment plan for Gateway Ekamai includes incorporating a more diverse range of offerings at the center, along with 3 upgraded areas throughout to better serve the needs of urban residents and all generations, including:
The Master in Food, showcasing leading restaurants offering cuisines from around the world, offering premium quality ingredients that perfectly blend with today's lifestyles, together with creative menus that inspire all food lovers and gourmets. All in one place to meet the needs of all consumers to purchase, taste and shop.
The Master in Fashion, a new fashion lifestyle center with a variety of brands both Thai and international, together with a choice of popular fashion brands offered on Instagram and other social media channels, so fashionistas can upgrade various creativity and find the perfect outfits to match the lifestyle.
The Master in Family, providing activities to meet the needs of all family members, from retail shops and services to educational institutions that will offer inspiring and creative learning experiences for children outside the classroom. Health and beauty centers will appeal to parents, while wellness centers with modern technology and facilities will promote stronger relationships for the whole family in one place.
"AWC continues to develop quality projects to support sustainable growth and enhance the potential of Thailand's real estate for the retail and commercial industry in response to the new lifestyle. AWC aims to generate cash flow immediately with projections to increase cash flow to 1,000 million Baht in the next 5 years and continue to grow throughout the long-term leases agreement to further support the sustainable growth of the retail business under AWC," Mrs. Wallapa added.
Gateway Ekamai was established in 2012 as an integrated shopping center serving the lifestyle and daily life of all members of the family. Located in the heart of the city on Sukhumvit Road, the Ekkamai area, which is one of Bangkok's major business and residential districts for Thais and foreigners, surrounded by office buildings, international schools, and government and private institutions offices. In addition, Gateway Ekamai also received the SHA standard for hygiene and health safety from the Tourism Authority of Thailand.
Gateway Ekamai is the ninth project of AWC's retail portfolio which includes: Asiatique Riverfront District Bangkok, Gateway Ekamai, Gateway at Bangsue, Lasalle's Avenue 1 and 2, Tawanna Bangkapi, Pantip Plaza at Ngamwongwan, Pantip Plaza in Chiang Mai and The Lhong 1919 Riverside Heritage Destination.