AWC joins KBank to foster environment-friendly investment through Green Loan, reaffirming the shared vision of sustainable business
04 July 2022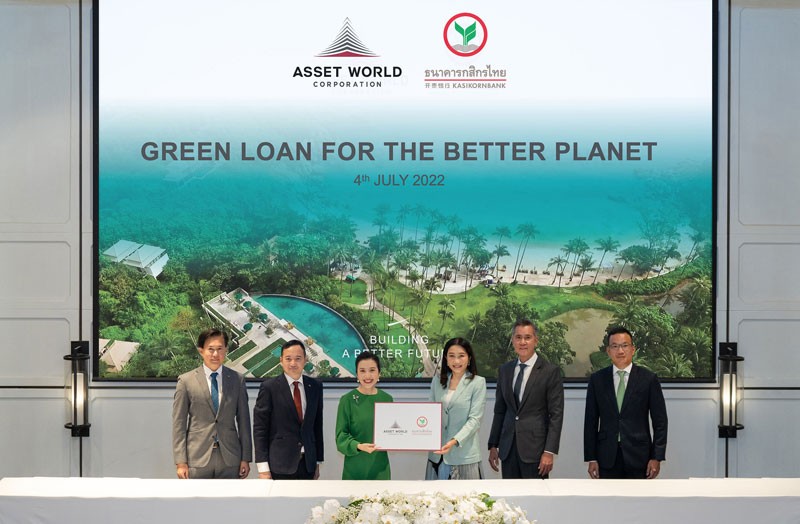 4 July 2022, Bangkok, Thailand - Asset World Corp Public Company Limited (AWC), Thailand's leading integrated lifestyle real estate group, has partnered with KASIKORNBANK (KBank) to reshape the Thai real estate industry through a Green Loan to develop and support environment-friendly projects by AWC. Funding from the loan will focus on promoting the energy efficiency, resource management and reduction of greenhouse gas emissions, reaffirming the company's commitment to sustainable business.
Ms. Kattiya Indaravijaya, Chief Executive Officer, KASIKORNBANK (KBank), said that, "KBank is confident in the capability of AWC as a leading real estate company which is ready to develop projects with sustainable growth for the country. We are pleased to provide financial support to AWC as a business partner with a shared vision of sustainable development in environmental, social and good governance aspects, with a particular focus on the environment by reducing greenhouse gas emissions and to create a greener society. This is an initiative that KBank has been continuously implementing both in terms of our own operations and supporting customers to transition towards Thailand's Net Zero goals."
Wallapa Traisorat, Chief Executive Officer and President, Asset World Corp Public Company Limited (AWC), said that, "AWC is pleased that KBank has continued to support and trust in the capabilities of AWC by providing financial support through a Green Loan, which will be used for environment-friendly projects in our properties. This represents a shared vision of both companies to create business growth with care for the environment through a Bio – Circular – Green Economy Model (BCG) in response to AWC's environmental goals in driving the transition to carbon neutrality and to build a Circular Economy in our business operations, in line with the sustainable economy direction of Thailand and many other countries around the world."
AWC expects to use the funds for green retrofitting and refurbishment of energy efficiency technologies in its properties throughout Thailand, while creating maximum benefits under its sustainability strategy: BETTER PLANET that aims to create a better environment with AWC's focus on driving the transition to become carbon neutral and create a Circular Economy. The implementation plan includes initiatives such as increasing efficiency of the air-conditioning system and installation of a high-quality water cooler system and heat pumps for hot water in the properties under AWC. In addition, AWC is committed to operating under a Leadership in Energy and Environmental Design (LEED) which is a rating system to evaluate the environmental performance of a green building, increase resource utilizing efficiency in the building and reduce the negative impact on the environment and health of the people residing in the building. The company also adheres to Excellence in Design for Greater Efficiencies (EDGE), the international Green Building Model standard that certifies the excellence in green building design, a foundation for a building or a project development which considers energy savings and the environment. The goal is to also create a higher standard for the Thai real estate industry for a better and more sustainable future.
This cooperation between AWC and KBank reaffirms our leadership in sustainable development and responsibility to all stakeholders. AWC has implemented a sustainable business development strategy as a driving force for its overall business process. The business practice is in accordance with government policy and the United Nations that reinforce business conduct under Environmental, Social and Governance (ESG) to create sustainable value for all stakeholders in the long term," Wallapa added.
AWC is committed to creating business growth aligned with ESG principles along with continuing to create value and trust for stakeholders, society, and communities. This also supports AWC's mission "Building a Better Future" that aims to drive Thai sustainable economic growth and create an international level of competitiveness for the real estate, tourism, and service industries. With strong dedication and effort, AWC has received recognition from both national and international institutions, including a "AA" rating from MSCI ESG Rating, being listed in the Thailand Sustainability Investment (THSI) of the Stock Exchange of Thailand and the S&P Global Sustainability Yearbook 2022 as a member in the Hotels, Resorts & Cruise Lines sub-industry index with Excellence CG Scoring, while the company was also certified by the Thai Private Sector Collective Action Against Corruption (CAC). Moreover, AWC's hospitality Business Unit has initiated energy efficiency programs across the group which resulted in the Banyan Tree Krabi receiving a gold level Green Hotel Award in its first year of operation. Banyan Tree Samui also received a gold level a Green Hotel Award, reflecting the success of its efforts in energy savings and climate change mitigation.