"Asset World Corporation" joins the "60+ Earth Hour 2022" campaign with more than 30 partners and affiliated companies to switch their lights off for 1 hour to reduce energy consumption and create awareness of climate change, in accordance with its sustainable development policy
28 March 2022
This campaign helped reduce energy consumption by 1,921 kilowatt-hour and greenhouse gases emissions by 0.96 TonCO2eq as part of AWC's path to become a carbon neutral organization by 2030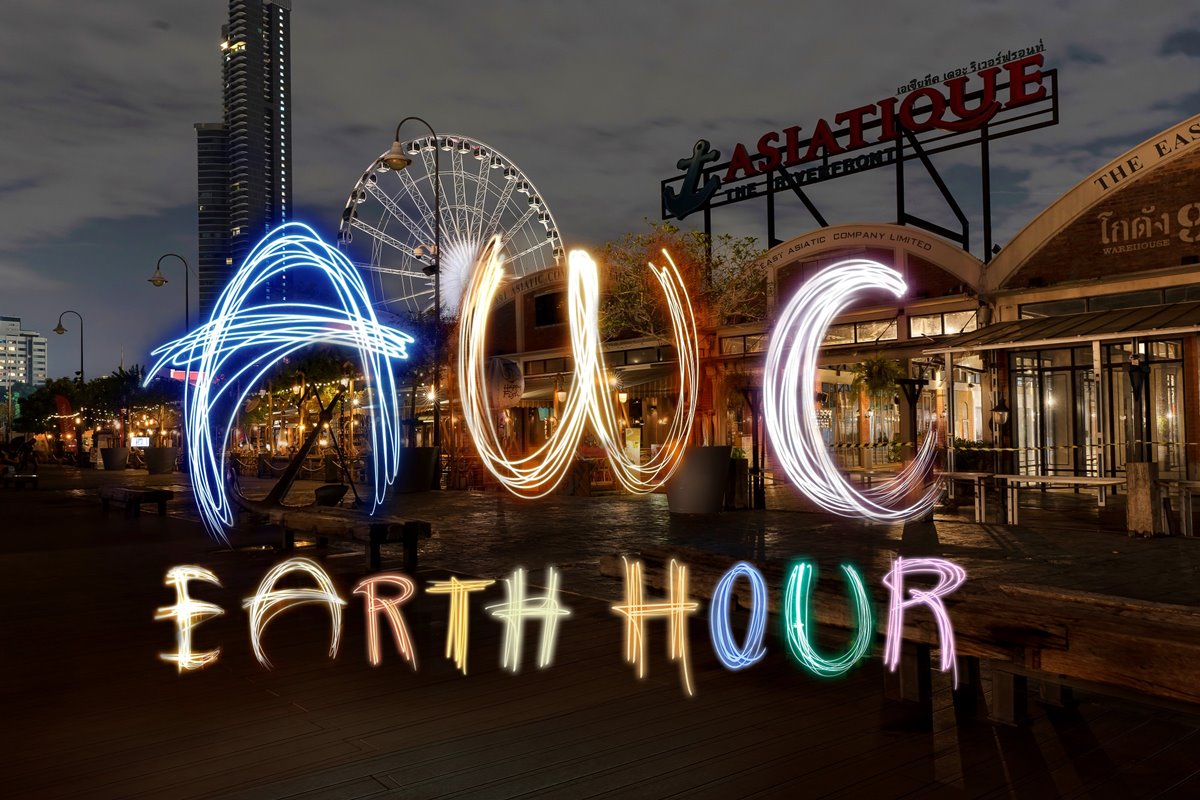 26 March 2022, Bangkok, Thailand – Asset World Corp Public Company Limited, or AWC, Thailand's leading integrated lifestyle real estate group, joined in on the "60+ Earth Hour 2022" campaign this month to help raise awareness of climate change.
AWC and more than 30 partners and affiliated companies switched their lights off for 1 hour on 26 March 2022 to reduce energy consumption. The activity conducted in association with the Bangkok Metropolitan Administration Network and World Wildlife Fund (WWF) Thailand which took place at Chong Nonsi Skywalk.
Mrs. Wallapa Traisorat, CEO and President of Asset World Corp Public Company Limited or AWC, states that the company was very pleased to participate in the energy conservation campaign, with 30 affiliated companies nationwide from four business units including 17 hotels, 7 retail and shopping malls, 4 commercial buildings, and 2 wholesale buildings switch the lights off between 20:30-21:30 hrs. on 26 March. The activity helped reduce energy consumption by 1,921 kilowatt-hour (kWh) and greenhouse gases emissions by 0.96 TonCO2eq.
AWC's participation in the "60+ Earth Hour 2022" campaign was in accordance with the Company's vision to create true value through its environmental and sustainability policy. The sustainable development strategy that drives AWC's business covers the three dimensions of Better Planet for environmental and sustainability development, Better People to develop people and the organization and create a social enterprise model for better quality of life in the community, and Better Prosperity for sustainable development and creating value in the ecosystem. Together, they support the commitment to create short-term and long-term holistic value for the community, customers, and all stakeholders.
Mrs. Wallapa added that on this special occasion, AWC is ready to fully drive its sustainability strategy for the community and all stakeholders, with a commitment to the vision of "Building A Better Future". According to the Energy Saving Initiatives: ESIs, which include the long-term policy to be a carbon-neutral organization by 2030.
In addition to this, AWC also aims to increase its Tree Assets in each establishment, a plan that has continued since 2017. Until now, the Company has more than 7,975 Tree Assets (Calculated from 8 cm or more in diameters and measured from a height of 30 cm)
AWC is committed to developing high quality projects with its expertise and capacity to create value for all stakeholders along with delivering long-term economic, social, and environmental value. Last year, the Company was listed by S&P Global 2022 in The Sustainability Yearbook 2022 in the Hotels, Resorts & Cruise Lines industry, included a rating of "AA" in the MSCI ESG Ratings assessment by Morgan Stanley Capital International, and was selected in the THSI 2021 list for the SETTHSI Index to promote investment in sustainable stocks reflecting that the business is conducted under a sustainable development framework and good governance which aligns with AWC's objective in "Building A Better Future" for all stakeholders.