Experience a new lifestyle between Office-Home-Hotel with AWC Infinite Lifestyle
20 July 2021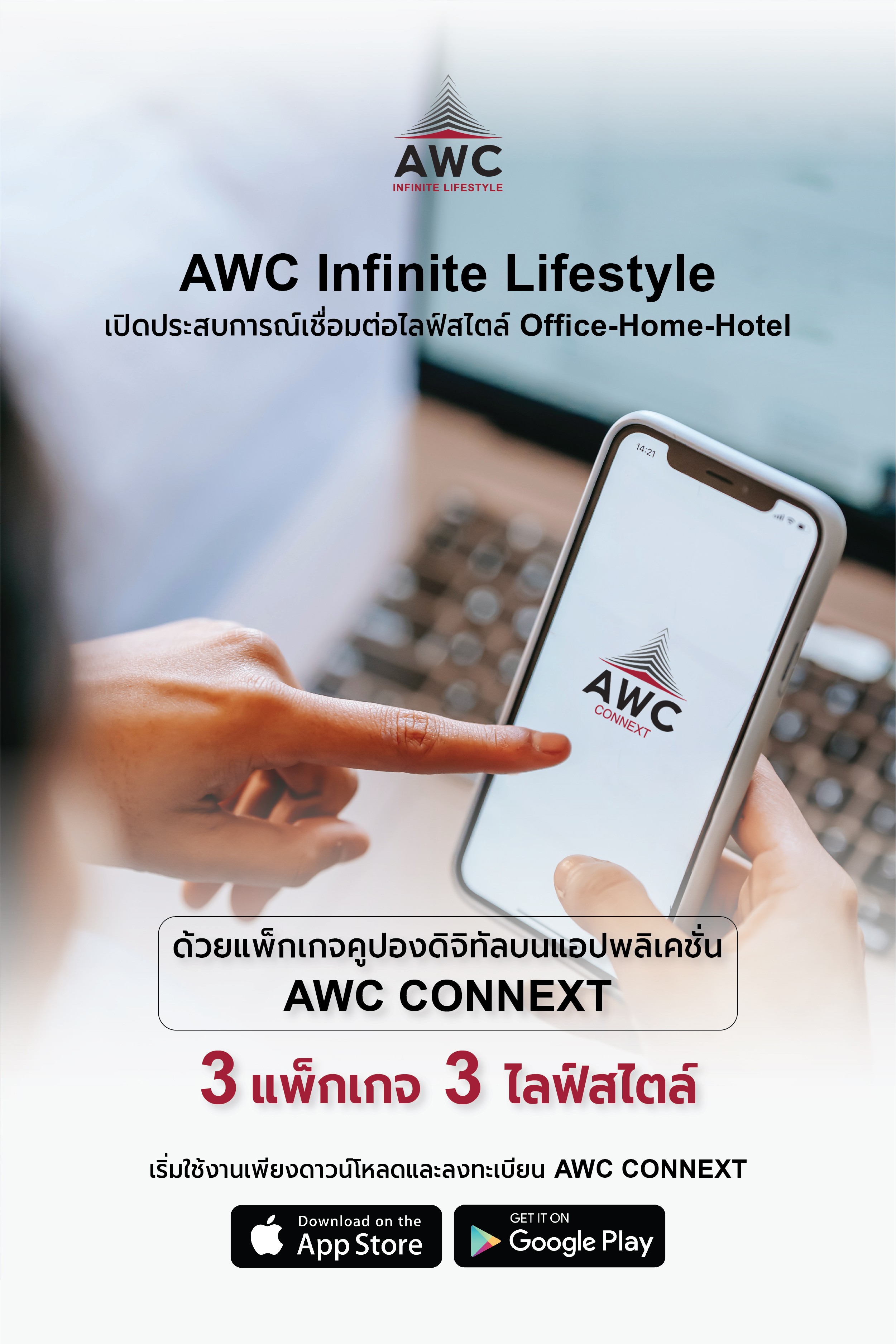 Open yourself up to a lifestyle that connects Office-Home-Hotel and experience the conveniences and comforts of AWC Infinite Lifestyle that combines multiple benefits and services that correspond to all lifestyle activities with 3 packages, including; a package for businessmen, a package for health and wellness enthusiasts, and a leisure package for gastronomes seeking relaxation.
Become an Infinite Member and receive benefits by using digital coupons via the AWC CONNEXT application, simply download and register to begin!


Benefits throughout the Membership Lifetime
5% discount off Food & Beverage per bill (exclusive of alcohol)
5% discount off pastries and patisserie and hampers
30% off Corkage Charge
5% off laundry services
5% off fitness memberships at participating hotels
5% discount off the Best Available Rate for accommodations
Free access to the lobby lounge with free WiFi
Free valet parking services
Free late check-out at 14:00 hrs.
Welcome coupon upon first application of membership can be used once
Late check-out coupon at 16:00 hrs.
25% discount coupon off hampers
Buy 1 Get 1 Free coupon for signature cocktails at the rooftop bar and participating venues of the participating hotels
AWC Infinite Lifestyle Package
Digital Coupons for redeeming benefits and services

2 Coupons – Use of meeting room for 5 persons per 2 hours (room only)
4 Coupons – Access to the participating hotel's business center (excluding meeting room)
4 Coupons – 1 cup of coffee or tea at the participating hotels
2 Coupons – 1 glass of soft drink or fruit juice at the participating hotels
4 Coupons – printing services for A4 paper in black & white per 1 page
2 Coupons – printing services for A4 paper in colour per 1 page

A total of 18 coupons at the total value of THB 5,500

2 Coupons – signature spa treatment, 90-minute aromatherapy massage
2 Coupons – all-day access to swimming pool and fitness center of the participating hotels

A total of 4 coupons at the total value of THB 6,500

2 Coupons – accommodation for 1 night exclusively from Sunday to Thursday at the participating hotels; Bangkok Marriott Marquis Queen's Park / Sheraton Samui Resort / Le Méridien Chiang Mai / Hilton Sukhumvit Bangkok
4 Coupons – unlimited buffet breakfast during stay
2 Coupons – access to participating hotel's club lounge (including Happy Hour)

A total of 8 coupons at the total value of THB 12,500
Purchasing the AWC Infinite Lifestyle Package
Download the AWC CONNEXT application and register
Promotions Go to the Home page, select the Market Place menu and the Promotions tab
Click to purchase your desired package, you can purchase online with credit and debit cards (VISA, Master)
After purchase, the package's coupons will appear on the My Coupons page with the validity period of 90 days from the first date of payment
Terms & Conditions
The package's coupons will update itself automatically after purchase
Coupons are valid for 90 days from the first day of purchase
Coupons cannot be exchanged for cash
The terms & conditions for use of coupons are subject to the details provided within the coupons
Please check the terms & conditions with the participating hotels before scanning and redeeming the coupons
The package's coupons can only be used via the AWC CONNEXT application and cannot be cancelled or refunded under any circumstances
The terms & conditions are subject to the company and we reserve the right to change the conditions without prior notice