AWC unveils Thailand's first hotel under world-renowned Melia Hotels International with 'Melia Koh Samui, Thailand', marking the company's latest milestone following ipo success
10 January 2020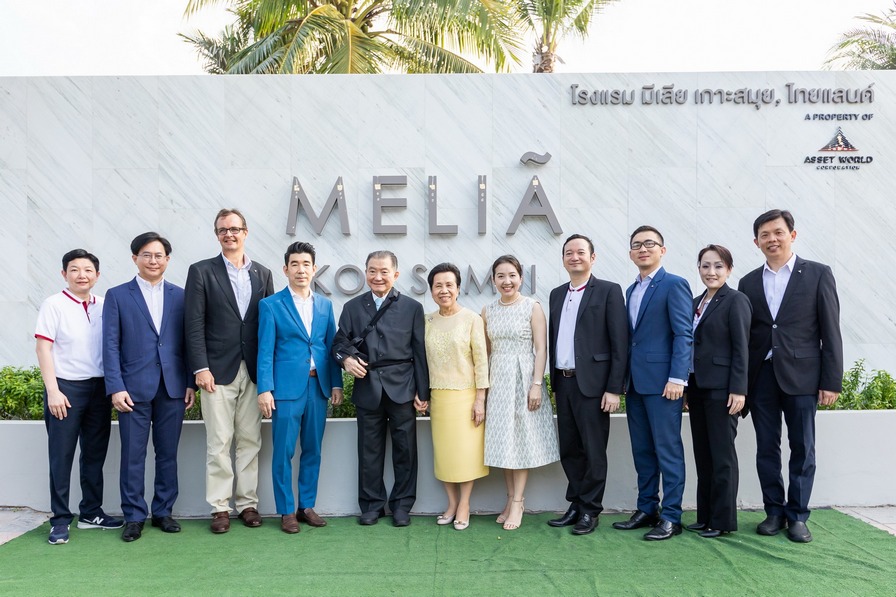 Asset World Corporation (AWC), Thailand's leading integrated lifestyle real estate group, has partnered with the world's largest resort operator in seaside destinations Melia Hotels International to launch Melia Koh Samui, Thailand, a new stunning nautical-themed beachfront retreat in Koh Samui.
The soul-stirring coastal haven, which combines a modern essence with the charming maritime heritage of Koh Samui, marks the first time a hotel under the Melia Hotels & Resorts brand has been opened in Thailand and is the first property under AWC's portfolio following the company's IPO. This much-anticipated introduction of a Melia hotel by AWC will set a new hospitality benchmark in Koh Samui, thereby reinforcing the company's commitment to building a better future for the country's hospitality landscape and economy.
"The opening of Melia Koh Samui, Thailand is one of the latest milestones of our strong growth pipeline that AWC continues to enhance and develop according to the IPO plan. We appreciate the investors' trust in AWC's growth-led strategy which creates outstanding values for all stakeholders" said Mrs. Wallapa Traisorat, CEO and President, Asset World Corp Public Company Limited or AWC. "AWC has continued to engage in strategic business expansions and entered into agreements with several world-class hotel operator partners in order to ensure constant growth of the company while offering unique brands to the hospitality scene in Thailand and expanding global distribution channels and loyalty member programs. Partnering with the world's largest resort operator in beachfront destinations, Melia Hotels International, will help us in creating a good synergy to connect with target customers across the world, in addition to boosting Koh Samui and Thailand as a world-class holiday destination."
Following the opening of Melia Koh Samui, Thailand as well as the recent signing of Courtyard by Marriott Phuket Town, AWC's operating assets in the hospitality segment have increased from 14 to 16 hotels with the number of rooms growing from 4,421 to 4,869, resulting in a better cash flow in the company's hospitality business group. Furthermore, Melia Koh Samui, Thailand will contribute to a more diversified brand portfolio, offer unique experiences to our customers and help solidify AWC's position as a leading real estate group in Thailand. The newly launched hotel testifies to AWC's mission to become a dominant force in Thailand's competitive tourism industry with an eye on the future.
"We have led the Imperial Boat House hotel in Koh Samui through a significant revival and converted it into Melia Koh Samui, Thailand with the aim of offering a truly unique guest experience. As the hotel boasts the first lagoon pool and the largest swimming pool in Koh Samui, along with a creative combination of hydrotherapy facilities like jacuzzi, water massage and rooms with a direct pool access, guests will find themselves relishing in the soothing fascination of water features. The hotel also offers a unique experience for guests as they will be able to stay in suites fashioned after boats. These unique settings will enable them to enjoy a fun-filled and peaceful vacation in a serene atmosphere," Mrs. Wallapa added.
Melia Koh Samui, Thailand is nestled on Choeng Mon Beach, just 15 minutes from Samui International Airport. The hotel is a 159-room and 41-suite property that features a host of outstanding facilities, including two restaurants, an executive lounge, a stylish beach club and a swim-up bar, plus a YHI Spa, a fitness center and, for families, a kids' club, outdoor playground and mini water park. Event planners can take advantage of extensive conference facilities of 7 multi-functional rooms with a room with unique beach front view, a ballroom that can accommodate up to 200 guests and an outdoor pool-side and beachfront function spaces which recently hosted a gala dinner for 500 guests.
Guests can also unwind in two outdoor swimming pools, including a large lagoon pool that loops like a river through the resort's lush tropical gardens. Many of the ground-floor Pool Access rooms and suites allow guests to slide directly into the embrace of cooling pool water from their private terrace.
With its stunning seafront setting and exceptional amenities ideal for leisure and MICE travelers, Melia Koh Samui will become one of the leading and most sought-after resorts on Koh Samui's north coast, a world-class tourism destination with outstanding facilities for all sectors of the market.
The Deluxe and Premium Rooms are ideal for couples, while the spacious Family Rooms feature a master bedroom for parents and in-room games for children. Guests seeking extra spaces and exclusive services can select the resort's suites, which offer access to the executive lounge. The Level Boat Suites are truly unique, inspired as they are by traditional Thai vessels and paying as they do homage to Koh Samui's historic position as a safe haven for sailors and sea traders. This nautical design theme has been woven into the DNA of the resort, including the Level Lounge, which is shaped like a boat's hull.
Embodying AWC's firm belief in "building a better future", Melia Koh Samui, Thailand also houses the Gallery, a not-for-profit social enterprise of art and design gift shops under the aegis of the Asset World Foundation for Charity, which embraces socially responsible practices to contribute to society and communities. The shop will give customers the opportunity to be part of supporting the local communities with all profits contributing to further artistic endeavors, as well as preserving and promoting local culture and areas in need. Recently, Melia Hotels International has been acknowledged as the Most Sustainable Hotel Company worldwide, by the SAM's Corporate Sustainability Assessment, which shows our shared vision on sustainability practices.
"Melia Koh Samui, Thailand is only the beginning of the company's strategic partnership with Melia Hotels International. A number of other top-notch hotels and resorts from the prestigious hotel chain will be pioneered in Thailand in coming years. This landmark project in Koh Samui is the start of a strategic roll-out of the Melia brand in Thailand and at least two more hotels will be opened in key destinations across Thailand, including Innside Bangkok Sukhumvit and one establishment in Chiang Mai. We will work closely with Melia Hotels International to enhance guest experiences, drive new tourism demand and create economic opportunities for Koh Samui, and the whole of Thailand," Mrs. Wallapa added.
Mr. Gabriel Escarrer, Executive Vice Chairman and CEO of Melia Hotels International, likewise emphasized the importance of the new strategic partnership. "Today is a ground-breaking moment for Melia Hotels International as we celebrate our first hotel opening in Thailand, which is an extraordinary country and a strategic market for a leading global resort brand like ours," he said. "After more than 30 years of successful operations in Asia, with the strategic framework agreement with Asset World Corporation we believe this first opening of Melia Koh Samui, Thailand is the beginning of our expansion in Thailand, bringing our dream of establishing and growing in this country alongside a major local partner to fruition. AWC is a partner that understands, and shares, our strong service and hospitality philosophy, which is a fundamental factor for ensuring the quality, reputation, and sustainability that we wish for Melia Koh Samui, Thailand."