Asset World Corporation announces 3Q/2020
09 November 2020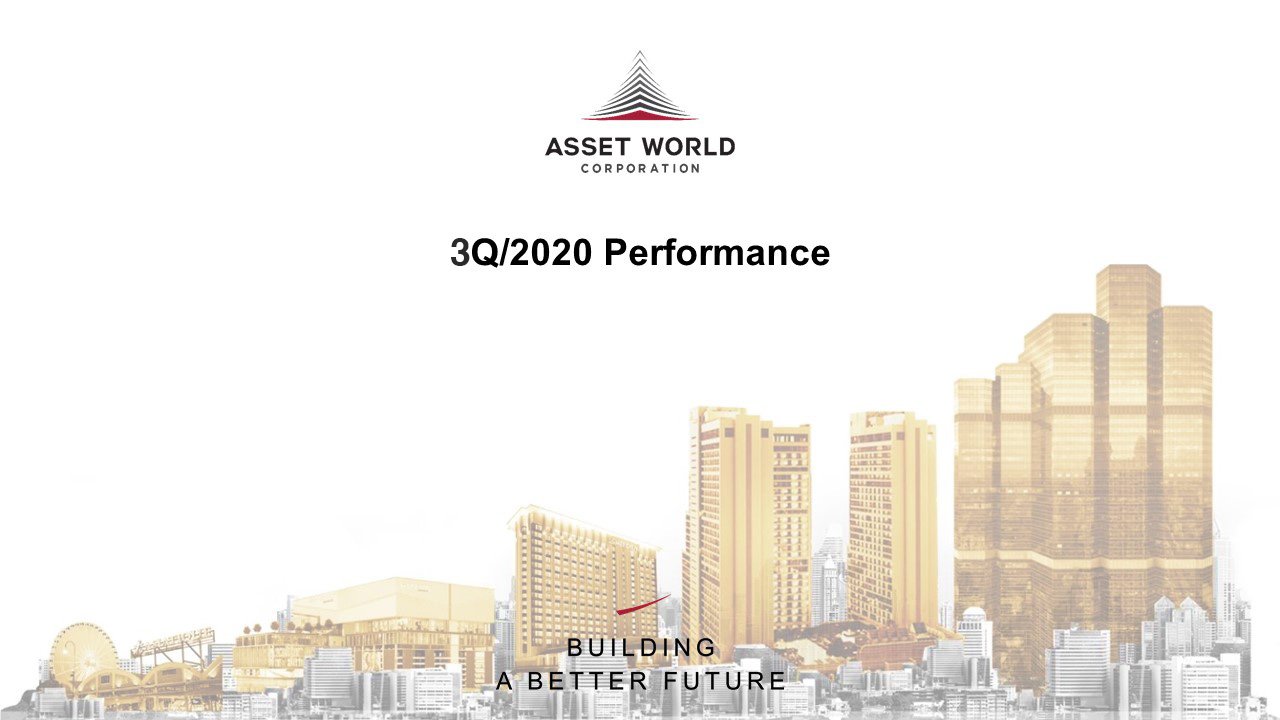 Asset World Corporation announces steadily improving 3Q 2020 business results with total revenue of 1,225 million baht, a 63.5% increase from the previous quarter
Performance reflects the recovery of domestic tourism sector, and the company's constant development of high-quality projects for long-term sustainable growth and solid structure for cost and operational efficiency
Bangkok – 9 November 2020 – Asset World Corporation (AWC), Thailand's leading integrated lifestyle real estate group, reported operating results for the third quarter of 2020 (July – September) with a net loss of 620 million baht, an improvement of 29.3% from the second quarter of the year, with a total revenue of 1,225 million baht, or a decrease of 61.9% from 3,213 million baht recorded in the same period of last year. The performance reflected the results of continued impact from the COVID-19 pandemic, despite the government's approval of the sixth phase of relaxation of lockdown measures which allows entry for certain foreign traveller arrivals, but still restricted leisure travelers. However, the total income in Q3/2020 rose 63.5% from that of the previous quarter, indicating the continued recovery and improvement of the domestic tourism sector.
In addition, the company achieved effective cost management with the ratio of operating expenses to operating income in Q3/2020 decreased 18.9% from Q2/2020, as a result of organization restructuring program together with the implementation of cost control and efficiency initiatives, contributing to a solid foundation to ensure optimal cost and operational efficiency in a sustainable manner.
Wallapa Trisorat, CEO and President, Asset World Corp Public Company Limited or AWC, said that "Since July 2020, almost all AWC affilated hotels, except Sheraton Samui Resort, were reopened, and starting the end of August, our two hotels, Le Meridien Bangkok and DoubleTree by Hilton Sukhumvit Bangkok have joined as the Alternative State Quarantine (ASQ) facility. This had made the average occupancy rate of our affilated hotels continue to increase. However, as the impact of the COVID-19 pandemic still prevailed, with foreign tourist arrival restrictions to travel to Thailand, coupled with our relief measures for tenants by reducing rental fee in our retail properties, AWC recorded a net loss of 620 million baht in Q3/2020, despite the continued benefits from our balanced and diversified portfolio investment strategy which enables the company to generate a stable cash flow."
The company's Hospitality Business was still affected by the overall international tourism downturn. Nevertheless, AWC has continued to launch several domestic tourism promotion programs such as Thai Holidays Lifestyle, Gift of Hapiness for the company's affiliated 16 hotels to support the Thai government's "We Travel Together" program, and Bangkok Holidays Lifestyle, Gift of Happiness to stimulate the tourism market in Bangkok. These programs received an overwhelming response from Thai customers. For instance, Bangkok Marriott Marquis Queen's Park hotel has received over 5,000 bookings during the program period. In addition, to support the government's tourism promotion policy as well as to strengthen the tourism industry and the Thai economy to recover and move forwards, the company launched AWC INFINITE LIFESTYLE: INFINITE POINT OF HAPPINESS, a new privilege program for staying and enjoying a variety of F&B and services at 15 AWC's affiliated hotels and resorts nationwide.
With all the programs, AWC affiliated hotels recorded a remarkably higher revenue generation index (RGI). Hotels in Bangkok, such as Le Meridien Bangkok and Bangkok Marriott Hotel The Surawongse achieved RGI of 268.2 and 252.9 respectively in September 2020. Hotels in major tourism provinces such as Phuket Marriott Resort and Spa, Nai Yang Beach and Hua Hin Marriott Resort & Spa recorded RGI of 387.0 and 146.3 in Q3/2020, respectively. The strong recovery of the Hospitality Business is reflected by a significant increase of revenue, from 126 million baht in Q2/2020 to 450 million in Q3/2020, representing an increase of 257.1%.
The revenue of the Retail and Commercial Business rose from 632 million baht in Q2/2020 to 771 million baht in Q3/2020, or an increase of 22.0%. This was due to the recovery of retail projects with a continuous increase in customer traffic after the announcement of the third phase of relaxation of lockdown measures, and the reduction of discount on rental fee for tenants according to the number of increasing customers. The Office business continued to generate a stable income on a regular basis, compared with the same period of the previous year.
Following the solid foundation to ensure optimal cost and operational efficiency in a sustainable manner, AWC will continue with its organization restructuring program in conjunction with cost control and efficiency initiatives without affecting the company's ability to operate business in the future. While the company recorded increasing operating expenses in Q3/2020 compared to Q2/2020, the ratio of operating expenses to operating income, in contrast, decreased from 96.9% in Q2/2020 to 78.0% in Q3/2020, reflecting the effectiveness of AWC cost management measures.
"We are still optimistic in the positive outlook of Thai tourism sector and move ahead with continued development of high-quality projects to build a sustainable growth. Our key business highlights over the year include the landmark multi-agreement signing with Marriott International for the development of 4 hotels totaling 1,638 rooms in Bangkok and Pattaya, and strategic partnership with Krua Khun Toi to develop a new sustainable F&B experience that truly meets diversified consumer lifestyle needs. In October 2020, we unveiled the revamped Asiatique The Riverfront which is truly relevant to the changing lifestyles across various perspectives of all customer groups with several exciting new elements and ambiance. Carrying on the concept of "Heritage Alive", the renovation under an investment of over 300 million baht builds upon the ambition to revive the historical evidences for economic and social developments, as well as the launch of Sirimahannop Tall Ship, a new landmark by Chao Phraya riverside where visiting customers can enjoy their leisure time with exquisite F&B experience in uniquely styled bar and restaurant managed by the Bangkok Marriott Marquis Queen's Park Hotel. We also launched Banyan Tree Krabi as our first property in the province, located in a very scenic and strategic spot close to Naga Crest Hill national park."
"Our latest development is the transformation of Pantip Pratunam into AEC TRADE CENTER – PANTIP WHOLESALE DESTINATION, driven by the recent signing a memorandum of understanding with the Board of Trade of Thailand (BTT), together with 11 trade associations. The project, also partnered with Yiwu CCC Group, the world's largest wholesale market, aimes at promoting Thailand's trade and economy by connecting the country's export and import sectors to the global market, while enhancing the competitiveness of Thailand as a regional wholesale hub. All these reflected our combined efforts to build investor confidence on the strength and capability of AWC in moving forword with our growth-led business strategy and creating a long-term sustainable value for all stakeholders," concluded Wallapa.