AWC and Huawei sign MOU for comprehensive smart living ecosystem development marking the next chapter of building a better future for Thai real estate sector
19 November 2020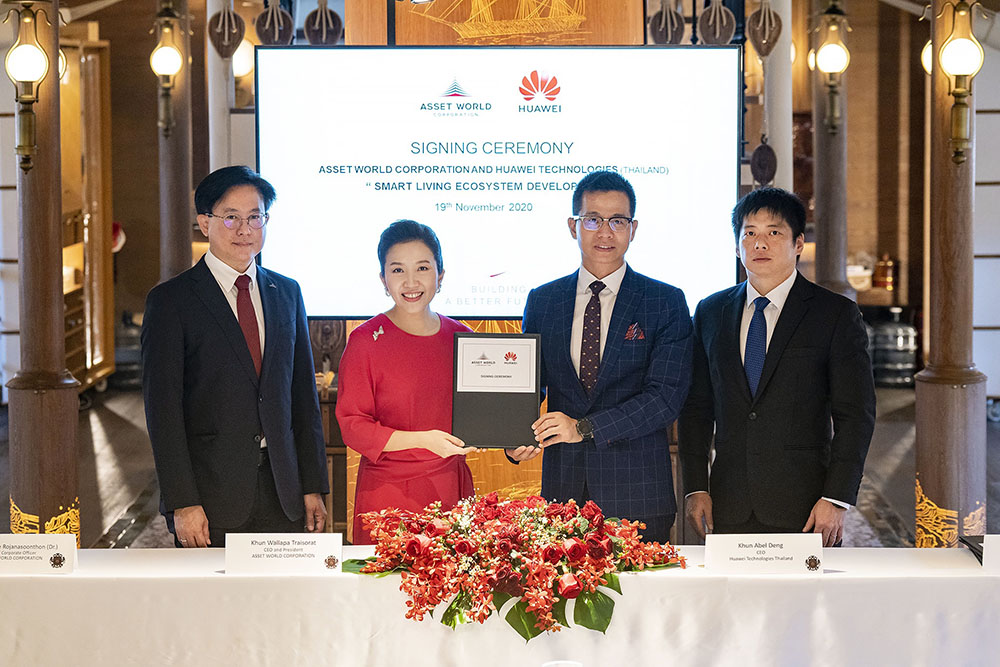 Photo shows: Wallapa Traisorat (2nd left), CEO and President of Asset World Corporation and Abel Deng (2nd right), CEO of Huawei Technologies (Thailand) at the MoU signing ceremony
Bangkok, 19 November 2020 – Asset World Corporation (AWC), Thailand's leading integrated lifestyle real-estate group signed a Memorandum of Understanding (MoU) with Huawei Technologies (Thailand) Co., Ltd., leading ICT solutions and infrastructure provider, to collaborate on a joint development of an ecosystem to support smart living and building projects. The partnership leads both parties to utilize the expertise to achieve exploration of the possibilities for further development of forward-looking projects to be implemented at AWC properties in areas of Smart Building, Smart Asset Management, Smart Hospitality and Retail, Smart Campus and Living, as well as Intelligent Connectivity. These initiatives reaffirm AWC's commitment to leveraging innovation and technology to enhance its business capability as the company moves forward with its mission to build a better and sustainable future.
Wallapa Trisorat, CEO and President, Asset World Corp Public Company Limited or AWC, said that "AWC is committed to creating innovations that lead to the advancement of Thai real estate industry through our relentless determination to learn, explore and apply new technologies to develop new high-quality property projects. We are delighted to work closely with Huawei as our new strategic partner in driving forward our mission of 'Building a Better Future'. The partnership encompasses the exchange of both parties' expertise in innovation and feasibility study on the development of robust ICT infrastructure, which is the foundation for any organization to create future growth and stay relevant as consumer lifestyle needs change in the digital age."
"Under this partnership with Huawei, we will be well-positioned to create greater value for our customers and the real estate industry as a whole, as well as to develop new digital business models and provide new services that ensure sustainability and efficiency in our properties. A wide range of Huawei's smart devices and world-class solutions will help AWC stay connected and on top of the game in this ever-changing digital era. We will continue to study, explore and develop innovations that benefit people's living needs and contribute to creating a better and sustainable future for the Thai real estate industry," added Wallapa.
"The partnership with AWC marks an important milestone for Huawei Thailand," said Abel Deng, Chief Executive Officer of Huawei Technologies (Thailand) Co., Ltd. "At Huawei, we always look for ways to make meaningful contributions to Thailand's public and private sector. Through advanced technologies, our aim is to help shape the country's digital future. We are confident that the technical support and unmatchable know-how in the ICT field that we will bring can optimize smart and highly efficient operations in AWC's hotels, retail and office buildings and integrated mixed-use developments."
Under this MoU, AWC and Huawei will utilize the expertise based on win-win cooperation to achieve exploration of the possibilities for further study and development of innovation to enhance people's living as well as uplift Thai real estate industry in the future with industry-leading tools and technology including 5G-enabled solutions, ultra high-speed Wi-Fi 6 Access Points, IoT Module, smart connected devices, data centers, Cloud storage, etc. In addition to offering the company's existing platforms and solutions, Huawei will also leverage its strengths and expertise in information and communications technology to develop tailor-made innovations to match AWC's needs and requirements of the highest standards. The flexible and reliable ICT infrastructure to be provided by Huawei will help accelerate the complete digital transformation for AWC's growing and diverse portfolio of hospitality projects, lifestyle destination, and commercial workspaces, enabling these properties to meet the lifestyle needs of users and visitors and achieve optimal business and operational efficiency.