Building on its robust net profit growth of 109% last year, Asset World Corporation unveils strategic move to reaffirm its commitment to "Building a Better Future" sustainably in 2020
28 February 2020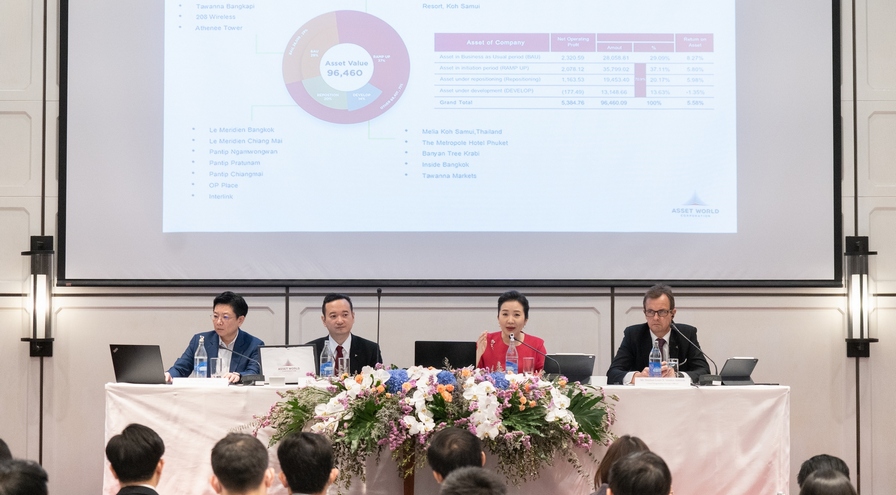 Asset World Corporation (AWC), Thailand's leading integrated lifestyle real-estate group, reported a strong fiscal performance for 2019 with a net profit of 1,040 million baht, an increase of 109% over the previous year. Its net profit in the fourth quarter of last year was 482 million baht, an increase of 140% over the same period last year.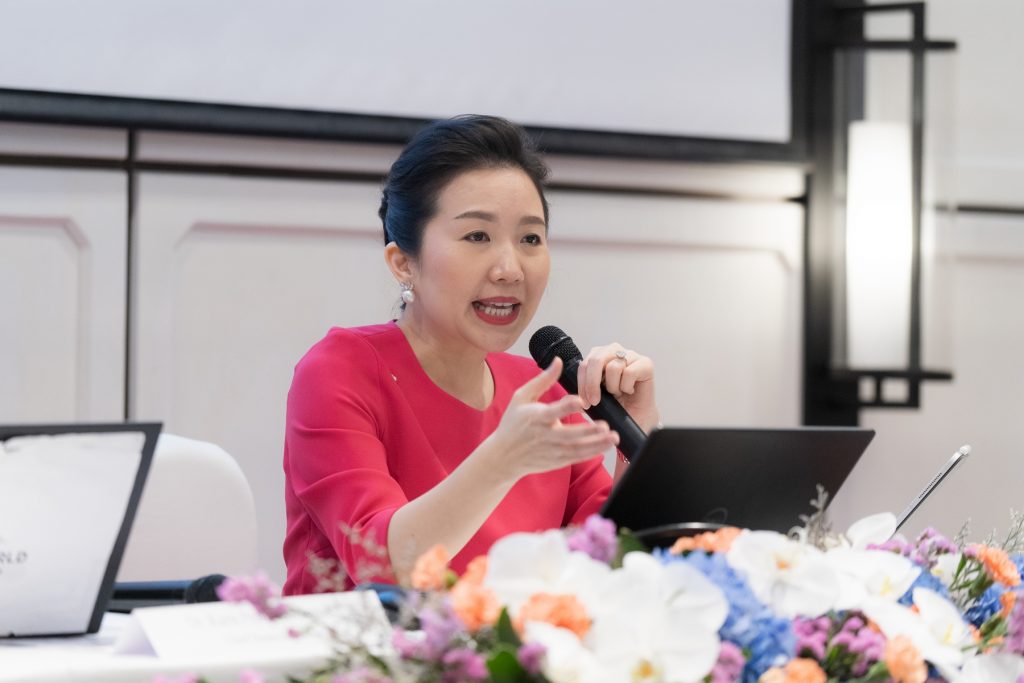 The company plans to build on these robust figures by moving ahead in 2020 with 5 key strategies aimed at creating a better future for all stakeholders while also helping Thailand achieve strong economic growth in a challenging global climate.
Wallapa Traisorat, CEO and President of Asset World Corp Public Company Limited (AWC), noted that "2019 was a remarkable year for us. In addition to the tremendous success of being listed on the Stock Exchange of Thailand, the operating results of all our business groups showed strong growth with a net profit of 1,040 million baht, an increase of 109% over the previous year. Operating profit from our operating assets(1) grew by 8.4%," Ms. Wallapa explained.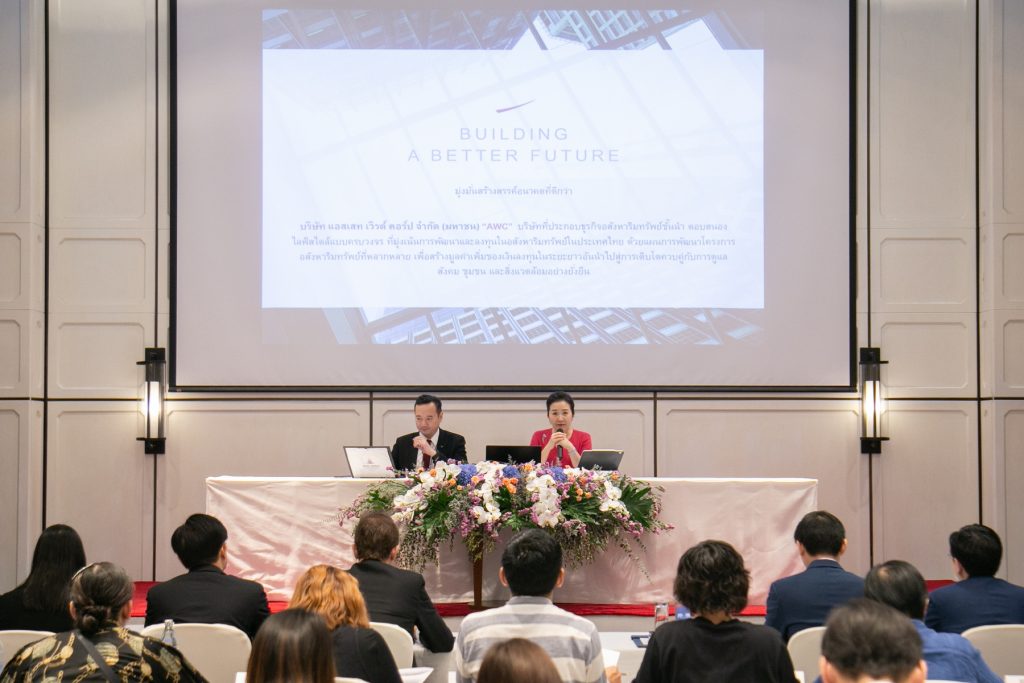 "Operating profit from our operating assets(1) is divided into Hospitality (45%), Retail (22%) and Office Building (33%). Revenue from our portfolio of operating assets(1) increased by 3.4%. This is the result of our key 2019 strategies that focused on building growth, repositioning assets in hand, improving operational efficiency in various aspects and adjusting our investment portfolio to achieve target returns," she elucidated.
In 2019, the company's Hospitality business recorded a revenue growth of 1.3% from operating assets(1), driven by MICE hotels, which generated a growth of 6.8%. The company's largest MICE hotel — the Bangkok Marriott Marquis Queen's Park Hotel, which is currently in a ramp-up stage — earned a revenue growth of 13.9% and the operating profit growth of 26%. The RevPAR of company's hospitality business is higher than the hotel industry average, with a Revenue Generation Index (RGI) of 108.
AWC's Retail & Commercial business, meanwhile, reported a 7.7% increase of revenue from operating assets(1) due to the success of two newly launched projects: Gateway at Bangsue, with a revenue growth of 1,037% and the operating profit growth of 225%, and Lasalle's Avenue, with a revenue growth of 175% and the operating profit growth of up to 9,245%. The outstanding performance was also driven by a strategic change in the company's Office Building business with a reallocation of rental spaces to cater to the changing needs of consumers and businesses, which resulted in a steady growth of 6% (excluding the performance of the assets that the company sold in 2018).
The company's sustained focus on increased efficiency in managing costs and expenses, including bulk purchases, has resulted in a growth in operating profits from operating assets(1) with an income ratio from 48% to 51%.
The total assets of the company grew by 17.3%, while its total liabilities decreased by 50.7% due to the use of partial IPO proceed to manage liquidity, repay loans and invest in Group 3 assets (AWC acquired Group 3 assets on January 1, 2020, with a total investment value of 26,229.5 million baht). The company's financial structure has remained robust given the decrease in a total debt to equity ratio by 0.4 times.
BUILDING A BETTER FUTURE IN 2020
With a strong commitment to build sustainable growth, AWC has set several important strategic goals for 2020. The company's aim is to Maximize Shareholders' Return, create Robust & Sustainable Growth, and become the Most Admired Real Estate Group through 5 key pillars, which are as follows:
Growth-Led Strategy: focusing on developing new projects with remarkable potential to bring growth to the company. An investment of over 30 billion baht will be allocated to develop 12 new lifestyle destination hotel projects, which will increase the number of total hotel rooms to 8,506 and increase the total rental leasable area of commercial real estate to 415,481 sq.m. by 2024.
Middle to High Income Customer Segment: setting clear customer targets aimed at tourists and customers with middle to high incomes especially the MICE travelers as the high growth segment.
Global and Unique Partners: building and expanding a network of expert alliances in various fields of business in order to foster the sharing of expertise and align superior operating standards with international requirements. In addition, the company seeks to gain access to new customer groups through the world's leading hotel operators' global distribution channels and loyalty programs with over 300 million members, as well as offering diverse hospitality brand options to better suit the lifestyles of various customers.
New Benchmark: creating large-scale projects with unique appeal and special attractions to enhance the competitive edge of the Thai tourism industry. Each AWC project has distinctive features that set new benchmarks for the industry and benefit its host travel destination: such as by strengthening and enhancing the MICE industry in Thailand, attracting international tourists through a strong global network, and creating new experiences for destinations where AWC projects are located.
Synergies and Sustainability: creating business sustainability by developing roadmaps for sound sustainable practices in various dimensions, including obtaining sustainability standard certifications from leading agencies, taking measures to reduce environmental impacts, and responding to AWC's Sustainable Management policy through the operation of the "Asset World Foundation for Charity" and "The Gallery" for Social Enterprise project. These are among the ways forward to build a better future for the company as well as its investors and stakeholders, in addition to promoting economic and social empowerment throughout the country.
The 5 key pillars are supported by AWC's strong infrastructure and business models, which include expertise in developing projects and managing assets to achieve optimal value to the full potential of investments. Similarly beneficial is the company's practice of preferring diverse and balanced investments in order to manage the risk of fluctuations and changes in any particular target markets. The company prides itself on being a forward-thinking real estate group with constant and sustainable growth strategies.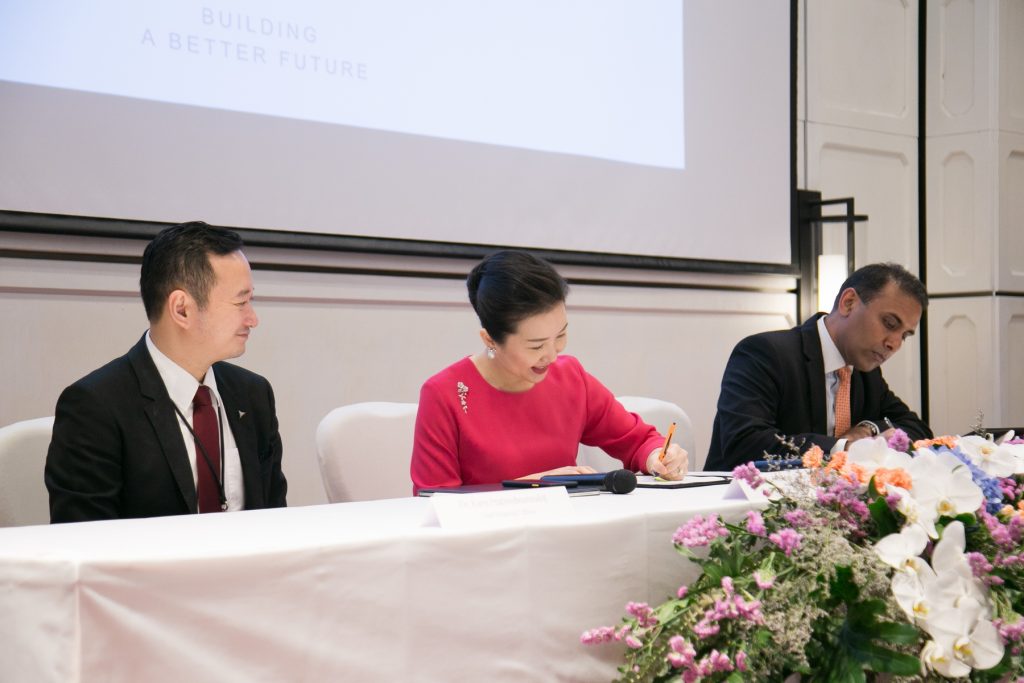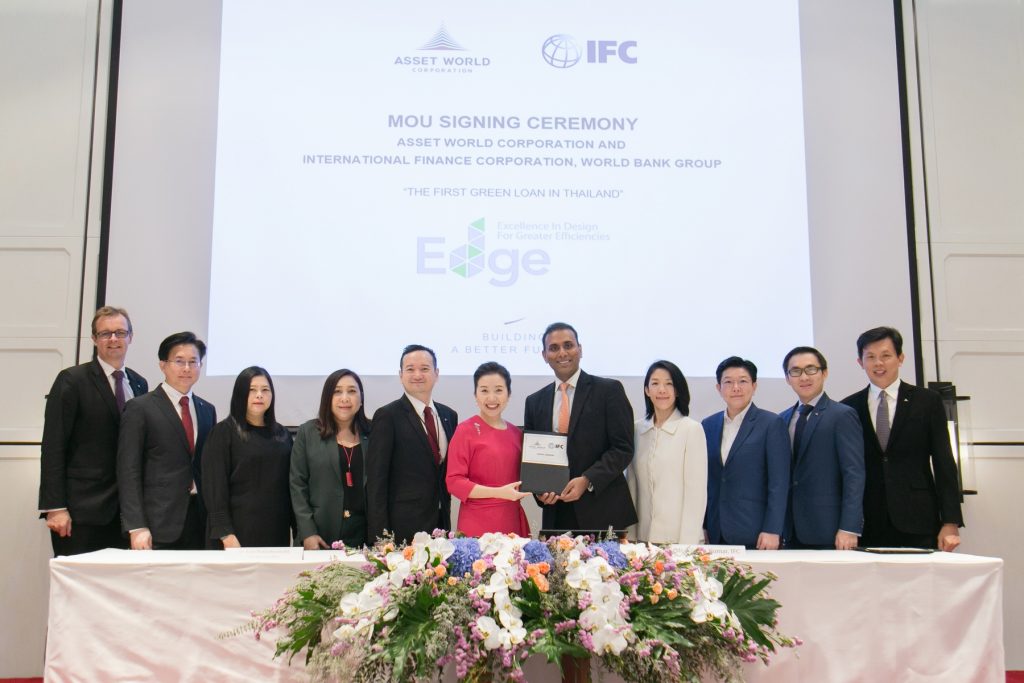 The First Green Loan for a Real Estate Group in Thailand
After signing an engagement letter for green financing for various projects that are friendly to the environment, AWC has sealed a MOU agreement for cooperation with the International Finance Corporation (IFC) on Excellence in Design for Greater Efficiencies (EDGE). IFC and AWC are in discussions for green financing to support the ecofriendly projects being developed by AWC. AWC will be the first real estate group in Thailand to receive the Green Loan given the company's readiness to develop projects in accordance with EDGE standards by achieving at least a 20 percent cut in the use of energy, water, and embodied energy in materials compared to conventional buildings as well as other energy saving and environmental conservation development and operation plans which is one of the fundamental commitments to sustainably build a holistic value for the better future.
Note (1): The operating assets of the company include the existing operating assets and do not include CW Tower, Pantip Plaza Bang Kapi, CH Hotel and The Tantawan Hotel Surawong Bangkok, which were sold according to the strategic investment portfolio management to achieve return targets, and the Imperial Boat House Beach Resort, which was closed for renovation in mid-2018, as well as revenue from management fees and interest incomes from companies in TCC Group.