AWC Announces Q1/2022 Operating Results, Net Profit of 645 Million Baht Profit Rises by More Than 200% from Q1/2021 AWC Businesses Expected to Grow Strong and Compete Well in 2022 as Thailand Reopens
11 May 2022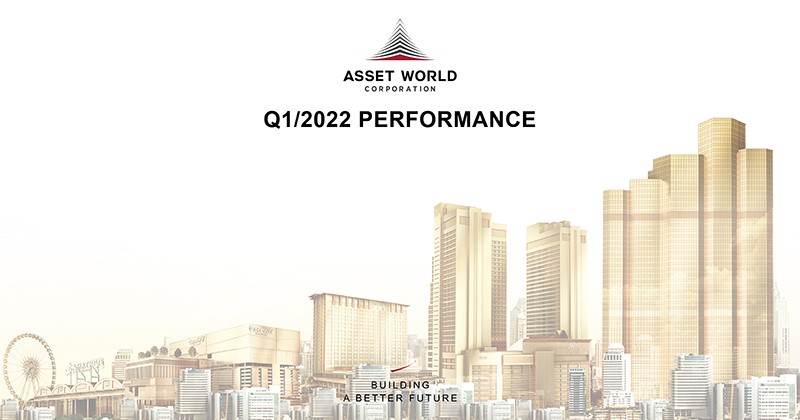 11 May 2022, Bangkok, Thailand – Mrs. Wallapa Traisorat, CEO and President of Asset World Corp Public Company Limited or AWC, today announced that AWC's total revenue in 1Q/2022 as stated in the Financial Statement was 2,782 million Baht, grew by 151% YoY and net profit as stated in the Financial Statement was 645 million Baht, grew more than 200% YoY.
AWC continued its recovery that began in late 2021, with the impact of the Omicron variant of COVID-19 being significantly lower than previous waves of the pandemic. While there was a surge in Omicron, the symptoms were milder and Thailand's vaccination rate was also higher.
The Thai government's decision to re-open the country to international visitors and ease entry restrictions proved favorable, with more economic activities taking place in 1Q/2022. As a result, all Business Groups of AWC witnessed a significant rebound, also reflecting AWC's ability to adjust to the changing situation and provide assurances that the Company will achieve a fast business recovery this year and grow rapidly in the future.
"Since the start of the COVID-19 outbreak, 1Q/2022 delivered impressive operating results which are clearly visible when compared with the same period in previous years. Moreover, it shows that the Thai economy has clearly rebounded. AWC is confident that its Business Groups will compete and perform well throughout 2022," Mrs. Wallapa said.
The Company's net profit from Operating Performance increased 51.9% YoY, reflecting the strength and operational capabilities of the Company's quality assets that respond to the return of tourists following the country's reopening.
In 1Q/2022, AWC's total revenue grew because of a significantly improving occupancy rate in the High-to-Luxury market when compared with the same period of the previous year. This market has been a key target of AWC's Hospitality Business Group. It was evidenced that hotels within the group had a significantly better performance compared to competitors within the same competitive set, in which an affiliated hotel achieved the highest RGI Index (Revenue Generating Index) rating of 245.9. Hotels targeting the MICE market also enjoyed opportunities from the government's policies to reopen the country and stimulate tourism. Moreover, AWC's shopping complexes have already resumed normal operations. The number of customers grew continuously throughout 1Q/2022, with major festivals at the beginning of the year spurring spending.
For AWC's commercial business unit, many new tenants signed lease contracts for spaces in prime locations out of confidence in the service standards, integration of new technologies, and hygienic and safety measures of AWC's A and A- grade office buildings in 1Q/2022. Thanks to its well-diversified portfolio, AWC has successfully curbed its revenue volatility and achieved strong operating results. In addition to this, the Company offers the AWC Infinite Lifestyle program that connects the services of all business units on both online and offline platforms to enhance customer satisfaction and user experience. This strengthens the Company's customer base and encourages customers to continue using the services, alongside providing a speedy and seamless experience for the customer's convenience to correspond to the current consumer behavior.
Since the COVID-19 crisis began more than two years ago, AWC has adjusted its strategies to solidify its business foundation, creating long-term value, and paving the way for secure and sustainable growth. In 2022, AWC initiated an action plan with the opening of The Lhong 1919 Riverside Heritage Destination project and launched it as a riverside cultural attraction in January. Alongside this, AWC went ahead with the plan to establish Chiang Mai as the center of luxury tourism in the region by launching Meliá Chiang Mai, the first hotel from the Meliá brand, in the northern region in April.
AWC is determined to continue quality project development with the goals of boosting its potential, responding to customers' functional needs and experience, and developing assets that can generate a strong cash flow for their increasing value in support of the Company's secure and sustainable growth. Guided by this determination, AWC has forged strategic collaborations with world-class partners to create long-term value through the support from all stakeholder groups in a way that not only upgrades the competitiveness of Thailand's tourism and service industry but also develops internationally-recognized properties in Thailand under the mission of "Building a Better Future" together in a sustainable manner.