AWC reinforces the commitment to Building A Better Future by being listed in the Thailand Sustainability Investment 2021 (THSI) alongside being certified by the Collective Action Against Corruption in 2021 (CAC)
14 October 2021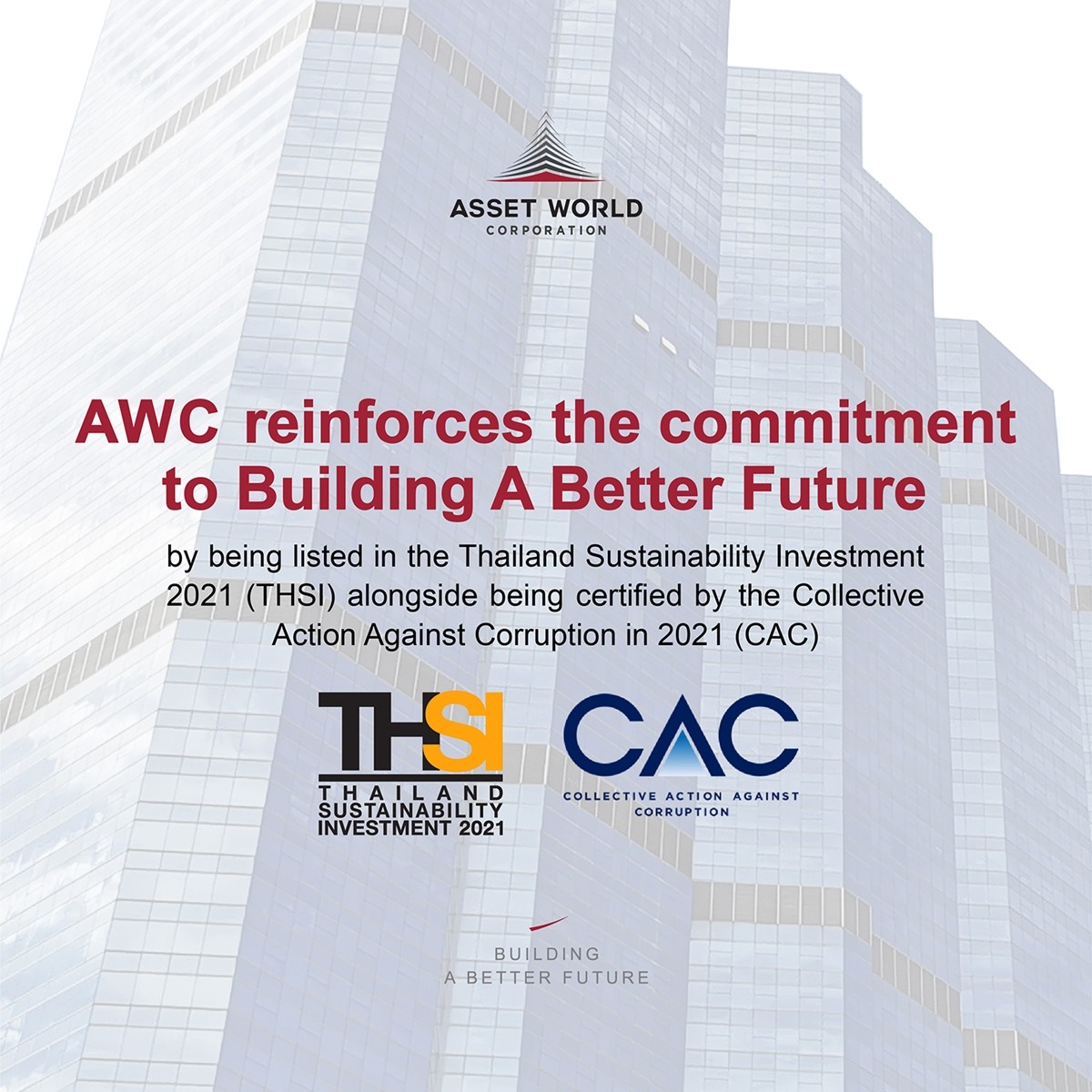 BANGKOK, 14 October, 2021 – Mrs. Wallapa Traisorat, CEO and President of Asset World Corp Public Company Limited or AWC, Thailand's leading integrated lifestyle real estate group, reveals that over the years, the organization has continued to focus on sustainability in accordance to a sustainable development framework. Its commitment and success have clearly been reflected in the two national standards that the organization has achieved.
AWC has recently been be listed in Thailand Sustainability Investment (THIS) together with 146 companies in 2021, the first year in which the organization completes the evaluation form. The selection acknowledges AWC's commitment to Building a Better Future, following the principle of good governance, social and environmental responsibilities, stakeholder engagement, and innovative development.
In 2021, a crisis management plan was taken into consideration to allow the organization to effectively cope with the global pandemic which is an emerging risk, and to adapt to new challenges in the future. AWC is committed to creating long-term values as well as assuming social and environmental responsibilities, which will enable the organization to grow continuously and sustainably. Its commitment has built trust with investors who seek to invest in businesses that focus on environmental, social, and governance (ESG).
Additionally, AWC has been certified by the CAC (Collective Action against Corruption) for the first time in the second quarter of 2021. This certification demonstrates the organization's commitment to Building a Better Future by bringing pride as well as an enjoyable, happy, and collaborative working environment to its employees.
"We support an honest and transparent work culture that respects differing opinions through open and constructive discussions and focus on preventing and combating all forms of corruption to foster a good working environment and to become an organization driven by good governance, creating value for all stakeholders throughout our business operations and ensuring stable and sustainable growth", said Mrs. Wallapa.