Asset World Corporation announces 2Q/2020
14 August 2020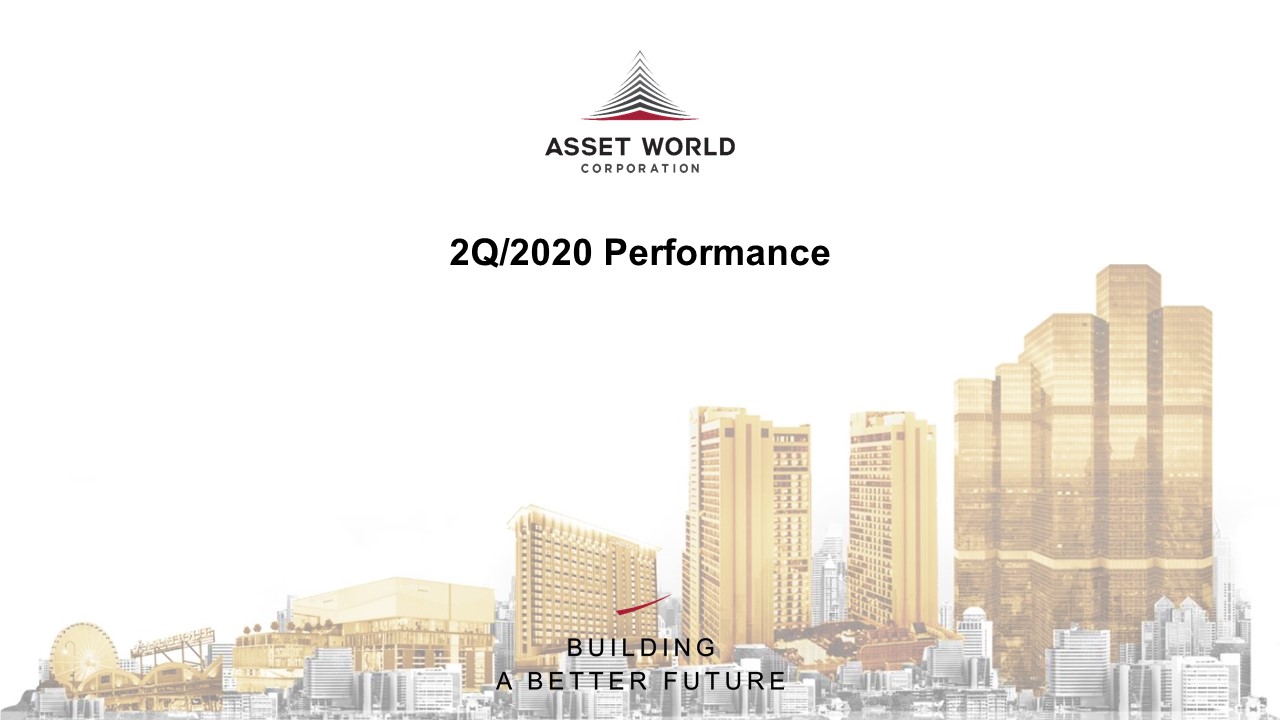 Asset World Corporation announces 2Q/2020 results on the impacts of COVID-19 and continued recovery of the domestic tourism sector in June
Moving forward, the company will raise service standards to meet the requirements of the 'new normal,' accelerate a restructuring program and implement cost-control measures to achieve sustainable growth
14 August 2020 – Asset World Corp Public Company Limited (AWC), Thailand's leading integrated lifestyle real-estate group, reported a net loss of 877 million baht for the second quarter of 2020, with total revenues 775 million baht for the April-June period this year.
That is a 75.6% decrease from the same period last year and is due to the severe economic impacts of the COVID-19 pandemic, including a countrywide lockdown that lasted from late March until the end of May. Some of the company's affiliated hotels that resumed operations in late May 2020 managed to generate better year-on-year results, reflecting the rapid recovery of domestic tourism.
In light of the situation, the company continued moving forward with its project development plan aimed at sustainable growth by accelerating a corporate restructuring program along with implementing strict Cost Control & Efficiency Initiatives to increase business productivity in accordance with its key business strategic plan. All these measures resulted in a 56.8% decrease in total operating expenses in the second quarter of 2020 as compared to the same period of last year, which helped lay a solid foundation for cost management operations.
"The COVID-19 pandemic and the government's lockdown measures that lasted from late March until the end of May led to the temporary closure of almost all our affiliated hotels and retail properties, which has severely affected the company's business," explained Wallapa Traisorat, CEO and President of Asset World Corp Public Company Limited (AWC).
"However, we retain our optimism about the health of the Thai tourism industry, whose long-term growth prospects remain stable," Ms. Wallapa added. "We are determined to manage costs efficiently and implement measures to take care of our tenants, customers, employees and all stakeholders so that, together, we can emerge from this crisis stronger and move towards a sustainable future."
AWC's investment strategy and diverse portfolio will enable it to weather the challenges well, Ms Wallapa said.
"AWC still continues to benefit from our investment strategy focus on a Balanced and Diversified Portfolio and our office building business has not been directly affected," she said. "Since the government announced the second phase of relaxed measures in late May, some of our affiliated hotels and retail properties have resumed their operations, with high returns of domestic customers, which resulted in a significant increase of the company's income in June."
However, she said, the company reported a net loss of 877 million baht for the second quarter of the year despite a relatively robust income in June when domestic purchasing power has just started to recover, and a stable income from the office business.
AWC has been committed to implementing rigorous safety and hygiene measures as well as supportive initiatives to ensure the health and wellbeing of its employees at all its affiliated Hospitality and Retail & Commercial businesses. The company managed to resume operations at its properties immediately after the government's announcement of Phase 2 lockdown ease-up measures at the end of May. In its hospitality business, Hua Hin Marriott Resort and Spa was the first hotel to reopen after the announcement of second phase relaxation measures and achieved an average weekend1 occupancy rate of 98%, while its overall occupancy rate continued to rise steadily.
AWC has been offering special accommodation packages at the 'Bangkok Holidays Lifestyle, Gift of Happiness' program at The Athenee Hotel, a Luxury Collection Hotel, Bangkok and at Bangkok Marriott Hotel The Surawongse. The incentive serves to stimulate domestic tourism while enhancing brand awareness on the domestic market and has received an overwhelming response with an average occupancy rate of 70% at both hotels on weekends1.
At the same time, the company's Retail business has seen a significant recovery in the number of visitors at its retail properties. In particular, the Lasalle's Avenue saw the number of visiting customers near the pre-pandemic rate with a visitor rate of 93% as compared to January this year.
"With AWC's Balanced and Diversified Portfolio investment strategy, the Office business continues to generate a stable and constant cash flow with operating profits increasing by 1.2% compared to the same period last year, notwithstanding the impacts from the temporary closure of rental shops in office buildings due to lockdown measures," Wallapa said.
In recent months, AWC has continued to implement strict Cost Control & Efficiency Initiatives, which include a cash pooling system to manage the liquidity of all business operation units, which has resulted in lower operating costs. In the second quarter of 2020, the company's recorded total operating expense of 761 million baht was a decrease of 56.8% from the 1,761 million baht recorded during the same period last year.
AWC also leveraged its diverse portfolio across all business segments and locations to design new product and service offerings to meet the New Normal lifestyle requirements of various customer groups. "AWC INFINITE LIFESTYLE" was introduced as a new service innovation to give customers the opportunity to use premium services that best suit their working and leisure preferences and to enable them to define the durations of their memberships.
"We are confident in the strong potential of the Thai tourism industry, as well as the country's globally acclaimed successes in exacting safety and hygiene standards, which opens up opportunities for Thai tourism to recover quickly and expand its customer base to the wellness and long-stay tourist segments," Wallapa said.
"AWC strives to pursue the development of high-quality projects as planned to achieve strong long-term sustainable growth as we continue to Build a Better Future for the company, our employees, customers, investors, communities and other stakeholders towards the ultimate goal of becoming a truly progressive and dynamic real estate group," she added.
Remark: 1 Average occupancy rate over the weekend is calculated based on the average rate of stay on Friday and Saturday nights.