The Asset World Foundation for Charity, under Asset World Corporation joins hands with business partners for "AWC CHARITY MARKET AROUND" in commitment to building a better future together
22 March 2021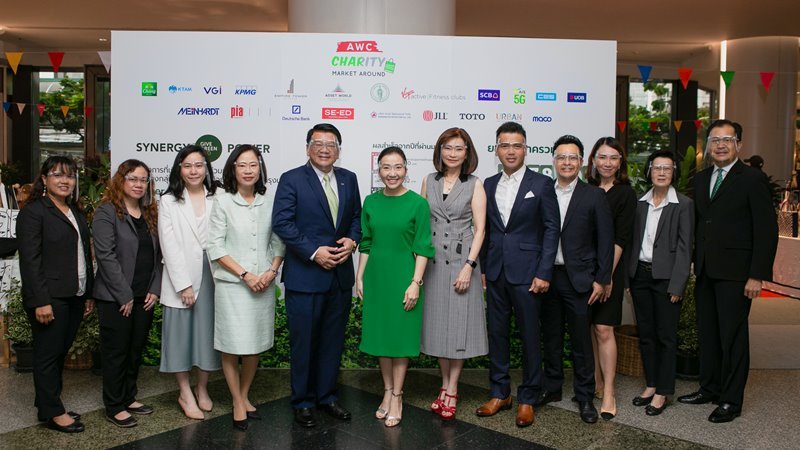 22 March 2021 - Wallapa Traisorat, CEO and President of Asset World Corp Public Company Limited (AWC), Thailand's leading integrated lifestyle real-estate group together with business partners to continue in the commitment to "Building A Better Future", with the 'AWC CHARITY MARKET AROUND'. The fundraising event aims to give back to the local community and society. Taking the form of a charity market, donations and merchandise from AWC's business partners and tenants as a means of giving back to the community. AWC CHARITY MARKET AROUND is a part of the "GIVE GREEN CBD: SYNERGY POWER" project which joins forces with The Bangkok Metropolitan Administration (BMA), business corporations in Sathorn district and business partners for the 8th year in order to contribute sustainable values and benefits to all stakeholders in our eco-system.
AWC CHARITY MARKET AROUND is set to take place from 22-26 March, 2021, on G floor of EMPIRE TOWER; from 30-31 March 2021, on the 1st floor of ATHENEE TOWER; and from 2-4 April 2021, at the Promotion Grounds of LASALLE'S AVENUE.
The event presents a wide range of quality products, ranging from food to household items, home decor, health and organic products, local handicraft, as well as environmentally-friendly merchandise.
Upon the completion of the fundraising activities, the Foundation will donate educational equipment, sports equipment, and scholarships to children in Bangkok and upcountry which set to take place in April 2021. The business partners are : VGI Global Media Co., Ltd. (VGI); KPMG Phoomchai Audit Co., Ltd. (KPMG); CES Co., Ltd.; Krung Thai Asset Management Plc. (KTAM); Chang Mineral Water; Siam Commercial Bank (SCB); Advanced Info Service Plc. (AIS); United Overseas Bank Plc. (UOB); and SE-EDUCATION Plc. (SE-ED); Thai Organic Consumers Association (TOCA) Oishi Group Plc. Virgin Group, etc. in collaboration to build a better future for the environment, communities and societies as a whole.