AWC Infinite Lifestyle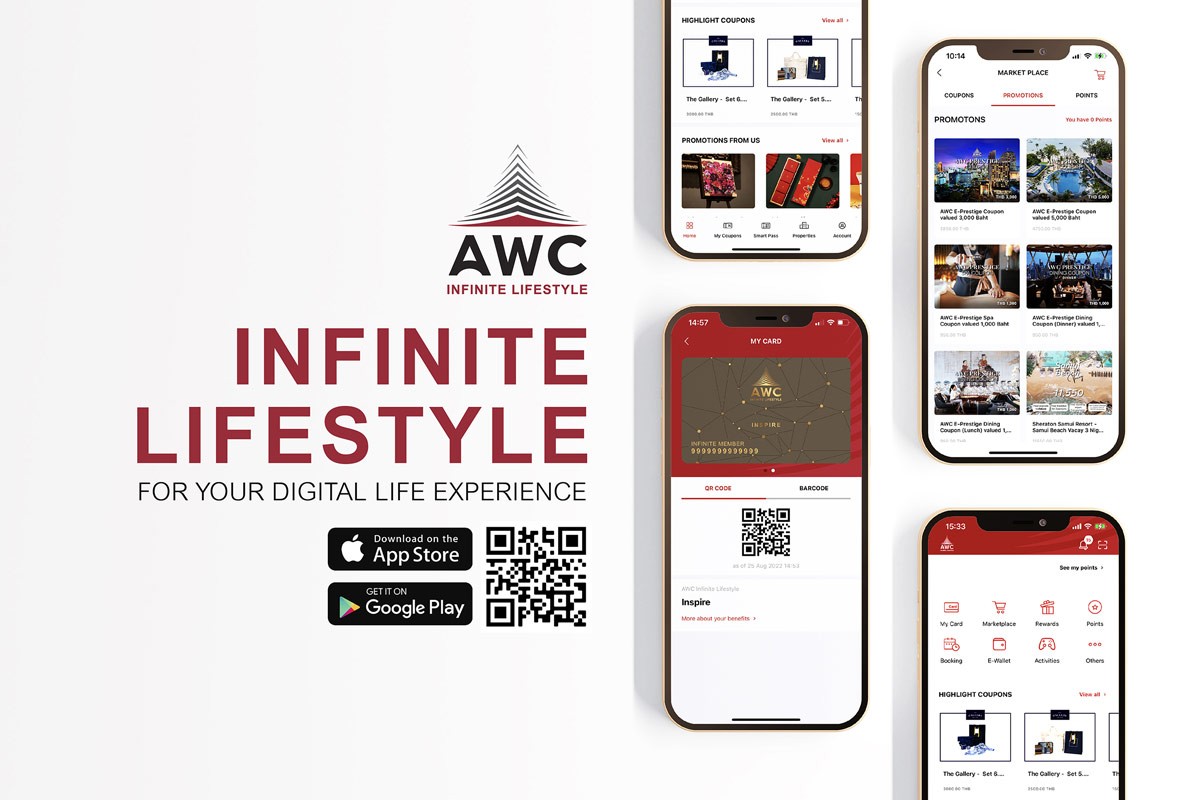 AWC introduces an inspiring lifestyle corresponding to the New Normal with "AWC INFINITE LIFESTYLE", a program which will provide an innovative way of living & working integration, combining "Office-Home-Hotel-Retail" to assist consumers in their changing working habits and lifestyles which allows customers to design their own living and working experiences from a full range of service offerings available in AWC's affiliated businesses. Customers can enjoy special privileges and premium services with the highest degree of safety, hygiene and quality that can accommodate their working and lifestyle needs across all AWC properties, starting at 17 affiliated hotels, and soon to be expanded to affiliated office buildings and shopping and retail centers at various strategic Bangkok CBD locations and major tourism provinces across Thailand.
AWC INFINITE LIFESTYLE – a new lifestyle membership service program that helps create a work-life balance in the current fast-evolving world. Membership privileges are vary depending on selected packages offer as follows:
Exclusive Discount - discount on Food & Beverage outlets, spas, and laundry service at AWC affiliated properties. Membership programs consist of 4 elements of benefits which will be varies in term of amounts for each status
Up to 20% discount on Food and Beverage (including alcoholic beverage) for up to 20 persons
Up to 50% discount on Corkage charge
Up to 20% discount on Spa treatments on regular menu
Up to 10% discount on The Gallery shop
Up to 15% discount on hotel room discount from BAR when booking through the hotel's reservations department
Honors program - unlimited access to working and lifestyle facilities including; working space at the hotel lobby and business center equipped with high-speed internet, and hotel facilities including swimming pool, fitness center (during off-peak hours) and valet parking service
Infinite Coupon - For loyalty program – Infinite Coupons play a role as a welcome gift where members can redeem additional coupons using Infinite Point for facilities at AWC affiliated properties including; meeting rooms, club lounges, soft drinks, coffee and tea, and printing services with a variety of packages available to meet different needs. Including a complimentary one-night stay for limitation in package provided.
Infinite Point - a direct purchase, we have to make it easy and valuable to obtain collected point. Point value calculation 1 point value 15 baht. An Infinite point can accumulate them within a calendar year to upgrade membership status or earn infinite point to redeem coupons to be used at hotel facilities
**More information of purchasing and redeeming benefits depends on each project or promotion. **
AWC Infinite Lifestyle Program, Elevate your lifestyle and broaden your experience for a better work-life balance with us.
For more information, please contact: info.awcinfinitelifestyle@assetworldcorp-th.com
or add us on Line Official @AWClifestyle